Heroic tripod dog dies saving his family from wolves: "You were my warrior"
Three-legged Ridge-back Mastiff mix, Rosco, died protecting his family from wolves in Alaska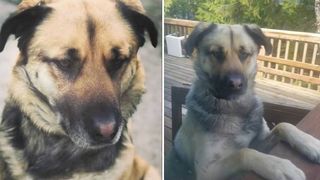 (Image credit: TikTok / @brittany_hayward)
What was meant to be a nice trip to Moss Point, Metlakatla, ended in tragedy when a pet dog was killed saving his family from wolves.
Brittany Hayward and her daughter lost their beloved pet Rosco while out on the beach, quickly realizing something was off upon arrival.
"I had asked my daughter, you know, 'Where are the birds? Why are there no birds, there's no noise,'" Hayward told KRBD Community Radio. "And, you know, she kind of joked and was like 'The Kushtaka's [a mythical shape-shifting creature] watching us."
But there weren't any folklore beasts lurking in the bushes. Their three dogs, Rosco, a Ridgeback-Mastiff mix; Smokey, a German Shepherd-Husky cross; and Cardi B, a Jack Russell mixed with Husky and Pit Bull were immediately on high alert as they'd sniffed out the issue: wolves.
All of a sudden, Brittany saw Smokey chasing a wolf.
"I start screaming, just screaming, for my dog to come back and in a matter of minutes, it felt like minutes, that this wolf was luring him, and they were chasing each other," she said. "He was chasing the wolf away."
Brittany scooped up Cardi-B and continued to attempt to scare off the wolf by standing her ground, and being aggressive, as is advised by Alaska state officials.
But, unfortunately, Brittany's attempts at deterring the animal were unsuccessful, and the wolf cocked its head and began walking towards her.
That's when her dogs reacted, and Rosco and Smokey darted after the wild canine. "Rosco got a hold of the wolf," Brittany recalls. "And they tumbled into the rocks. And when they started fighting, two more came out of the woods and started attacking him and another one came from the point."
While Rosco was being outnumbered, Smokey retracted and came back to Brittany, who was able to put him in a leash and order her daughter to take him to the car.
With Cardi-B in her arms, Brittany kept screaming and shouting and attempting to scare off the wolves while Rosco continued to fight with them, pinning one down on the rocks. Brittany then ran to the car, driving it down to the beach and using the car's horn to attempt to scare off the pack.
Unfortunately, her attempts were futile and when Brittany finally left the car to see what was going on, there was no sign of Rosco.
"It went completely silent," Hayward said. "I couldn't hear them."
Brittany's husband, local Metlakatla residents and police officers searched until 1am at nigh for the poor mutt, with the wolf pack guarding the beach, howling long into the night.
Finally, an Alaska Fish and Wildlife Officer found his remains and was able to bring him home. Rosco had died from a puncture wound to his stomach.
Brittany has since posted a tribute to her fallen hero on her TikTok page, with the caption:
"Rosco you were my Warrior. You protected your family and fought valiantly. I know you wouldnt let those wolves get to us. I'm sorry I couldnt save you too. I'm sorry we couldnt find you"
Brittany says that this wasn't her first encounter with wolves. Smokey had chased some away on a recent camping trip in the area. "I think that they need to be thinned out, I think that the fact that they were not scared of me is pretty dangerous," she says.
"I think that people just need to trust your instinct," Hayward said. "And don't talk yourself out of that feeling. If you feel like you're being watched. This is still Alaska, and you probably are being stalked. Absolutely."
Metlakatla officials issued a notice to warn residents of the wolf pack activity at Moss Point and Point Davidson areas.
Alaska Fish and Wildlife reports that wolves are known to be aggressive to dogs, but attacks on children and dogs or approaching homes is unusual. However, Brittany advises beach-goers to make sure they have some kind of weapon on them.
Get the best advice, tips and top tech for your beloved Pets