Dog mullets are a thing! Hilarious 80's inspired haircuts are now trending on social media
The #Dogmullet hashtag is the path to some comical dog mullet nostalgia we never thought we'd want to see!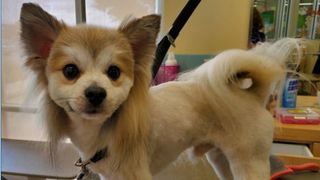 (Image credit: Frambosia Salad (Instagram))
If there is one thing that you don't expect to be revived from the Eighties it's the mullet. Usually the reserve of 80's film stars, country music lovers and old embarrassing yearbooks, the short-in-the-front, long-in-the-back hairstyle has made a surprising revival – but with dogs!
Pet groomers around the world, many of which have only recently opened their doors after month's being closed due to lockdown, are being given an unexpected, and often unwanted, challenge by dog owners – to recreate the mullet style for their hairy hounds. And the results are being displayed on the #DogMullet hashtag on Instagram.
Social media can always confound expectations and the weird and wonderful dog mullets are now, amazingly, a popular trend! Not only that, but the pictures are inspiring others to treat (subject?) their own pooches to the same treatment.
Maybe we can blame the popularity of the Tiger King documentary where Joe Exotic sported one throughout? Whatever the reason, inspiring much hilarity and cringing recognition, the not always happy looking dogs sporting the 'business in the front, party in the back' hairstyle have gone viral.
Images of breeds of all type, also sporting headbands, bow ties and neckerchiefs to complement their new look, are being celebrated for their retro look, showing just how unexpectedly popular the hair style is – or how cruel dog owners can be!
Get the best advice, tips and top tech for your beloved Pets
Jamie Middleton is a freelance editor and writer who has been editing and creating content for magazines and websites for over 20 years. As well as writing about the pets he loves, he has helped create websites about tech and innovation like TechRadar.com, Innovate UK and TechSPARK, written programmes for music festivals, books on inventions and architecture, TV listings magazines, and edited publications about cars such as Lexus, Toyota and Jaguar. In his spare time he writes fiction books and poetry - or at least he does when he is permitted to by his cat Pirate, who enjoys the warmth of laptops too much to allow being creative to get in the way.