Busch Dog Brew needs a Chief Tasting Officer and it pays $20K!
Your pup could earn a salary 'plus benefits' as CTO of Busch Dog Brew – and yes, that includes a free supply of the canine-friendly bone beer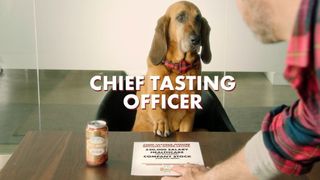 (Image credit: Busch Beer)
Busch Beer has posted a new job opening; Chief Tasting Officer of Busch Dog Brew. Could your dog be the very good boy or girl to take the job on? The company launched its non-alcoholic, canine-friendly brew in August 2020, made from pork-in bone butt, whole corn, celery, basil, mint, turmeric and ginger. Dog owners went wild for the chance to share a cold one with man's best friend, and the first batch sold out within 24 hours. With plans to expand the range, Busch are now looking for a new canine member of the Senior Leadership Team to bring their expert tastebuds to the table and make sure the new flavours are up to scratch.
Busch are offering a salary of $20,000 to the successful candidate (or 'canine-didate', as they put it), plus some job perks – health cover (in the form of the best pet insurance) and company stock options (a free supply of the tasty bone broth, of course). If you think your pup is up to the challenge, here's the job description and the qualities Busch are searching for:
"Responsibilities of the CTO will include taste-testing, quality control, and fulfilling duties as an ambassador for the product and a featured content creator on Busch's social channels. In order to fetch this position, some qualifications include a refined palate, an outstanding sense of smell, and while not required, proficiency in English would be remarkable."
Prospective pups will need some support from their personal human assistants to complete the job application. Owners have until the 28th April to post a photo of their pooch on Facebook, Instagram or Twitter along with the reasons they're the top dog for the job and the hashtag #BuschCTOContest. The panel will be looking for original and creative qualifications and skills to help them sniff out the winner. If you or your pet would like more information about the role before deciding on this big career move, you'll find it at Busch.com/CTO.
More news:
Get your furry friend ready for summer with Shein Hawaiian shirts for pets
Meet the incredible dogs trained to military standards
11 best dog breeds for remote workers
Get the best advice, tips and top tech for your beloved Pets
Victoria is a writer, author and communicator with a background in science and has recently completed an MSc in Science Communication. She also has a degree in Evolutionary Biology and has written for magazines including World of Animals, How It Works and Science+Nature. She grew up with rabbits and a spaniel, and has had her horse, Bernie, for 11 years.