Newly-adopted dog refuses to leave 84-year-old woman's side after she went missing
Pearl Radcliff was recovered safe and well with her dog she had adopted only 9 days before watching over her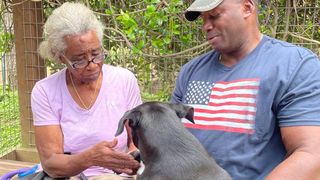 (Image credit: Twitter / KHOU 11)
The unbreakable bond between humans and their dogs is something animal-lovers will be all too familiar with. But one faithful pet in Texas took this loyalty to new heights when he refused to leave his 84-year-old owner's side when she went missing.
After two days of search efforts, Pearl Radcliff was found unconscious on a sidewalk in Houston with her stoic dog Maximus standing watch over her. What makes this story even more incredible is that he had only been adopted nine days before.
Police in Houston, Texas, issued a Silver Alert as they tried to track down the missing Ms Radcliff. She had recently been suffering from memory loss, and was last seen leaving her home to take her newly-adopted dog for a walk, Houston news station Khou 11 reported.
After two days, a Facebook post from the Texas Center for the Missing confirmed Ms Radcliff had been found safe. And she wasn't alone. Her dog Maximus, who she had adopted just a week before she went missing, was found sitting next to her.
Khou 11 reporter Janelle Bludau tweeted a video showing Ms Radcliff's nephew, Dawne, receiving a call from the Memorial Hermann Southwest Hospital. After her worried relative had spent 48 hours scouring the area to try and find her, a hospital doctor was able to confirm to a relieved Dawn that she had been found, unconscious but safe.
UPDATE: Just got off the phone with Dawne, Pearl Radcliff's nephew. His aunt is doing well - he's had a chance to visit her. She doesn't remember much of what happened. He says he hospital is keeping her for a few days to monitor her. He is so thankful for everyone's help. @KHOU pic.twitter.com/qhN8pcVq1HSeptember 10, 2022
"We found her lying on the sidewalk on Beechnut (Street) with her dog," the doctor can be heard saying over the phone. "Animal control has the dog, she's here in the ER (emergency room)."
The next day, Bludau posted a heart-warming photo of Ms Radcliff being reunited with her devoted dog Maximus and nephew Dawne.
Also, side note on her pup Maximus. Pearl had just adopted him NINE days ago. And even being with her only a few days, the pup was so loyal - he stayed by her side the entire time. The family is picking him up from animal control tomorrow, and they're never letting him go! @KHOU pic.twitter.com/kXjYNXGrdASeptember 10, 2022
She also revealed that the 84-year-old had adopted him just nine days earlier, and while she didn't remember much of what had happened in the period she was missing, she remembered how he refused to leave her side throughout.
"The family is picking him up from (the) animal control tomorrow," the reporter tweeted, "And they're never letting him go!"
Get the best advice, tips and top tech for your beloved Pets
Having grown up on farms in rural south west England, there has rarely been a moment in Harry's life when his home hasn't been filled with a cacophony of animal noises. From dogs, cats, hamsters and rabbits to chickens, goats, tortoises and a particularly mischievous lamb, he has always enjoyed being surrounded by a wide variety of pets. Currently, he enjoys living in the (comparatively quiet) company of his one-year-old cavachon, Archie. As a writer, he started his journalistic career in 2018 as a reporter earning bylines in more than 70 regional and national UK newspapers over the next three years. After this, he began writing for magazines, producing features and reviews for titles including Men's Health, Good Housekeeping, Elle and Esquire.