Dog saves fawn from drowning in Virginia lake
Watch the incredible moment a heroic dog saves a fawn from drowning in a nearby lake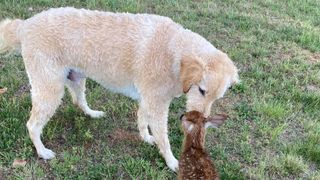 (Image credit: Ralph Dorn / Facebook)
A heroic dog has saved a fawn from drowning after he spotted the tiny hoofed mammal stranded and in distress in the middle of a lake, 200 feet from the shore.
Goldendoodle, Harley, has stolen the hearts of animal-lovers around the world after this special dog risked his own life to rescue a baby deer earlier this month.
Harley's owner, 62-year-old Ralph Dorn of Culpeper, Virginia, shared this incredible story on Facebook, explaining how he had struggled to find his beloved four-legged-friend one evening. That was until he looked out onto the lake behind his house.
"He was near the middle of the lake herding a little fawn back to the shore line", said Ralph. "Not sure how the fawn got out there but Harley obviously didn't ask why, he just jumped into action."
Once Harley had helped the fawn – thought to have only been a few days old – reach the lake's edge and Ralph had scooped the baby out onto the ledge, the caring canine instantly began licking the tiny creature.
"Harley didn't want to leave the fawn", explained Ralph, as he continued to interact with and care for the fragile little baby.
However, not long after the pair had reached the safety of dry land, the fawn's mother appeared. It wasn't until Ralph and Harley had gone inside that the doe approached with caution to collect her baby.
"We could tell right away, even as a puppy, [Harley] had such a good heart," Ralph said lovingly. "He has always been like that with children and animals. He loves them all."
Watch the heart-warming moment the deer made it to shore below.
Get the best advice, tips and top tech for your beloved Pets
Chloe is a freelance writer, editor, and proofreader, who has more than ten years' experience in creating animal-focussed content. From National Geographic to Animal Planet, Chloe's passion for creating fact-filled features all about wildlife and the environment is evident. But it's not just wild animals that Chloe's fascinated by. Having written more than 75 articles for PetsRadar - and having her very own four-legged friend by her side - it's no wonder that her love of dogs (and, of course, cats) has grown exponentially.
Her website, www.chloemaywrites.com, and social media pages - @ChloeMayWrites on Instagram, Facebook, and Twitter - showcase her knowledge through daily facts and trivia tidbits. For example, did you know that snails have teeth?!