Heroic dog saves owner from mountain lion attack in California: "I owe her my life"
Eva the Belgian Malinois sustained multiple puncture wounds in the attack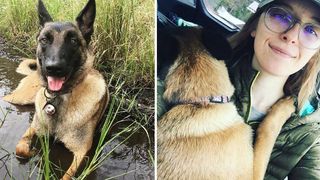 (Image credit: Instagram / @eva_the_mal)
A quiet afternoon stroll turned into a scene from a horror movie this week for 24-year-old Erin Wilson from Trinity County.
Wilson was walking by the Trinity River when a mountain lion sprang at her, ripping her jacket and scratching her shoulder. Fortunately, help was at hand in the shape of her 2 ½-year-old Belgian Malinois, Eva. The 55-pound dog came charging back up the track to help, bowling into the lion and knocking it over.
"They fought for a couple seconds, and then I heard her (Eva) start crying," said Wilson, speaking to the Sacramento Bee newspaper. "That's when the cat latched on to her skull."
Terrified for her pet, Wilson bravely tried to attack the lion herself, raining blows down on its head and getting scratched but the animal refused to let go. She quickly ran back to her truck, which was still in sight, in search of a weapon and managed to flag down another driver, Sharon Houston.
If Houston was surprised at being stopped and asked to help tackle a mountain lion, she didn't hesitate! She leapt out of her vehicle, grabbed some pepper spray and ran to the rescue. Not a moment too soon, as the lion had managed to drag Eva off the track when the women arrived. The pair used the pepper spray to drive off the lion, and Eva ran back to the truck.
Wilson was relieved to see her brave, beloved pet up and running, but soon realised that Eva's injuries were more serious than she'd thought. The dog's face was covered in puncture wounds and blood was flowing from her mouth. Wilson immediately set off on the hour-long drive to Redding, the nearest big city, to find emergency vet treatment.
Despite Eva lapsing into convulsions during the frantic drive, veterinarians were able to treat the injuries which included two fractures to the skull, a puncture into the sinus cavity and severe swelling around her left eye. After spending several nights at the clinic, Eva will be allowed home tomorrow (Friday).
Wilson has created a GoFundMe account to help cover the vet's bills, and has so far raised over $27,000 of an original $7,500 target. She says that some surplus funds will go to 'Malinois rescues, big cat rescues, and predator management groups', so clearly doesn't bear her attacker any malice!
It's rare to be attacked by a mountain lion – in fact, according to the California Department of Fish and Wildlife, you're 1,000 times more likely to be struck by lightning!
So while Wilson was unlucky to find herself the victim of an attack, she was extremely lucky that 'hero dog' Eva was on hand to rescue her. "My dog is my hero and I owe her my life," wrote Wilson on social media.
Get the best advice, tips and top tech for your beloved Pets
Sara is a freelance journalist and copywriter of many years' experience with a lifelong love of animals. She's written for a range of magazines and websites on subjects varying from pet care to travel. A horse rider since the age of five, she's currently a full time pet slave to horse Blue and gorgeous, goofy English Springer Spaniel Olly. Adorable Olly has a huge sense of adventure and no sense of direction, keeping Sara on her toes.