Mountain lion discovered by pet dog hiding under Colorado family's backyard
Wildlife officials relocate an uninvited guest hiding under a Colorado family's garden deck after it's discovered by their pet dog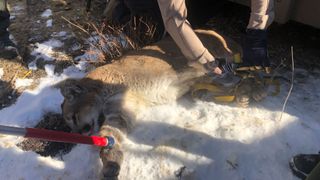 (Image credit: Colorado Parks and Wildlife)
Colorado Parks and Wildlife officers were called out to Boulder, Colorado, on Sunday morning to help relocate a rather unexpected guest hiding under one family's porch deck.
According to Colorado Parks and Wildlife, the family were made aware of an intruder thanks to their pet dog and, after investigating underneath their decking with a flashlight, they discovered a much larger beast than they anticipated – a 115-120 pound, young, male mountain lion – and immediately called authorities.
With a helping hand from Boulder Open Space & Mountain Parks (OSMP) and Boulder Police Animal Protection Officers, the CPW Wildlife Officers were able to tranquilize the sleepy lion and pull it out from beneath the decking by 10am.
By 1pm, the cougar was released into a much more remote area in southwest Larimer County.
Many larger predators will venture into more populated areas at this time of year, in fact there have been 17 reports of mountain lions in the City of Boulder since January 15.
"Leading up to this over the past couple weeks, we've had several pets taken in town by a sub-adult lion, probably siblings in town," CPW Wildlife Officer Tyler Asnicar explains.
"They've been spotted a lot in north Boulder. This may or may not have been one of those cats, but increased winter activity is fairly typical as they follow their prey base down, and particularly the mule deer that move into lower elevations this time of year."
"The cats concentration around the western edge of town and that leads to an increase in sightings and probably led to this cat being in town looking for something to eat."
While cougar sightings are fairly common, it's not always possible for authorities to intervene as easily as they were able to with Sunday's cat.
"One factor we look at is location when we get cats that come into town," Asnicar continues.
"This one was pretty far east in Boulder in a populated area and it is not a good situation to have a big predator like that close to so many people. It is better for the people and the cat to try to move it. Relocation was our best approach in this case."
But while it might sounds scary, Asnicar ensures Colorado residents that they shouldn't be worried – just be aware.
"Cats are going to come and go, it is not a new thing and it isn't going to go away, so know that if you are out and about in town you have a chance of coming upon a mountain lion or other predators as well like bears, coyotes and foxes. So keep an eye on your pets, keep an eye on your kids and teach them what to do if they were to encounter a mountain lion or bear."
And what exactly should you do? Visit CPW's Living with Wildlife and report any sightings immediately, directly to your local relevant wildlife authority or state patrol – the quicker the better!
Get the best advice, tips and top tech for your beloved Pets