English Mastiff gives birth to an astonishingly large litter in rare record
It's extremely rare – but utterly delightful – for an English Mastiff to have such a large litter size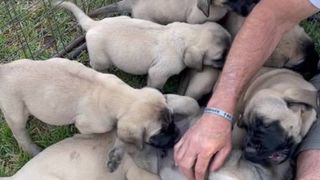 (Image credit: Facebook / Mystery Mountain Mastiffs)
English Mastiffs usually give birth to an average of six to eight puppies – so imagine how proud Lily felt with her litter of 21!
Easily beating a previous Californian record of 17, Lily's adorable large family has sent jaws dropping across the world after the news broke on Facebook.
What's more, it emerged the litter was so large, the birth had to be carried out by a caesarean section. The procedure was led by Dr Debra Hoffler at the Countryside Veterinary Hospital and it involved every one of the center's medical staff.
Lily has been raised at Mystery Mountain Mastiffs, in Valley Center, which is a small, 11-acre kennel established in 1995.
Owned by Clark Henderson, who also works as a dentist in San Diego, it prides itself on providing extensive socialization with other dogs and humans.
"Congratulations to all the new puppy owners of this incredible record-setting litter!", the Facebook post said, prompting some of those owners to share photos of the puppies settling nicely in their new homes.
English Mastiffs are no stranger to setting records. As the largest of the different types of Mastiff breeds, one became the heaviest dog in the world in 1989, weighing in at 345 pounds (157 kilograms).
Sadly, however, Lily's litter size isn't the largest of all time. That accolade goes to Neapolitan Mastiff Tia, in the United Kingdom, who gave birth to 24 puppies in 2004.
Even so, it's still a whopping achievement. Our congratulations go out to all!
Get the best advice, tips and top tech for your beloved Pets
David Crookes has been a journalist for more than 20 years and he has written for a host of magazines, newspapers, websites and books including World of Animals, BBC Earth, Dogs and Canines, Gadget and The Independent. Born in England, he lives in a household with two cats but he's also keenly interested in the differences between the huge number of dog breeds — in fact, you can read many of his breed guides here on PetsRadar. With a lifelong passion for technology, too, he's always on the lookout for useful devices that will allow people to spend more time with their pets.