Five hero dogs who are helping to make our world a better place
Meet the big-hearted hero dogs doing their utmost to help us humans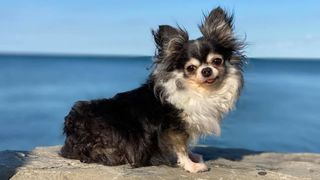 (Image credit: Facebook)
The stories of the hero dogs below are a heart-warming reminder that perhaps what draws us most to man's best friend is their unwavering love and loyalty that seems to know no bounds.
Whether they're helping to keep troops safe in war-torn countries, or looking to prevent the spread of a pandemic closer to home, these courageous canines are stepping up for humanity when we most need them.
There are more hero dogs than there is space to write about them all, so here are just five of the fabulous furkids making headlines around the world right now.
1. MacKenzie: Mother to rescue animals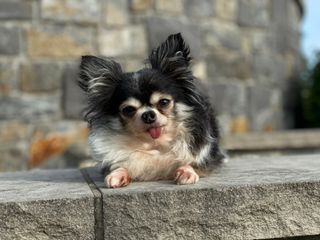 A 4-pound Chihuahua with a cleft palate was the American Humane's Hero Dog of 2020. Scooping the top honors for her work with rescued baby animals, MacKenzie is living proof that true love knows no bounds, and that even the smallest among us can make a big difference in the world.
Known lovingly as 'Kenz', this little Chihuahua was tube-fed for the first year of her life, and survived several bouts of pneumonia while being cared for at The Mia Foundation, a not-for-profit organization that looks after rescue animals born with birth defects.
While staff were unsure whether she'd survive, they immediately noticed something special with Kenz, who seemed more concerned with mothering and taking care of all the other rescued baby animals than she did with her own survival.
At almost a year old, Kenz received life-saving cleft palate surgery, and has gone on to play a pivotal role at The Mia Foundation. Seven years later, she continues to nurse, clean, comfort, and cuddle all baby animals, regardless of size or species. Among the many charges in her care are puppies, kittens, goats, turkeys, squirrels, birds, mice, and even a Great Dane.
2. Sampson: The amazing assistance dog in PPE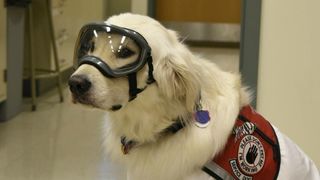 Service dog Sampson is a Golden Retriever on a mission, having been trained to wear PPE so he can assist his owner, Joey Ramp, in her lab at the University of Illinois. Joey suffered a traumatic brain injury following a horse-riding accident in 2006, and is currently working towards a Ph.D. in Neuroscience to help her better understand the human brain.
Sampson is required to wear PPE for safety reasons, and is the first ever dog to be allowed access to the University's laboratory. Each day, dressed in goggles and a lab coat, Sampson helps pick up things that Ramp may drop while conducting her research, and is also on hand to keep an eye on Ramp's PTSD, spotting the signs and reacting when needed.
When they're not in the lab together, Sampson and Ramp are busy working with other universities around the world to help introduce service dogs into their own labs. Sampson also wears his PPE for short bursts on his days off to ensure he remains used to his goggles and coat.
3. Olive: Aiding abused kids in court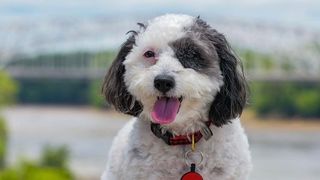 Small Poodle-mix Olive is a sweetheart on a mission. From hopeless and homeless to living her purpose, Olive was rescued from the streets by Lisa Bax, and is now a trained therapy dog who accompanies abused and neglected children as they face their perpetrators in court.
Since she began in the court system in 2016, Olive has assisted more than 300 children who have testified against their abusers in criminal trials. She walks through the courtroom doors with them, and stays by their side, providing much-needed comfort and security.
One of the winners in the 2020 American Humane Hero Dog Awards, Olive underwent extensive training with 'Lucky Dog' host and expert animal trainer Brandon McMillan on his ranch outside of Los Angeles. McMillan immediately picked up on her gentle nature and natural gravitation towards children, and knew she was the right fit for the challenging courtroom environment.
"She is an animal, but she has a feeling of knowing these kids are experiencing hard times," says Bax. "Somehow she knows how to plant a little kiss or nose snuggle, calming them down."
4. Storm: The Covid-detecting Labrador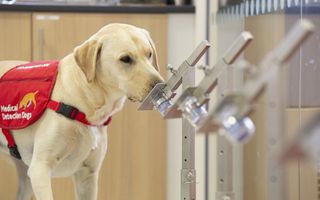 A Labrador-Golden Retriever cross, Storm is currently undergoing intensive training to be a Covid-19 detection dog. A key member of the Medical Detection Dogs (MDD) charity, this canine may look big and brave, but Claire Guest, co-founder of MDD, says he has a sweet and soft character, and is eager to please.
Alongside five other dogs, Storm is being trained to detect the scent of the virus to help prevent the further spread of the pandemic in the future. Storm and his fellow recruits are learning the odor of the virus by sniffing tiny pieces of shirt, socks, and face masks that have been worn by people who tested positive.
It's hoped that once he's completed his training, Storm, and others like him, will be able to be used to identify travelers entering the country who are infected with Covid-19 or be deployed to other public spaces.
5. Kuno: Life-saving hero of Afghanistan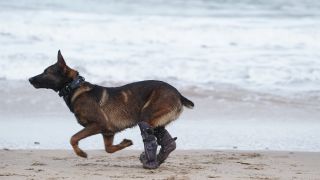 Retired British-Army Working Dog Kuno is proving why dogs truly are man's best friend. Deployed to Afghanistan, Kuno suffered life-changing injuries while supporting British troops attacking an Al-Qaeda compound.
When the British troops found themselves trapped by the heavy machine-gun fire of an insurgent who had hidden in the compound, Kuno was released by his handler to attack the insurgent so the troops could enter the compound safely and clear the building.
During his act of bravery, Kuno was shot and injured in both hind legs, but continued to press forward, biting the gunman's arm and wrestling him to the ground. The bullets seriously damaged Kuno's back legs, and he required multiple surgeries before he was able to fly home to the UK. He is the first British Military Working Dog to be fitted with custom-made prosthetic limbs.
In late 2020, Kuno was awarded the Dickin Medal from the People's Dispensary for Sick Animals (PDSA), the highest award an animal can receive in the military, the equivalent of winning the Victoria's Cross. Pronounced a hero by the PDSA, they believe his actions changed the course of that mission, and saved multiple lives in the process.
Get the best advice, tips and top tech for your beloved Pets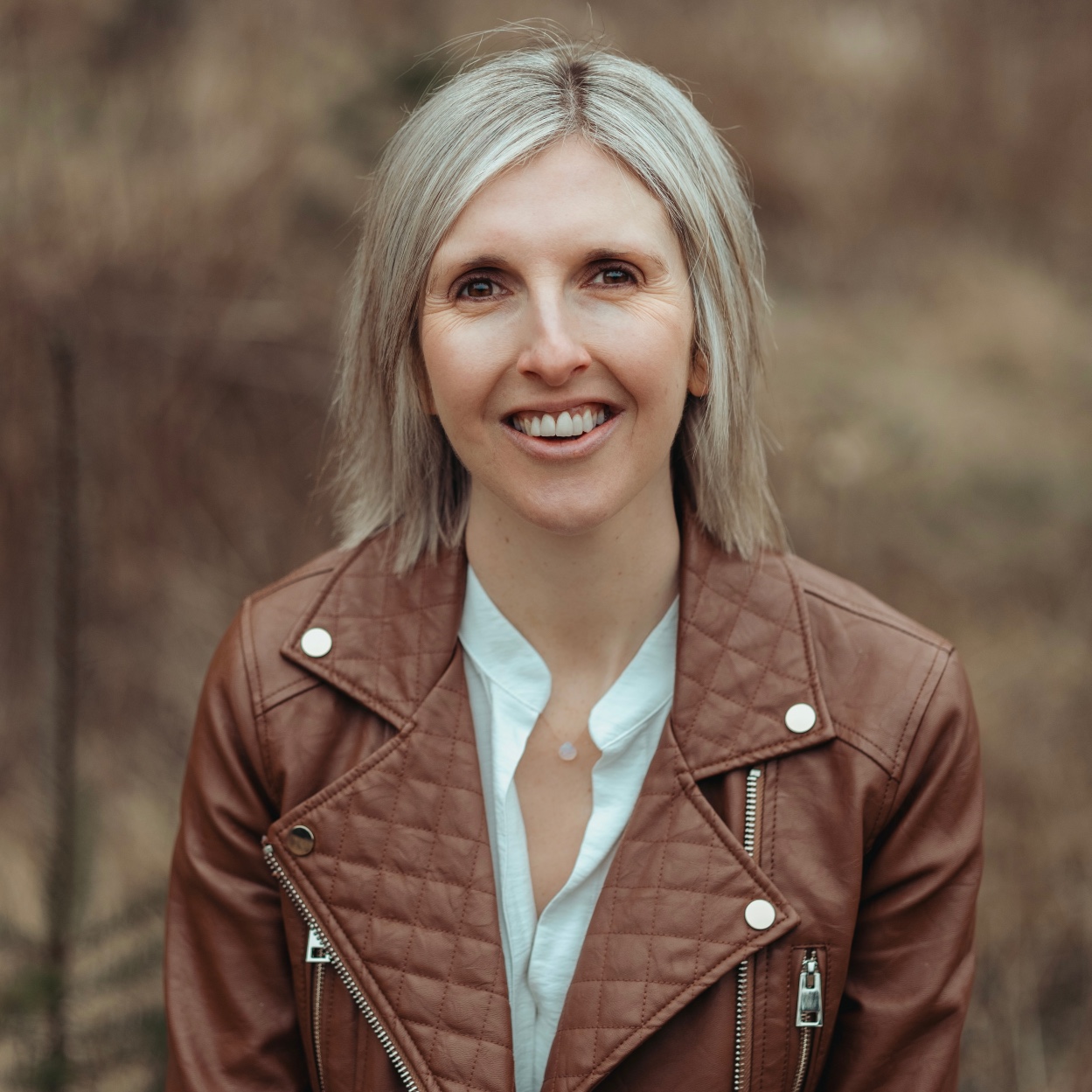 Kathryn is a freelance writer who has been a member of the PetsRadar family since it launched in 2020. Highly experienced in her field, she's driven by a desire to provide pet parents with accurate, timely, and informative content that enables them to provide their fur friends with everything they need to thrive. Kathryn works closely with vets and trainers to ensure all articles offer the most up-to-date information across a range of pet-related fields, from insights into health and behavior issues to tips on products and training. When she's not busy crafting the perfect sentence for her features, buying guides and news pieces, she can be found hanging out with her family (which includes one super sassy cat), drinking copious amounts of Jasmine tea and reading all the books.