Watch: Tiny French Bulldog pup chases large Rottweiler around the room
Dozer the Rottweiler had some playful fun with a newly introduced French Bulldog puppy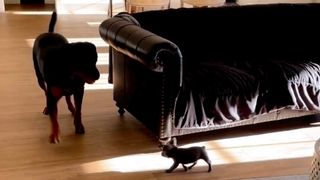 (Image credit: Instagram)
When a large Rottweiler began kissing a tiny French Bulldog, it threatened to melt many hearts. But that was before the small dog decided to chase the Rottie around the room which caused the Internet to melt down with laughter instead.
In an hilarious video posted on Instagram, Dozer the Rottweiler is filmed bending down towards the Frenchie's face only to suddenly appear startled.
Cue a cute chase around a sofa and table in which the pup appears to have worked out the element of surprise – waiting for Dozer to venture back round rather than waste lots of energy running.
The playful session has been viewed more than a million times, attracting in excess of 94,000 likes.
Captioned "Tiny Sister almost caught me! Good thing I'm fast", it's one of a number of videos featuring the pair who look to have formed a solid bond.
Indeed, the poster revealed the French Bulldog had only been introduced to the household a couple of days earlier and this was their first ever game of chase.
"These two need their own TV show," one commenter said. While another added: "Dozer is a very special dog to be that gentle with the little girl."
French Bulldogs are known for being lively with an appetite for play and mischief. They also get along well with other pets, especially if they are exposed to them from a young age.
Rottweilers – despite a negative reputation – also make for great pets if they're well-trained and socialized as Dozer certainly appears to be.
Get the best advice, tips and top tech for your beloved Pets
David Crookes has been a journalist for more than 20 years and he has written for a host of magazines, newspapers, websites and books including World of Animals, BBC Earth, Dogs and Canines, Gadget and The Independent. Born in England, he lives in a household with two cats but he's also keenly interested in the differences between the huge number of dog breeds — in fact, you can read many of his breed guides here on PetsRadar. With a lifelong passion for technology, too, he's always on the lookout for useful devices that will allow people to spend more time with their pets.