Watch: Shamed Rottweiler puts himself in the corner after making a mess in viral video
The lovable Rottweiler decided to put himself in the naughty corner after being ousted by his Sharpei brother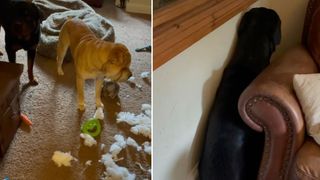 (Image credit: TikTok / @always.a.woman)
Ever returned home to find your mischievous mutts making a mess, only for the culprit to admit to his own guilt? In a viral video posted to TikTok, one lovably naughty Rottweiler puts himself in the corner after his owner comes home to discover quite the mess scattered around their sitting room.
"If only people were this easy to read," the caption of the video posted by TikToker @always.a.woman reads, followed by the sight of complete carnage on the floor.
A trail of stuffing can be seen strewn across the carpet with a few remnants of toys lying in-between in a sorry state. Two dogs can then be seen entering the shot - a Sharpei and a Rottweiler - but one seems to be judging the mess more than the other!
While the Sharpei looks down on the mess, then looks his owner straight in the eyes as if to say "Wasn't me," instead preferring to stare straight at his friend to oust him, the Rottweiler suspiciously loiters away from the carnage.
"Who did it?" questions the video and it becomes apparently clear which pooch is the culprit.
In a hilarious moment viewed over 7 million times on the social media platform, the Rottweiler decides to take it upon himself to go his corner of shame while his buddy looks on.
"Answers on a postcard...," @always.a.woman aka 'Rocky & Me' jokes in the comments section and plenty of TikTokers joined in the hilarity.
"The way he's facing the wall... I can't," wrote user Yas.
"They always give themselves away," commented Robert Gumbrell.
Many TikTokers were quick to comment on the actions of the Sharpei instead.
"His bro like "dude, just confess," joked user coveysofetch to which OP Rocky & Me replied: "Little snitch!"
"Folded like a wet napkin and the other drove that bus right over him," summarized TikToker @deadpool_01fan.
When the duo aren't turning each other in, you can watch their brotherly love unfold over on their TikTok channel, where their owner charts their everyday relationship in a series of sweet and hilarious videos.
Get the best advice, tips and top tech for your beloved Pets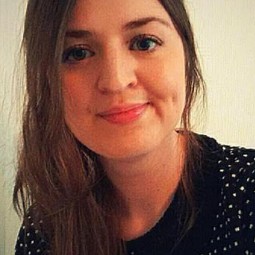 Ashleigh is Digital Editor on PetsRadar. With over 8 years of experience in print and digital media, she has acted as an editorial lead on a variety of projects, with animal themes a keen interest. As an avid animal lover, you can often find Ashleigh checking out the newest trends in animal care or looking at cute cat videos on TikTok.