Gorgeous golden retriever brings much-needed joy to exhausted firefighters
Californian firefighters are getting comfort hugs from Kerith the therapy dog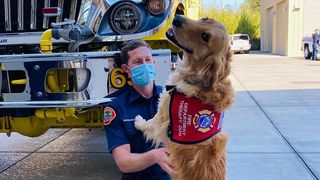 (Image credit: Instagram: kerith_the_golden_retriever)
Tackling the raging Californian wildfires is taking its toll on first responders, so Kerith the golden retriever has stepped up to do her bit by spreading happiness and comfort as she visits firefighters on the front lines.
She's been raising smiles and giving out hugs as she visits fire trucks, where the exhausted blaze fighters are dealing with the aftermath of all that comes with braving wildfires for days on end. A certified crisis-response therapy dog, the two-year-old, good-humored hound makes it her business to spread love and comfort to anyone who needs it.
Kerith's owner, Heidi Carmen, told SFGate: "She doesn't know there is a fire. She doesn't know there is COVID. So she just knew she was seeing her friends and was really happy to do so. For the firefighters, I think it really made their day."
She adds: "One firefighter from central Marin said, 'This was the best base camp ever because Kerith was there.'"
Kerith is clearly the right dog for the job. She got a little sad herself when the pandemic put a halt to her usual therapy visits and she was separated from her fire-fighting friends.
As Heidi explained to SFGate, "In the beginning of COVID, when we couldn't do anything or see anybody, I would say she was depressed. She was just down. She missed doing what she's really meant to do: just give love to firefighters."
Now she's been allowed back, and she's loving it! It's great that she's back doing what she does best – making others happy and boosting morale when they are feeling overwhelmed, exhausted, and emotionally depleted, which in turn makes her happy too! How suited to a job can one dog be?
You can follow Kerith's heart-lifting exploits on her Instagram page and if you want to support her in her important joy-giving work you can help fund her activities on her GoFundMe page.
Get the best advice, tips and top tech for your beloved Pets
Jamie Middleton is a freelance editor and writer who has been editing and creating content for magazines and websites for over 20 years. As well as writing about the pets he loves, he has helped create websites about tech and innovation like TechRadar.com, Innovate UK and TechSPARK, written programmes for music festivals, books on inventions and architecture, TV listings magazines, and edited publications about cars such as Lexus, Toyota and Jaguar. In his spare time he writes fiction books and poetry - or at least he does when he is permitted to by his cat Pirate, who enjoys the warmth of laptops too much to allow being creative to get in the way.