Dog rescued from a cave is reunited with owners after surviving alone for weeks
Hawkeye was found at the bottom of a 30-foot pit after surviving 2 weeks alone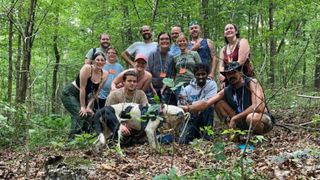 (Image credit: Harrison County Animal Control / Facebook)
An extraordinary dog rescued from a cave in Indiana's Dewey Hickman Nature Preserve has been reunited with his family.
A group of cave divers discovered the dog at the bottom of a 30-foot pit, where it was believed he had been caught by his collar on a branch as he fell. After descending into the cave to rescue the unfortunate pooch, the group were able to lift him out before turning him over into the care of the Harrison County Animal Control who named him Dewey after the park where he was found.
"We believe the dog was eventually able to wiggle free and dropped to the bottom of the cave," the Indiana-based animal shelter reported on their Facebook page. "The cavers reported there was an empty turtle shell at the bottom of the cave, which may have helped collect rain water which kept Dewey alive."
Based on Dewey's condition, the shelter estimated the dog had been in the cave for up to two weeks.
He was found in an emaciated state and his collar was significantly loose, having dropped a significant amount of weight during his time in the cave, and required veterinary care to be reintroduced to food.
An appeal was set up for donations, while Dewey was placed on a "a 5 day stray hold" as the shelter searched for his owners.
"He is still a little lethargic right now after everything that has been going on," April Breeden, Director of Harrison County Animal Control said.
"But when he first came in this morning, he was just so loving. He just wanted to be loved on and be petted. I took him into my office, and he immediately jumped up on the couch, and he's been sleeping there ever since. He is amazing."

Fortunately for this plucky pooch, the tale does have a happy ending.
After posting Dewey's story on their Facebook page, Harrison County Animal Control received comments from several members of the public stating that the dog's name was in fact Hawkeye and his owner was looking for him too.
After two days of care at the Harrison County Animal Control, the shelter announced that he would be reunited with his family.
"We believe we have found Dewey's owner," they wrote. "His name is actually Hawkeye!! We will keep you all posted!"
After first reuniting with a few of the rescuers who saved him from the cave, Hawkeye was eventually greeted by his owners and, following a well-earned hug, left the shelter hopefully never to return again.
Get the best advice, tips and top tech for your beloved Pets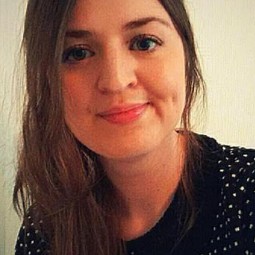 Ashleigh is Digital Editor on PetsRadar. With over 8 years of experience in print and digital media, she has acted as an editorial lead on a variety of projects, with animal themes a keen interest. As an avid animal lover, you can often find Ashleigh checking out the newest trends in animal care or looking at cute cat videos on TikTok.