Hero UPS driver makes special Christmas delivery to return lost dog
One couple had extra reason to thank their regular driver as he turned up with a very special delivery – their lost dog!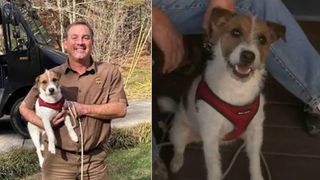 (Image credit: Paula Odom / WRBC Chattanooga/ YouTube)
At this special time of the year, customers rely on a postal service to get their packages delivered safe and sound, but for one couple based in Turtletown, Tennessee, they had extra reason to thank their regular driver as he turned up with a very special delivery – their lost dog!
Paula and Perry had found themselves in the middle of every pet owners' worst nightmare when they realized their seven-year-old Jack Russell Terrier, Pete, was missing.
The breed is renowned for being energetic and curious and the distraught owners were worried their beloved pet had headed straight for the nearby Cherokee National Forest.
They immediately went out searching with no success. Paula was especially worried about hazards such as coyotes and bears and realized her pet wouldn't have the street smarts to cope with such an unfamiliar situation.
Fortunately their very own knight in shining armor was at hand in the shape of Darrell Slack, a veteran UPS delivery driver of 29 years. Used to dealing with the neighborhood dogs when out on his rounds, Darrell had a secret weapon in his van – a box of tasty dog biscuits.
When a distressed Paula spotted him on his rounds and appealed for help, he reassured her, "We'll find him, it's OK'. Despite working his busiest week since Black Friday making Christmas deliveries, he decided to take an additional route to increase his chances of spotting the wayward pooch.
The appealing little white and tan Terrier was lost wearing a red harness and the bright color may have helped. "It just so happens I caught a glimpse of him in my peripheral vision," explained Darrell to the local TV station, WRCB Chattanooga. "I had the treat in one hand then as he got close enough I was able to get a hold of his harness."
With Pete safely on board, the experienced driver didn't forget his professional responsibilities – he finished his round before taking Paula Odom what she called 'by far the best package I have ever received'.
She explained: "I was absolutely in tears and just thought I'd never see him again. Darrell is a very special man for bringing him back. Pete is the love of my life."
Darrell said that he was just glad to help out a neighbor and that he felt part of the community. One thing's for certain, two relieved owners will always be grateful he took the time to play Santa Paws this year.
Get the best advice, tips and top tech for your beloved Pets
Sara is a freelance journalist and copywriter of many years' experience with a lifelong love of animals. She's written for a range of magazines and websites on subjects varying from pet care to travel. A horse rider since the age of five, she's currently a full time pet slave to horse Blue and gorgeous, goofy English Springer Spaniel Olly. Adorable Olly has a huge sense of adventure and no sense of direction, keeping Sara on her toes.