How to make Christmas dinner for dogs! Four festive food recipes for your four-legged friend
Why should your pooch miss out? We've designed a Christmas dinner for dogs menu so the whole family can celebrate together!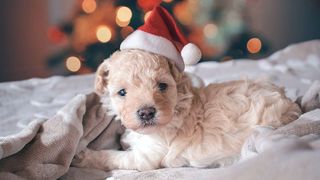 (Image credit: Photo by Rhaúl V. Alva on Unsplash)
Why isn't there a Christmas dinner for dogs tradition? What better holiday treat for your pooch? Sure, you've got them a truly outrageous Christmas gift, played them the first ever Christmas song for dogs, but what proves your love for them more than getting them involved with the Christmas meal? To fix this obvious oversight, we've gathered together a menu of some great recipes to help your furry friend join in the festive fine dining. They'll thank you for letting them forego the usual dry dog food and instead getting to join in the fun with the rest of the family.
First, though, a few safety tips. We know dogs will eat anything you put in front of them, but that doesn't mean you should let them counter-surf freely or nose about in the recycling bin for discarded morsels – there are some foods dogs really shouldn't eat. For example, chicken and turkey bones can puncture their stomach or digestive tract, and chocolate, raisins, nuts, onions and garlic can be toxic to dogs, so it may be safer to keep them out of the kitchen all together when preparing festive fare.
Fortunately, there's loads of Crimbo cuisine they can get stuck into safely, so you can have a happy holiday hound during Christmas dinner. Mashed sweet potatoes, carrots, parsnips, swede and pumpkin are all chock-full of important vitamins and minerals to help keep your dog in tip-top shape (just avoid any seasoning). Steamed green veg is also good for them, so there's no need to skimp on the green beans, Brusssel sprouts, broccoli, peas and spinach either. Turkey meat (without the fatty skin) is also a great treat.
However, if you aren't looking to share your food, but want to whip up something just for them, here are four recipes for a Christmas dinner for dogs menu that'll make your mutt as merry as the rest of the family.
Prep time: 15 minutes
Baking time: 20 minutes
Makes 15-20 meatballs
Ingredients
½ lb (230g) ground turkey
½ cup (120ml) pumpkin puree
1 egg
½ cup (120ml) spinach, loosely packed
2 tbsp parsley
½ cup (120ml) carrot, finely grated
1 cup (240ml) brown rice, cooked
Instructions
Preheat the oven to 400F (200C) and prepare a baking sheet.
Start cooking the brown rice.
Blend the pumpkin, egg, spinach, and parsley in a food processor.
Add the blended ingredients to the ground turkey in a large bowl and mix together.
Next, mix in the grated carrot and rice.
Take a spoonful of mixture and roll in your hands into a ball. Place onto the sheet and cook for 15 to 20 minutes.
Tip
To check if the meatballs are ready, just poke them with a fork. If they crumble easily, continue cooking them for 3-5 minutes.
Prep time: 10 minutes
Baking time: 45 minutes
Makes 4 servings
Ingredients
1 lb (455g) lean, ground turkey
1 large egg
⅓ cup (80ml) old fashioned oats
⅓ cup (80ml) diced tomatoes (with liquid and no sodium)
½ cup (120ml) carrots, finely diced
½ cup (120ml) green beans, diced
½ cup (120ml) brown rice or quinoa, cooked
Instructions
Preheat the oven to 375 degrees Fahrenheit (190C).
Cook the brown rice or quinoa.
Thoroughly combine all the ingredients in a large bowl. Spread mixture into a 5x7-inch loaf pan and bake for 45 minutes.
Cut into bite-sized pieces. Store covered in the refrigerator, or freeze.
Tip
This is a great recipe for preparing ahead of time, so you can get on with cooking for your human companions! Once the loaf is cooked, let it cool, then slice it into individual servings and store in a freezer safe bag or container. Remove the slices as you need them and defrost them in the fridge overnight.
Prep time: 35 minutes
Baking time: 25 minutes
Makes 25 biscuits
Ingredients
1 lb (230g) ground turkey
2 tbsp canola oil
2 medium-sized carrots
2 medium-sized sweet potatoes
1 cup (240ml) rice flour, plus extra for rolling
1 cup (240ml) quick cook oats
½ tsp garlic powder
1 tsp cinnamon
½ tsp ground ginger
3 tbsp honey
2 eggs, well beaten
⅓ cup (80ml) dried cranberries, chopped
1 tbsp parsley, chopped
Instructions
Preheat oven to 350°F (180C).
In a large skillet brown the turkey with 2 tbsp of canola oil until thoroughly cooked through.
Drain the turkey to remove excess oil and set aside to cool.
Trim the ends off of carrots, cut into thirds and place in a bowl, cover with water and microwave for 4 minutes on high; remove from water and set aside. When cooled, finely dice the carrots.
Prick both sweet potatoes with a fork, about 5 to 6 times each. Microwave on high for about 4 minutes or until soft all the way through. When cooled, remove skins and mash until there are no lumps.
Add the dry ingredients into a small bowl: rice flour, oats, garlic powder, cinnamon and ginger, mix well.
Next, into a medium mixing bowl add the sweet potato, honey and egg - mix well, then add in the turkey, carrots, cranberries, and parsley and stir to combine.
Add in the dry ingredients to the wet; mix with your hands and form the mixture into a ball.
Place on a rice flour dusted surface.
Roll out with a rolling pin to about a 1/4" thickness (not any thinner as they will break).
Cut out biscuits using a cookie cutter and then place on a baking tray lined with parchment paper.
Cook for around 25 minutes or until the edges start to turn light golden brown.
Allow to cool completely.
Tip
You can prepare these before hand and store the biscuits in an airtight container in the fridge for up to a week or freeze them and defrost as needed.
Prep time: 10 minutes
Baking time: 10-15 minutes
Makes 2-3 dozen treats
Ingredients
1 cup (240ml) fresh cranberries
1 cup (240ml) apple sauce
2 cups (480ml) whole-wheat flour
1 tsp ground cinnamon
¼ cup (60ml) milk, almond milk, or water
Instructions
Preheat the oven to 350 degrees Fahrenheit (180C) and line a baking sheet with parchment paper or a silicone baking mat.
Puree the cranberries and mix them in with the apple sauce.
Once combined add milk, cinnamon and whole wheat flour until the dough is well mixed.
Knead the dough into a ball and roll onto a heavily floured surface until a 1/4 inch thick, then cut with a cookie cutter of your choice.
Place on a prepared baking sheet and bake for 10 to 15 minutes or until browned at the edges.
Cool and refrigerate.
Tip
If you don't have fresh cranberries, you can substitute with dried cranberries. Skip the puree step and mix the dried cranberries with the apple sauce.
Kathryn is a freelance writer with a passion for creating health and wellness, travel and wildlife content. Originally from New Zealand, her nomadic lifestyle has her currently fur baby-less. She scratches her pet parent itch by stealing frequent cuddles with any neighbourhood cat kind enough to indulge her.
Get the best advice, tips and top tech for your beloved Pets
Thank you for signing up to Petsradar. You will receive a verification email shortly.
There was a problem. Please refresh the page and try again.