What spices can dogs eat? A vet weighs in
What spices can dogs eat? From alleviating digestive distress to reducing inflammation, a vet reveals which ones are beneficial for your pup's health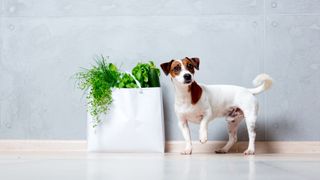 (Image credit: Getty Images)
Looking to find out what spices dogs can eat? Just like humans, dogs can benefit from incorporating more color into their diet. However, not all spices are safe for our furry friends to consume. So, what spices are the good ones? This is a common question among pet owners looking to liven up their pet's dog food bowl, and the answer is not always straightforward.
In this article, we'll explore the world of canine-friendly spices, discussing the benefits they can offer your pup and which ones you should avoid. From turmeric and ginger to cinnamon and parsley, we'll cover a wide range of spices that can help improve your dog's health.
While we've had a vet verify the below, it is highly recommended that you seek advice from your veterinarian before incorporating any spices into your dog's diet. The lack of research on the effects of herbs and spices on pets, coupled with the fact that supplements are not regulated by the U.S. Food and Drug Administration (FDA), makes it crucial to consult a professional. However, some studies offer promising evidence. For example, a 2020 study published in the Archives of Animal Nutrition found that curcumin, a chemical in turmeric, has anti-inflammatory properties that can help stimulate the antioxidant system and reduce inflammation.
Whether you're looking to reduce inflammation, improve digestion, or simply add some variety to your dog's diet, we've got you covered. We've had an experienced vet called Dr Jo Woodnutt confirm that the following spices are safe for your pup's to consume. Keep reading to learn more...
Dr Joanna Woodnutt qualified as a veterinarian from the University of Nottingham where she then went on to practice companion animal medicine in the Midlands. She really took to the consulting side of things and helping clients with medical problems such as dermatology, behaviour and nutrition - anything that involved helping clients understand their pets better.
What spices are good for dogs?
1. Basil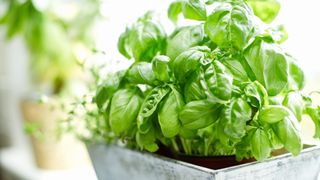 Anti-inflammatory and packed full of a wide range of antioxidants that are known to ward off a range of illnesses and diseases, including cancer, basil also has a calming effect that works wonders with anxious dogs. Oh, and did we mention it can also help ease joint pain in dogs suffering from arthritis? It seems like there's nothing this green herb can't do!
You can serve up a small portion of finely chopped basil leaves as a topper on your dog's dinner or give them a leaf or two straight off the plant. You can even give your pup a lick of pesto but just make sure it's a dog-friendly version that's free of garlic and walnuts, both of which are toxic for dogs.
2. Cilantro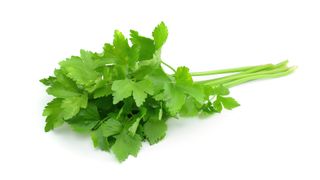 Cilantro, also known as coriander, works wonders when it comes to alleviating nausea, easing intestinal gas and diarrhea, and detoxifying the body. It's high in Vitamin A, C, potassium and zinc, and is well known for having anti-parasitic properties.
You can add cilantro into homemade dog treats or sprinkle it on top of your dog's food. It can be particularly helpful if they're experiencing a stomach upset, although bear in mind that too much can actually exacerbate the problem, so use it in small quantities only to achieve the desired remedial effect. You'll want to avoid giving your dog cilantro if they're pregnant as it can stimulate contractions.
3. Cinnamon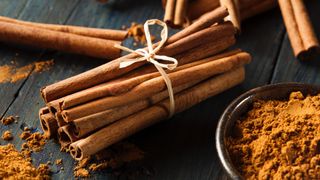 Warming and nourishing, cinnamon has anti-inflammatory and anti-cancer properties and protects against heart disease while also having the potential to lower the risk of doggy dementia, a condition similar to human Alzheimer's. It's also great for regulating blood sugar and combating free radicals in the body.
However, experienced vet Dr Jo Woodnutt says that cinnamon also has some reported negative effects at higher doses. If you are thinking of incorporating the spice into a recipe like these homemade pumpkin dog treats, she says to use a very small amount and never sprinkle it straight onto dry dog food. We recommend you opt for Ceylon cinnamon as this has less of the blood-thinning compound coumarin than the more common Cassia variety.
4. Dill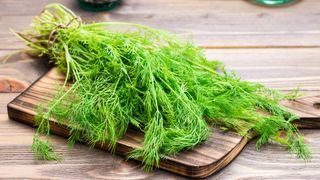 Antimicrobial, antifungal, and antibacterial, dill contains a range of antioxidant flavonoids that have been proven to protect cells and chromosomes from oxygen-based damage and free radicals. It also contains potent oils, like limonene, that may help increase the production of cancer-fighting enzymes and it's a brilliant digestive aid, helping to relieve gas, nausea and cramping.
If your doggy is suffering from digestive stress, why not make them up a bowl of soothing dill seed tea? Just mix one teaspoon of dill seed with eight ounces of warm water and once cool, give it to your pup. Avoid this if your dog is pregnant as dill has been known to cause miscarriages.
5. Fennel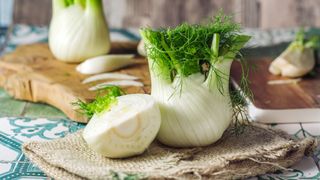 Give your dog's vision, bones, and immune system a boost with this vitamin and mineral-rich herb that's also brilliant at freshening the breath and relieving indigestion.
Fennel works beautifully in dog treat recipes or as a topper for the best wet dog food. Keep the dose of fennel low as excess quantities have been reported to cause breathing difficulties and heart palpitations.
6. Ginger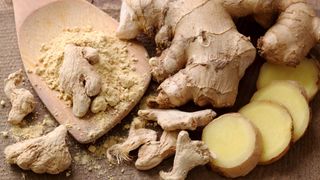 A one-stop shop when it comes to alleviating nausea, bloating, and gastrointestinal issues, ginger also helps regulate blood sugar levels, can reduce the pain associated with arthritis and age-related joint pain, and is even said to boost brain function and block the growth of cancerous tumors.
You can add fresh ginger to the top of your dog's food or make a batch of gingerbread cookies for dogs. Just be sure not to give them more than one teaspoon of raw ginger in a day as more than that can cause heartburn.
7. Oregano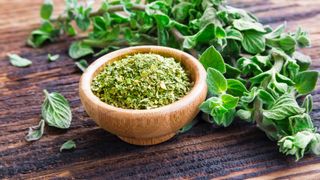 With a pungent smell and earthy flavor, oregano is a rich source of a range of vitamins plus Omega-3 fatty acids, calcium, iron and fiber. It has strong antimicrobial and antiviral properties, acting as a great body cleanser and it is particularly good at reducing inflammation and joint pain.
You can purchase a dog food that contains oregano or sprinkle some of the fresh herb on top of your dog's dinner. Oregano tea is also brilliant for soothing pain and digestive discomfort, simply add some of the leaves to warm water, allow to cool and then strain and serve to your dog.
8. Parsley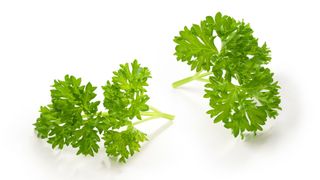 Is your doggy's breath smelling less than fresh? Then it's parsley to the rescue! Not only is parsley a great breath freshener, it's also superb at relieving itchy skin and helping to clear up urinary tract infections. Plus, it acts as a diuretic, flushing toxins and waste from the body and it's high in chlorophyll, which improves the health of blood cells.
Serve parsley leaves up on top of your dog's dinner or make a parsley tea or soup. Opt for curly parsley rather than flat leaf and avoid any seeds, as these can be toxic for dogs in high doses. Avoid feeding parsley to pregnant dogs as it can induce labour.
9. Peppermint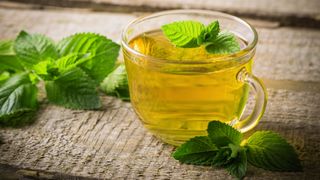 Well known for helping to relieve indigestion, sore stomachs and intestinal distress in humans, peppermint has a similar effect in dogs and is brilliant for helping to ease a wide range of digestive complaints.
We recommend brewing up some peppermint tea for your dog if they're experiencing vomiting or diarrhea but just be mindful that it can cause hypoglycemia in diabetics and should be avoided if your dog suffers from gastroesophageal reflux disease (GERD)
10. Turmeric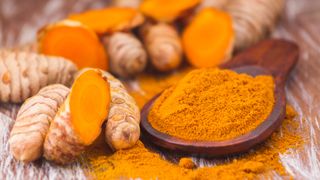 Currently one of the trendier additions to dog food, turmeric is part of the ginger family and has an earthy flavor and rich yellow color. It has long been known to have power anti-cancer and anti-inflammatory properties and can help health the cut, improve brain fucntion, fight free radicals and reduce the painful symptoms of arthritis.
It's worth pointing out that turmeric acts as a blood thinner that may interact with other drugs and increase the risk of bleeding, so we recommend speaking with your vet before giving this to your dog. But if your pup isn't on any drugs and your vet feels it's appropriate, ¼ teaspoon for small dogs, ½ teaspoon for medium dogs, and 1 teaspoon for large dogs mixed into their food can be very beneficial.
11. Anise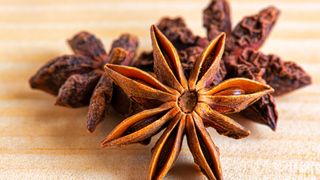 Anise is a common spice found in many people's pantries, whether you like to shove it in your baked goods such as muffins or buns or enjoy making your own chinese five spice powder, it's an exciting spice to blend into human foods. And according to Dr Woodnutt it's a dog friendly one too.
"Anise comes from a herb related to parsley. Its strong licorice smell appears to have a similar effect on dogs as catnip has on cats, causing hyperactivity that can last a couple of hours," she notes. We reveal what does catnip do to cats for those wondering.
Jo continued, "It's not 100% reliable though, as not all dogs will react like this. It can be safely added to dog treats in small amounts, but large amounts can cause vomiting and diarrhea."
If you'd like to learn more about which foods are safe for your canine companion to consume, our guide to what human food can dogs eat has got you covered.
Get the best advice, tips and top tech for your beloved Pets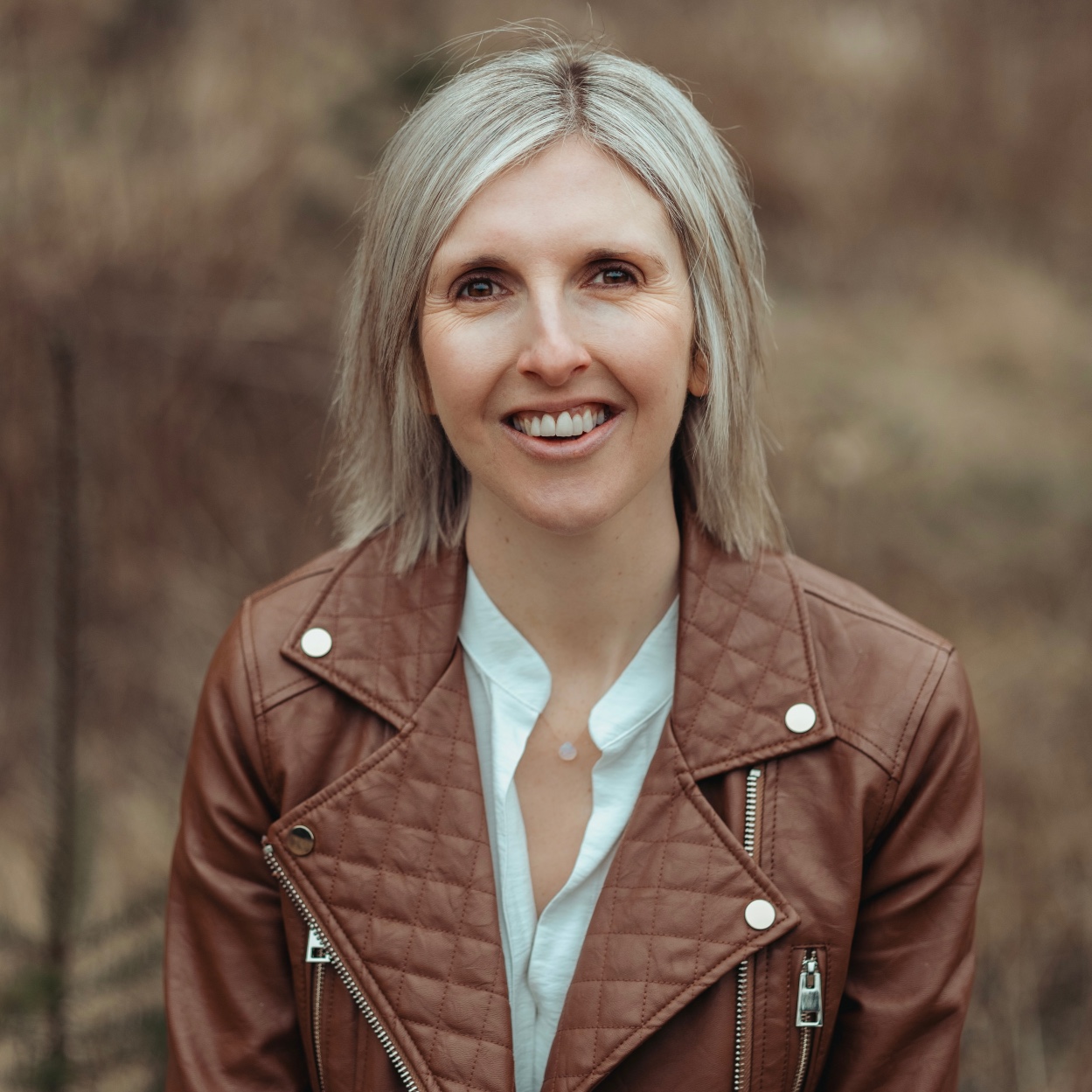 Kathryn is a freelance writer who has been a member of the PetsRadar family since it launched in 2020. Highly experienced in her field, she's driven by a desire to provide pet parents with accurate, timely, and informative content that enables them to provide their fur friends with everything they need to thrive. Kathryn works closely with vets and trainers to ensure all articles offer the most up-to-date information across a range of pet-related fields, from insights into health and behavior issues to tips on products and training. When she's not busy crafting the perfect sentence for her features, buying guides and news pieces, she can be found hanging out with her family (which includes one super sassy cat), drinking copious amounts of Jasmine tea and reading all the books.