5 festive homemade Christmas dog treats
Santa Claus is coming to town early this year with Christmas dog treats that will let your hound join in on all the holiday fun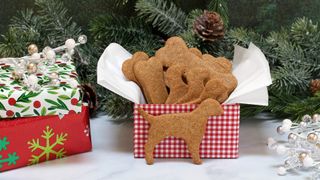 (Image credit: Getty Images)
These Christmas dog treats will let your pup join in on all the festive fun, with an array of mouth-watering sweet and savory recipes to tempt even the fussiest foodie fur baby.
While the best dog food provides your canine companion with all the vitamins, minerals and antioxidants they need to power through their day, sometimes it can be nice around the holidays to add a few extra treats into their diet.
And what better way to show your forever friend some love than by choosing one or two of the recipes below and whipping up batches of your own Christmas dog treats?
From taste-sensation turkey trees to warming gingerbread cookies, these Christmas dog treats are nutritious, delicious and look super cute. So, what are you waiting for? It's time to get baking!
Gingerbread cookies for dogs
Ingredients:
3 cups gluten-free flour (or flour of your choice)
1/2 teaspoon ginger
1/2 tsp cinnamon
1 egg
1/2 cup coconut cooking oil
1/2 cup molasses
Instructions:
In a large bowl, stir together the flour, ginger, and cinnamon.
Create a well in the center and add remaining ingredients. Mix together until you form a firm dough. If it's too crumble, add a bit of water.
Place dough in the refrigerator for 30 minutes to an hour.
Preheat your oven to 325 degrees Fahrenheit.
Roll the dough out to 1/4 inch thick and cut into shapes.
Bake for 15 to 20 minutes. If you want your cookies to be extra crunchy, turn off the oven and leave them inside for a few hours.
Once the cookies are cooled, you can decorate them as you choose! We used candy melts to do a bit of decorating on ours.
Recipe via Gone to the Snow Dogs
Homemade holiday dog treats
Ingredients:
2 cups fresh sweet potato puree
1 eggs
1/2 cup oats
3 cups whole wheat flour
3 Tbsp of all natural peanut butter
1/2 tsp cinnamon
Instructions:
Preheat the oven to 350 degrees F.
Peel and cube two medium sweet potatoes and bring to a boil in a pot of water. Reduce to low and simmer approximately 15-20 minutes or until soft. Drain cooked potatoes and puree using a blender or food processor.
In a small bowl, stir together the flour, oats, and cinnamon.
In a separate large bowl, whisk together the egg, sweet potato and peanut butter until combined. Stir wet ingredients into dry.
Pour onto a floured surface and roll dough out to 1/4 - 3/8 thick. Cut out using a Christmas cookie cutter. The dough will be a little sticky, dust your hands and the rolling pin with a little flour to help!
Bake for 30 to 35 minutes until golden brown.
Place on cooling racks and let cool thoroughly. They will harden as they cool.
Note: Do not use a pumpkin spice blend or anything that may contain nutmeg as it is toxic to dogs, even small amounts.I used fairly small cookie cutters and got 45 treats! Your cookie cutter size will determine your quantity.
Recipe via Lemons and Basil
Cranberry holiday dog treats
Ingredients:
1 cup frozen cranberries
½ cup plain applesauce
1/4 cup dried low sugar cranberries
2 cups whole wheat flour (you can substitute any flour you like)
2 cups rolled oat flour
2 eggs
2 tbs melted coconut oil
OPTIONAL: natural red food coloring
Instructions:
Preheat oven to 350º
Microwave the applesauce and frozen cranberries together until thawed (about 2 minutes).
Put the fruit mixture and dried cranberries into a food processor and pulse until thoroughly combined.
Add the flours and pulse until combined.
Add the eggs, coconut oil, and food coloring if using, and pulse until dough comes together.
Work dough on floured board adding more flour as necessary to get a good working dough.
Keep dough covered to prevent drying out between cookie batches. You can rehydrate dried-out dough with a little coconut oil.
Recipe via Rover
Christmas turkey trees
Ingredients:
1 pound lean ground turkey meat
1 egg
1/2 tablespoon Spirulina powder
1-1/2 tablespoons dried oregano
1/2 cup oat flour, plus extra for rolling (use a coffee grinder to turn oatmeal into a powder)
Instructions:
Mix all ingredients by hand until you have a sticky green paste.
Sprinkle oat flour over a sheet of waxed paper. Plop a handful of mixture onto the waxed paper. Pat it until it's 1/4 inch thick. It's not going to roll out smoothly like cookie dough, so forget the rolling pin. For easier handling, add oat flour and keep your hands wet. Water or a light brushing of oil (coconut or olive) will keep the mixture from sticking to your hands.
Use a cookie cutter to form shapes. Gently lift the meat paste with your fingers to keep the shape intact. This will take some maneuvering at first. Don't worry about making perfect shapes, just try to get pieces of meat that somewhat resemble trees. You can also roll the mixture into a long tube and cut it into pieces to create jerky sticks or mini training treats.
Place shapes on dehydrator trays.
When you've used up all of the meat paste, place the trays into your dehydrator.
Set the dehydrator to 160 degrees Fahrenheit (70 Celsius) for 12 hours, or until the trees are completely dry. You can remove them as soon as 6 hours if you don't mind them being moist, but drier trees will stay fresh longer at room temperature.
Note: Store your treats in a paper bag to keep moisture at bay. Store at room temperature for up to 10 days, or in the fridge or freezer for longer. Discard trees if they smell funky.
Recipe via Little Dog Tips
Candy cane dog treats
Ingredients:
2/3 Cup pumpkin puree
1/4 Cup creamy peanut butter
2 eggs
Up to 3 Cups oat flour
Red and green food coloring
Instructions:
Preheat the oven to 350° F. Line a cookie sheet with parchment paper and set aside.
In the bowl of a stand mixer, combine the pumpkin, peanut butter, and eggs. Mix on medium-high speed for a couple of minutes (scraping down the sides of the bowl, as necessary) until the ingredients are thoroughly incorporated.
With the mixer on low, gradually add 2-1/2 cups of the flour, mixing until just incorporated. Add an additional 1/4 cup of flour at a time (as necessary) until the dough is no longer sticky to the touch.
Remove the dough ball from the mixing bowl and knead with your hands for a minute or two.
Separate the dough ball into two equal-sized balls of dough.
Flatten one dough ball and place a couple of drops of green food coloring into the middle. Fold the dough in on itself and knead the food coloring into the dough ball until the dough is completely green.
Repeat with the remaining ball of dough – coloring it red.
Break each dough ball up into several 1″-2″ balls (depending on how big your want your dog treats to be).
Using your hands and the counter top, roll a green ball into a long skinny snake. Roll a red ball into a long skinny snake (equal in length).
Now braid the two snakes together (one over the other) until they are completely twisted. Bend the top half of the twisted dough down to form a candy cane-shape.
Place the candy cane onto the parchment-lined cookie sheet.
Repeat the process with the remaining balls of green and red dough.
Place in the oven and bake for 20-30 minutes, or until the bottoms begin to brown.
Remove from the oven and transfer to a wire cooling rack. Let cool completely.
Note: This recipe yields approximately 16 large candy cane dog treats. Treats can be stored in an airtight container or Ziploc bag for several days.
Recipe via Capturing Parenthood
Get the best advice, tips and top tech for your beloved Pets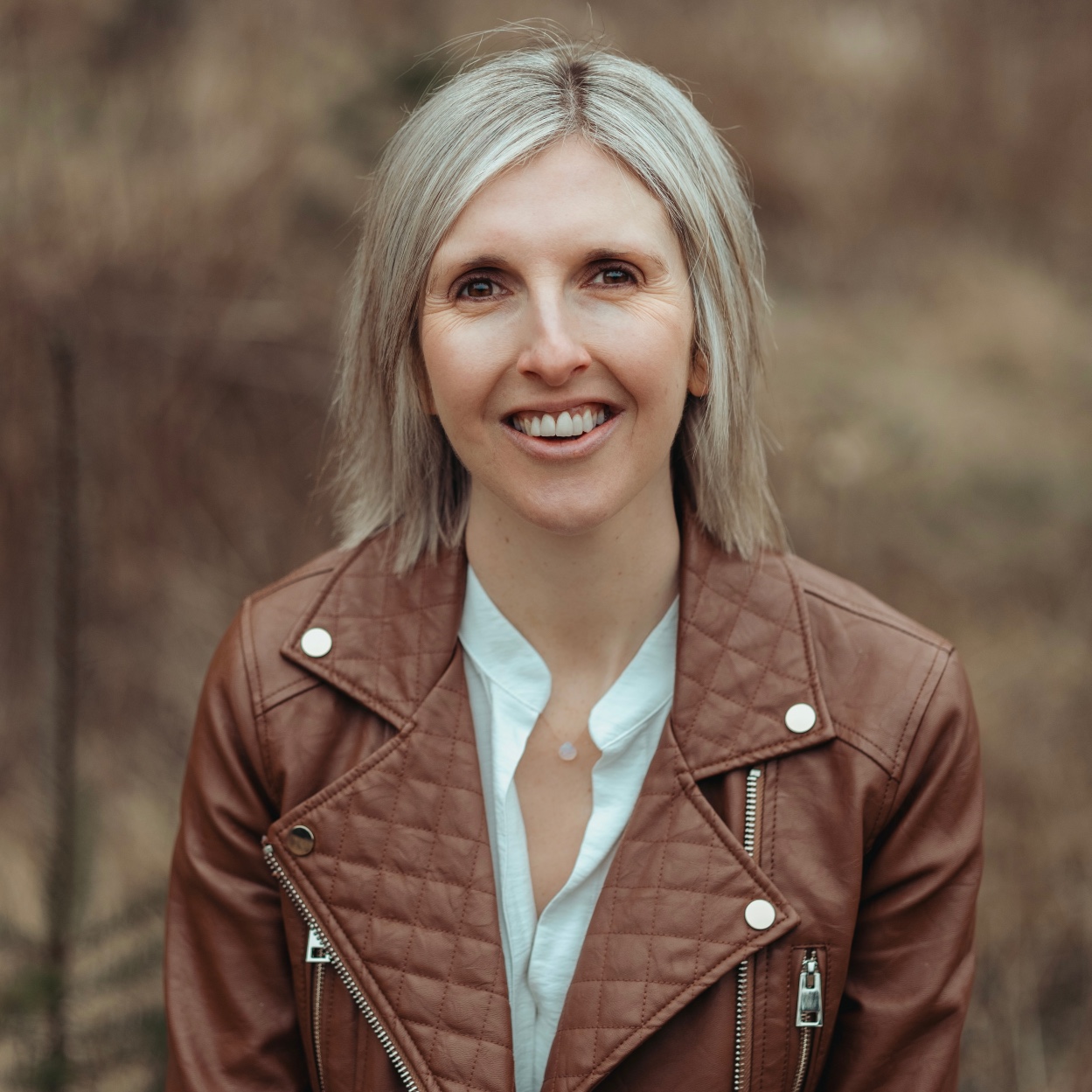 Kathryn is a freelance writer who has spent the past three years dividing her writing time between her two great loves - pets and health and wellness. When she's not busy crafting the perfect sentence for her features, buying guides and news pieces, she can be found hanging out with a very mischievous Cocker Spaniel and a super sassy cat, drinking copious amounts of Jasmine tea and reading all the books.