Best Christmas dog sweaters 2021: From novelty to personalized
Get your pooch ready for the festivities with the best Christmas dog sweaters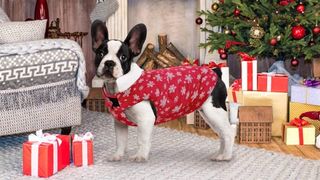 (Image credit: Kuoser)
At this time of the year, life's all about getting into the festive spirit and, with the best Christmas dog sweaters, your pooch can get involved as well. Just as with the many human equivalents that get yanked out of the wardrobe each year, dogs can enjoy a whole range of garments – from those that are totally practical to others that fly off the wackiness scale.
In this guide, we take a look at some of the best options. There are sweaters that are just fine as they are and others that can be given a personal touch. We've examined sweaters designed to be worn inside the home and outside on walks and those that will have everybody reaching for their cameras, overwhelmed by how cute our pooches look.
Finding the best Christmas dog sweaters is usually down to taste. Although our picks come in various sizes, there is certainly no one-size-fits-all when it comes to looks. We're sure you'll find something to suit here, though. You just need to follow any measuring guidance issued by a manufacturer to ensure the sweater will fit well.
Usually this involves measuring the length of your dog from their neck to their tail and then wrapping the tape around their chest to note the girth. Although some sweaters can be loosened around the neck area, you should also measure your dog's neck size. From that point, it's a matter of choosing something nice from the options below and matching the size. Merry Christmas!
PetsRadar's pick of the best Christmas dog sweaters
Why you can trust PetsRadar Our expert reviewers spend hours testing and comparing products and services so you can choose the best for you. Find out more about how we test.
Best overall Christmas dog sweater: Delifur Christmas Snowman Sweater
Best Christmas sweater with flashing lights: Pet London Christmas Jumper
Best personalized Christmas dog sweater: Blueberry Pet Christmas Snowflake Sweater
Best for novelty value: Christmas Elf Jumper
Best Christmas sweater for cold weather: Christmas Snowflake Cold Weather Dog Coat
Delifur Christmas Snowman Sweater
Best overall Christmas sweater
Size: Various | Material: Stretch fabric | Care: Machine washable
Big cute snowman design
Made of stretch fabric
Many different sizes
Neck may over stretch
Although this sweater comes in different sizes, the fact you can buy an extra-small version makes it particularly ideal for the tiniest of dogs. In any case, your pooch is sure to look ultra-cute with this around their body and that's primarily down to the garment's large fun cartoon snowman design which pretty much covers the entire back.
Surrounded by a few snowflakes on an attractive red and green background, the sweater oozes joviality yet remains rather classy – the sort of thing you could wear yourself without attracting ridicule. Since it is soft and warm, it's perfect for that Christmas Day walk and because it's made of stretch fabric, you shouldn't have much trouble getting it on to your dog.
The only thing to bear in mind is that some people say the neck of the sweater can be too big so you will need to carefully check if the measurements match that of your pooch. Most people agree that their dogs look amazing in the sweater, though, and because it's machine washable on a cold setting it'll be easy to keep clean for next year too (so long as you don't tumble dry it).
Pet London Christmas Jumper
Best Christmas sweater with flashing lights
Size: Small | Material: Polyethylene Terephthalate | Care: Machine washable
Great for walks in the dark
Uses replaceable batteries
Lights complement the picture
Only comes in one color
If your dog wears this jumper at Christmas, then they're sure to be the star attraction. It's adorned with an array of flashing LED lights, and each of them are well positioned to complement the overall picture of Santa delivering his presents.
The lights create a twinkling trail as Santa rides in his sleigh pulled by his two reindeer, each of who have flashes on their antlers ensuring they are lighting the way. The trees surrounding one of the homes he will undoubtedly visit also sparkle, as does the roof of the house itself. It's all very festive indeed.
A small battery pack hidden within an internal pouch is used to power the lights and, because the batteries are changeable (and since LEDs light tend to be long-lasting), the sweater is sure to be capable of flashing throughout this festive period and beyond.
The soft material is designed to be comfortable to wear and there's even a hood to help keep the cold from the back of your dog's head. Underneath this is a harness hold which means they can easily wear the jumper on a walk while a fastener around the neck can be loosened if you wish.
Blueberry Pet Christmas Snowflake Sweater
Best personalized Christmas sweater
Size: Various | Material: Acrylic | Care: Machine washable
Personalized with your dog's name
Includes a harness hole for walks
Great turtleneck design
A little more expensive
Boating a traditional festive pattern, this sweater looks the part, with bands of snowflakes, diamonds and dots. You can choose whether you want it to be mainly red or navy blue but, regardless of which one you select, you can also add a little personal touch.
It's possible to have your dog's name embroidered across the back of the sweater and there are actually 12 different colors of text to choose from including white, black, red, orange, green, yellow and dark cyan. Of course, this also means the sweater is one of the more expensive ones we've seen but the cost is not excessive and the end result should be worth it.
The sweater itself is made of 100 percent acrylic material and it can be washed on a cold, gentle cycle ensuring it remains in tip-top shape. It has also been designed so that you can take your dog for a walk, thanks to a leash or harness hole which means your pooch doesn't have to slip the sweater off. With a variety of sizes, you're sure to find one that fits.
Christmas Elf Jumper
Size: Various | Material: Acrylic | Care: Recommended hand wash
Fun Elf design
Includes a few pom poms
Super soft fit
No front design
As a true novelty sweater, this Christmas offering will turn your dog into a fun little elf. Coming in a variety of sizes, it should fit across your pooch's entire back from neck to tail – the idea being that the Elf's head is that of your dog.
In some ways, it would have been even cuter to have had the Elf design on the front as well but that doesn't detract from the overall design. Indeed, there are some lovely embellishments including a few pom poms around the Elf's neck and toes. And, since it's made from a super soft material, it should provide your pooch with plenty of comfort.
Indeed, so long as you properly measure your dog and opt for the most suitable size, there will be plenty of room for your canine companion to move around. This will make it easy for you to slip it on and off your dog, too, which is always an important consideration.
Christmas Snowflake Cold Weather Dog Coat
Best Christmas sweater for cold weather
Size: Various | Material: Nylon | Care: Recommended hand wash
Double-sided design
Easy to put on and take off
Designed for the outdoors
Only waterproof on one side
Christmas may warm the heart but the temperature outside isn't going to get much above freezing for a while. As such, you may decide that giving your pooch something warm to wear is the main concern which is where this great-looking item comes into its own.
Adorned with snowflakes, it's understated enough to be used beyond the festive period. In fact, there's no reason why you wouldn't slip this on to your pooch in January and February, more so because it's also reversible with a plaid design on the other side!
In truth, it's not strictly a sweater. It's actually a Christmas coat – one that is made from a waterproof terylene material with a fleece and cotton lining for warmth. But it nevertheless has a design resplendent of a Christmas sweater and it could equally be worn inside. The difference being that it has reflective piping so that it can reflect off street lights or headlights and it's fully protective against whatever the weather throws your dog's way.
Or is it? The main downside is that only the festive side is waterproof. Even so, it remains a practical choice. It's hook and loop design makes the item easy to put on and take off, for instance, while the furry collar, good looking as it is, also provides warmth. You also have two different colors to choose from – green or red – and both look fab.
Get the best advice, tips and top tech for your beloved Pets
David Crookes has been a journalist for more than 20 years and he has written for a host of magazines, newspapers, websites and books including World of Animals, BBC Earth, Dogs and Canines, Gadget and The Independent. Born in England, he lives in a household with two cats but he's also keenly interested in the differences between the huge number of dog breeds — in fact, you can read many of his breed guides here on PetsRadar. With a lifelong passion for technology, too, he's always on the lookout for useful devices that will allow people to spend more time with their pets.