Best dog coat: Trendy picks to keep your canine companion snug, safe and dry
By Amy Davies
Looking for the best dog coat to keep your dog warm and dry this winter? Look no further
Included in this guide:
1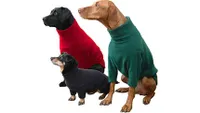 Equafleece
Dog Sweater
2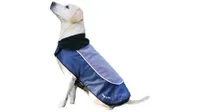 Rosewood
LED Jacket
3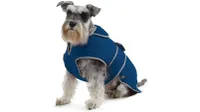 Ancol
Muddy Paws Stormguard
4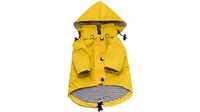 Ellie
Dog Wear Zip Up Dog Coat
5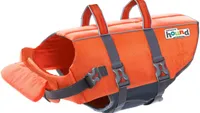 Outward
Hound Dog Life Jacket
6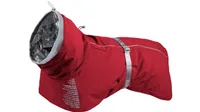 Hurtta
Extreme Warmer Dog Winter Jacket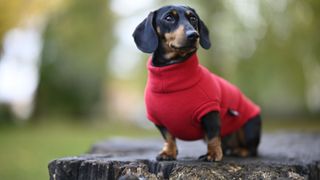 (Image credit: Getty)
When you're looking for the best dog coat to buy, you could easily be overwhelmed by the choice on the market. There's pretty much something to suit every need and budget.
At this point, it's worth pointing out that coats should usually only be worn by dogs with short hair / thin skin. It's very easy for a longer-haired dog to overheat – always check with your vet if you're not quite sure whether your dog needs a coat in cold or wet weather.
For those dogs that need it, a coat comes with several benefits. Not only will you keep them nice and snug and dry as the temperature drops and the weather gets a bit wetter, but they can also be a safety device.
Reflective coats are great for walking your dog at night, to help ensure they're nice and visible to other people, cyclists and cars. You can also get coats which help your dog stay afloat while swimming – a real bonus for adventure-loving pooches.
Finally, thermal coats can also come in handy to help protect your dog's muscles – which can be prone to problems in very highly active dogs, elderly dogs or those with conditions such as arthritis.
Read on to see our top recommendations...
PetsRadar's pick of the best dog coats
Equafleece Dog Sweater
Material: Woven polyester fleece | Size: 14" - 31" | Waterproof?: Rainproof, water wicking | Suitable for weather type: Cold, wet | Machine washable: Yes | Colors available: Black, Mulberry, Loden Green, Red, Cobalt Blue
Available to fit lots of different breeds
Good range of colors
Looks smart
Fairly expensive
These warm and water-repellent dog fleeces are super-comfy, flexible and highly breathable. Simply slip the fleece over your dog's head, and the stretchy fabric should sit nice and close to their body for the best protection from cold and wet weather. There's no buckles, zips or straps to contend with, so it's also nice and comfy should your dog want to wear it while sleeping either at home or en route to their walk.
One of the great things about Equafleece is that you can get them in a wide range of sizes and many of them are designed for specific breeds – for example, the dachshund coat has holes, rather than full-length legs, to account for their shorter limbs. If you're not sure exactly which size to go for, the folks at Equafleece will be happy to answer your questions to get it right.
Equafleeces are made from high-quality fleece material – the same Polartec fleece material as used for technical mountaineering wear – so you can rest assured that although these coats cost a little more than some of their rivals, they really are built to last. Its design keeps your dog warm and dry, but is also breathable, so your dog shouldn't overheat either. If your dog is already wet, the coat doubles up as a drying aid to wick the water away from your pooch – pop it on them to help warm them up and dry them quickly.
When the coat gets dirty, you can simply chuck an Equafleece in the washing machine and it'll be good to go again in no time – the material means it will dry quickly too so if you're in a hurry you shouldn't have to wait too long.
Some dogs aren't so keen on having coats put over their heads, so if you've got a particularly sensitive pooch, you might be better off with a coat which wraps around them and does up via a buckle or other fastening. Otherwise, there's very little to dislike about the Equafleece dog sweater.
Rosewood LED Jacket
Material: Fleece lining | Size: Small, Medium, Large, X Large | Waterproof?: Water resistant | Suitable for weather type: Cold, dark | Machine washable: Inner fleece can be washed | Colors available: Blue
Aids visibility in the dark
Range of sizes
Well-priced
Only one colour
As the long, cold nights draw in, you'll likely still have to take your furry friend for their evening stroll. Help keep them safe and seen with a coat like this, which will not only keep them nice and snug, but it'll help them stand out to passers-by, cyclists and cars.
The jacket is water-resistant, and also comes with a washable, removable inner fleece, a warm fleece collar, plus adjustable fastenings which are fixed with velcro to help you get the best fit possible for your pooch.
When the sun goes down, you can switch on the lights. Choose from either a static light or flashing for ultra visibility. The coat requires 2 x CR2032 lithium batteries to operate, so you may want to make sure you keep some of those handy should they run out of juice.
It's available in four different sizes, ranging from small to extra large, so you should find a coat to match most breeds. To identify the correct size, you should measure your dog from the back of the neck to the base of the tail, then choose the nearest size as listed on the product page.
The only major downside of this coat is the lack of color choice - only blue is listed. If you would like a different color, look out for the "Luxury" Rosewood Night-Bright LED Dog Jacket which is available in red instead of blue.
Ancol Muddy Paws Stormguard
Material: Nylon / Cotton | Size: Medium, Extra Large | Waterproof?: Yes | Suitable for weather type: Cold, damp | Machine washable: Yes | Colors available: Red, Blue, Pink
Easy to adjust
Protects chest from getting wet
Good value
Limited sizing available
If you're looking for a simple and snug coat which does the job well but doesn't cost a fortune, then we like this fleece-lined number from Ancol.
Available in red or blue, it fits snugly around your dog and can be tightened or loosened to fit – with the Velcro attachments making it super easy. At the top of the coat there's a slit for attaching a lead, which is useful if you're not also using it with a harness.
Designed to be used in all weathers, the front and tummy section will keep your hound's undercarriage nice and dry, especially when the ground is a little soggy. It's got a fleece lining to keep them warm on colder days, too.
Despite its relatively low price, many have commented on how well-built and sturdy the jacket is. It's also easy to wipe down for light stains, but can be chucked in the washing machine when necessary too.
A downside here is that there appears to be limited sizing available - although that may change. At the moment, only medium and extra-large versions are available. The medium is particularly suited to small to medium dogs, such as King Charles Spaniels, while the extra-large version would – unsurprisingly - suit an extra-large dog (such as a Weimaraner).
It's also worth noting that this is a coat that will need to be slipped over the dog's head – which some pooches don't find agreeable.
Ellie Dog Wear Zip Up Dog Coat
Material: Polyester / Nylon | Size: XS, S, M, L, XL, XXL | Waterproof?: Yes | Suitable for weather type: Wet | Machine washable: Yes | Colors available: Yellow, Light Grey, Navy, Light Pink
Stylish
Range of sizes
Doesn't need to go over your dogs head
Expensive
We have to admit, one of the top reasons we love this raincoat is just how cute it looks. Bedeck your pooch in a classic raincoat and they'll be turning heads wherever they wander.
Not only does this coat look good though, it also has a range of benefits. The double layered design means that it zips up around your dog and includes buttons for tightening and adjusting for a perfect fit. As it's a wrap around design, it means you won't need to squeeze it over your dog's head – so if you've got a pooch who's a little sensitive to that action, it's also perfect in that respect.
It's completely water resistant, keeping your dog warm and dry in all kinds of weather conditions. There's also a detachable hood which can come in handy for those really strong downpours. A small opening at the upper back of the jacket means it can be used with leads / harnesses for maximum comfort too. Small pockets adorn the jacket, which is ideal for storing small items, such as treats, toys and poop bags – and saves you from having to carry them yourself.
The coat comes in a range of sizes, so you should find something which matches your dog perfectly – check the sizing guide on the website to make sure you get it right. The material is not stretchy, so you may want to consider going a size up if you're not too sure.
This kind of coat is easy to keep clean since you can wipe away any obvious signs of dirt and dust, but it's also fully machine washable. It's recommended that you wash the coat every so often at 30 degrees to ensure the efficiency of the water-resistant design, too.
Perhaps the biggest downside of this coat is its price. It's certainly one of the most expensive in our round up, but while you can find cheaper, it's rare to find something of such high quality – so it's worth considering investing, especially if you have a wet-weather loving canine companion.
Outward Hound Dog Life Jacket
Best dog coat for swimmers
Material: Nylon | Size: XS, S, M, L, XL | Waterproof?: Yes | Suitable for weather type: Wet | Machine washable: Not stated | Colors available: Orange
High visibility
Various sizes
Grab handles for easy rescue
Sizing can be tricky
If you've got a pooch whose idea of heaven is to go leaping into open bodies of water, then a jacket like this helps to ease the anxiety that often comes with that behavior.
Even if your dog is a strong swimmer, there might come a time when they get tired, plus the high-visibility coloring and reflective piping helps you to keep a close eye on them from a distance away. There's a front float which helps ensure your dog's head is kept above water, which is reassuring too.
Should your dog encounter any difficulty, then the grab handles on the top of the jacket will aid with their rescue if they need it. Or frankly, should you be having trouble dragging your super-keen dog out of the water, they come in handy then too. Belly buckles and chest straps keep the jacket nicely snug, secure and comfortable on your dog.
There are five different sizes available here, so you should be able to find one which suits your dog. Some users have referenced the sizing being a little off, however, so it's important to measure your dog and compare it to the product sizing, rather than judging it on the name of the size alone.
This particular model doesn't feature insulation, so it's not quite so well suited to cold-water swimming, but Outward Hound make other models which do – so it's worth considering those depending on where you plan to take your pooch.
Hurtta Extreme Warmer Dog Winter Jacket
Best dog coat for muscle protection
Material: Outer: not specified, foil lining | Size: 10-26' | Waterproof?: Water resistant | Suitable for weather type: Wet, cold | Machine washable: Yes (with caveats) | Colors available: Granite (grey), Lingon (red), Orange
Water resistant
Designed to protect dog's muscles
Extremely warm
High price
If you live somewhere particularly cold – or you've got a dog with muscle problems, an extreme warmer like this can become your dog's best friend.
The foil lining material is perfectly suited to cold weather, reflecting the dog's own heat to keep them toasty and warm. This design encourages and stimulates blood circulation, which is something most ordinary jackets won't do. It's also been specifically designed to protect your dog's most important muscle groups, as well as its neck and chest. There's also a warming hood that can be lifted to protect the dog's ears and head.
Although nice and snuggly, the material is also breathable to help ensure your dog doesn't overheat. It's also water resistant so you can use it for both cold and wet weather.
With an adjustable back length, collar and waist, you can make sure it fits your dog well. There's a range of sizes to choose from, but once again it's best if you can measure your dog before you buy to make sure it matches properly for the ideal fit.
The coat is machine washable, but it's recommended you use the gentlest setting your washing machine has, or wash by hand. This is to protect the coat's foil lining and ensure it works as well as it should.
As an added bonus, there are 3M reflectors on the jacket, which helps to improve your dog's visibility in darker conditions. If you often walk your dog in snowy conditions, getting one of the brighter colors will also really help them stand out against white, too.
How to choose the best dog coat
Although it can be tempting to go for a dog coat that has some kind of novelty factor, these kinds of garments rarely offer any real kind of protection from the cold and wet. If you're looking for a dog coat to keep your pooch warm and dry during the winter months, it's best to avoid them.
Next you should consider the type of material that the coat is made from. Nylon and polyester are great for providing a completely water-resistant outer layer. Fleece – or fleece lining – is nice and snuggly, and can also prove to be water resistant depending on the type of design you go for. Foil lining is excellent for very cold weather wear, reflecting your dog's own heat to help stimulate blood flow.
Dogs – especially in the cold and wet weather – are generally drawn towards dirt. Look for a coat that is machine washable and you'll be able to chuck the coat in the washing machine to get it looking like new again.
Lastly, you'll want to think about size. Most company websites offer sizing guides, while retailers will generally give you measurements, and/or tell you the type of dog it's likely to fit. If you can, carefully measure your dog before buying to avoid having to buy twice. You should also consider whether a coat is made from flexible material – if it's a snugger, tighter fit, consider going a size up if your dog is on the larger size for its breed.
Amy Davies is a writer and photographer with more than ten years' experience working in the media. She lives with her miniature dachshund, Lola, a rescue dog who is very much the boss.
Get the best advice, tips and top tech for your beloved Pets
Thank you for signing up to Petsradar. You will receive a verification email shortly.
There was a problem. Please refresh the page and try again.