Best heated pet beds: Keep your dog or cat warm and cozy
The best heated pet beds and pads will keep your furkid feeling snug as a bug in a rug this winter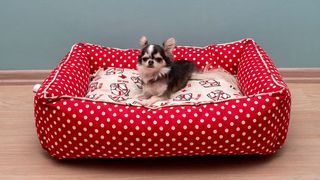 (Image credit: Getty)
There's nothing worse than being cold, but thankfully, with the best heated pet beds, your favorite furkid can stay warm and toasty on those days when the mercury takes a tumble. If you've already invested in the best dog bed or best cat bed, don't worry because it's definitely not a wasted purchase, but a heated pet bed can be a nice compliment to the pet bed you already have, especially in the winter months.
Why spend more money on another bed we hear you ask? Well, that's a valid question, so let's explore some of the ways a heated bed can make your pet's life a little more comfortable.
It's not uncommon for us humans to overlook our dogs and cats when it comes to chilly weather, after all, they have fur, so surely that's enough to keep them warm, right? Well, not exactly. While fur does provide an extra layer of insulation, animals still feel the cold just as much as we do, which is where a heated bed can come in handy.
Not only will going to sleep in a warm spot help your pet to feel more cozy in the cooler months, heated beds are also brilliant year-round for senior dogs and cats who may be suffering from arthritis or any pet who has joint pain or is recovering from illness or injury. They're also brilliant for nursing mothers and their newborn pups and kittens.
Heated pet beds are also much safer than hot water bottles, which some pet parents lovingly place under their dog or cats blanket thinking it will keep them nice and snug. Unfortunately, there's always a risk that a hot water bottle will burst, which can cause burns, or that your pet will overheat. With a heated bed you have none of those worries to contend with and you can rest easy knowing your fur baby is slumbering away safely.
Below you'll find our favorite heated pet beds with a variety of styles to suit every budget. Let's take a look...
PetsRadar's pick of the best heated pet beds
Why you can trust PetsRadar Our expert reviewers spend hours testing and comparing products and services so you can choose the best for you. Find out more about how we test.
Best overall heated pet bed: K&H Thermo-Snuggly Sleeper Heated Pet Bed
Best budget heated pet bed: Furhaven ThermaNAP Faux Fur Self-Warming Pet Pad
Best outdoor heated pet bed for dogs: K&H Lectro-Soft Outdoor Heated Bed
Best outdoor heated pet bed for cats: PETYELLA Heated Cat House
Best heated pet bed for older pets: HYDGOOHO Waterproof Pet Heating Pad
Best wireless heated pet bed: SnuggleSafe Microwavable Heat Pad
Best high-tech heated pet bed: PetKit Cozy Smart Bed
Best overall heated pet bed
Specifications
Thermostatically controlled:
Yes
Amazon rating:
4 out of 5
Reasons to buy
+
Dual temperature
+
Can be left on all day
+
Fully washable
+
Cheap to run
Reasons to avoid
-
Limited size range
-
A more expensive choice
The K&H Thermo-Snuggly Sleeper Heated Pet Bed is a great all-rounder. The stand-out feature is the dual temperature thermoregulation, which keeps the bed at a cosy temperature of around 10 degrees above the ambient room temperature when not in use, then heats up to natural body temperature – around 38 degrees – when your pet lies down for a snooze. Not only does this conserve energy – another plus for this particular bed – it ensures your pet won't overheat due to excessive temperatures.
While it is a little on the pricier side, the glowing reviews suggest that the extra initial outlay is most certainly worth it for the quality, safety, and efficiency of this bed.
A cosy cushion and raised sizes make the K&H bed particularly comfortable, but owners of dogs who like to 'dig' a lot before settling down may notice the cushion shifts. Luckily, no matter how your pet treats their bed, keeping it clean is easy thanks to the removable heater and cover. Just pop it in the wash to freshen it up.
Available in two sizes, there is less choice than some ranges which run from XS to XL, however users report every pet from cats and chihuahuas to huskies enjoying this bed, drawn by the warmth and comfort. A five-foot-long cable makes finding the perfect spot for the bed easy, while the clever temperature technology means it can be left safely plugged in all day. A slightly more expensive choice but cheap to run, this is a fantastic choice for almost every pet.
Furhaven ThermaNAP Faux Fur Self-Warming Pet Pad
Best budget heated pet bed
Specifications
Self-warming:
No electricity needed
Reasons to buy
+
Low price
+
No electricity needed
+
A number of colors and designs to choose from
+
Lightweight and portable
Reasons to avoid
-
Only two sizes available
-
Makes some noise
If you're on a budget and you want to keep the heating bills down this winter, the Furhaven ThermaNAP Faux Fur Self-Warming Pet Pad is a great option for your pet. There's no need to plug this pad in. Instead, the thermal inner layer captures your pet's body heat and radiates it back out with the help of an insulating fiber core. While the lack of an electric heater means that it doesn't get quite as warm as its plug-in competitors, the ThermaNAP pad helps maintain your pet's natural body temperature while putting no extra strain on your electricity bill.
There are a range of designs to choose from, including leopard print, gray, and espresso, allowing you to match it to your interior. The faux fur cover provides a snuggly surface for cosy naps. However, there are only two sizes to choose from – small and large – so they may not be quite the right match for smaller cats and kittens and larger dogs.
Some users note a light crinkling sound due to the inner lining, although it seems not to disturb or bother pets, who take to the Furhaven pad very quickly. No internal electrics means washing is as easy as popping it in the washing machine, and another added bonus of the self-warming system is that it's great for car journeys and travel too.
As a pad rather than a bed, this isn't the thickest or most plush option. But for pets that are used to living in luxury, it can be easy placed on a sofa, bed, or cushion for extra comfort. With such a low price and thousands of glowing user reviews, the Furhaven pad is the clear choice for our best budget pick.
K&H Lectro-Soft Outdoor Heated Bed
Best outdoor heated pet bed
Specifications
Electricity usage:
20 watts
Reasons to buy
+
Suitable for indoor and outdoor use
+
Soft surface
+
Water resistant
+
Available in small, medium, and large
If your cat or dog likes to lounge on the patio, shelter in the garage, accompany you as you work in the shed, or just spend as much time in the great outdoors as possible, you'll love the K&H Lectro-Soft Outdoor Heated Bed.
It's the only soft outdoor bed on the market, with other competing outdoor models being hard flat plastic panels designed to be placed underneath everyday beds or blankets. Its waterproof cover is ideal for flopping down onto after a wet and windy walk or a wander through the snow, while the free washable fleece cover provides extra warmth and comfort for your furry friend.
As with the other K&H model on this list, the Lectro-Soft is a slightly more expensive choice. However it is packed with features, from the orthopedic foam pad to the extra-long, chew-proof cable and the dual temperature thermostat, which saves energy by ensuring the bed only heats to your pet's natural body temperature when it's in use, staying at a low ambient temperature otherwise.
Available in small, medium, and large, there's a choice for every pet, whether you have a dainty cat or a larger than life dog. UK buyers should be mindful that they will need a US to UK adapter when buying this bed, something users noted as an extra expense to account for. However, the low wattage of the heating element means that ongoing costs are relatively low.
While it's certainly an investment buy, a 4.6 star Amazon rating and thousands of positive reviews correlate the price of this outdoor bed with great quality that makes for happier and cosier pets.
PETYELLA Heated Cat House
Best outdoor heated pet bed for cats
Specifications
Suitable for:
Pets up to 25lbs
Dimensions:
17.3 x 13 x 17 inches
Cord length:
1 meter + 4 meter extension cord
Reasons to buy
+
Can be used indoors and outdoors
+
Protects your cat from cold weather
+
Extension cord and plug-in timer
Reasons to avoid
-
Rain can get in the opening flaps
If you're looking for the most stylish heated pet bed on the block, then this adorable offering from PETYELLA is going to be pretty hard to beat. Ideal for cats up to 25lbs, it's the ideal cozy hideaway for any feline furkid who likes to spend a lot of time in the great outdoors.
Seamlessly blending quality, beauty and innovation, this heated pet bed measures a comfortable 17.3 x 13 x 17 inches and has both front and back doors for easy access. It comes with a 1-meter chew proof cord and an additional 4-meter extension cord, so you'll have plenty of choice as to where you put it.
We love that this bed comes with a plug-in timer, which allows you to control when the bed switches on and off and it's durably constructed, offering excellent longevity. The only drawback is that it's only water-resistant and not waterproof, so we recommend you place it on your porch or other enclosed space.
HYDGOOHO Waterproof Pet Heating Pad
Best heated pet bed for older pets
Specifications
Suitable for:
Dogs, cats and small animals
Dimensions:
17.7 X 17.7 inches
Cord length:
1 meter approximately
Reasons to buy
+
Easy access
+
Waterproof
+
Affordable
+
Chew resistant cord
Reasons to avoid
-
Only available in one size and design
Looking for a heated bed for an older pet that needs a little extra TLC? The HYDGOOHO Waterproof Pet Heating Pad will tick all the boxes. The flat design means that there's no need to step up onto another level; your pet can simply lie down onto the soft surface of the pad, making it ideal if they have any mobility issues. Plus, the gentle heat can help soothe aching or arthritic joints, as well as aiding recovery from injury or illness.
You can choose from two different heat settings to suit your pet and keep them comfortably warm, the low voltage helping to keep energy bills down even when you leave it turned on all day.
While the surface of the HYDGOOHO heated pad is soft and cushioned, it's also waterproof – an especially practical choice for older pets who may be more prone to accidents. The waterproof fabric also makes it easy to wipe clean with a damp cloth, taking care of those muddy paw prints after a wet winter walk.
With only one size available, it may prove too small for larger dogs in particular. However, the heating element runs right through the length and breadth of this pad, while the heat pads in even larger beds can be of a smaller size. There is also only one design available, and the distinctive floral pattern might not suit all tastes and decors.
Unlike its tougher, plastic counterparts, this heating bad can be easily lifted and stored, a definite advantage for those short on space. While there are a few limitations in size and design, this pad comes at an affordable price, and the design features make it the perfect fit for senior pets who find getting around a little harder.
SnuggleSafe Microwavable Heat Pad
Best wireless heated pet bed
Specifications
Safety:
Bite-resistant cover
Max microwave time:
8 mins
Reasons to buy
+
No wires needed
+
No hot water
+
Hours of warmth
+
Indoor and outdoor use
Reasons to avoid
-
Only available in smaller dimensions
This microwavable heat pad is the ideal solution for those who don't want a plug-in product, but do want a little more heat than a self-warming bed generates. It couldn't be simpler; just pop the disc without the cover on in the microwave for 2-8 minutes (be sure to check what the right time for the wattage of your microwave is), and your pet will have heat for up to 10 hours.
Over a million units of the SnuggleSafe Microwavable Heat Pad have been made and sold, and an Amazon rating of 4.6 points to a lot of very happy customers out there with perfectly snuggly pets. Recommended by vets for use in winter as well as for ailing or whelping animals, it can be used both indoors and outdoors, as there are no wires or electrics involved.
The tough plastic heating pad is bite and scratch proof, but although a fleecy cover is provided, some owners find it is best used tucked under a cushion or into a bed for those who prefer that extra bit of comfort for their naps.
As it needs to fit into a microwave, this isn't the biggest model on the market at just 21cm in diameter. If you're looking for something more sizable, a fold-out, plug-in model may be more suitable, but user reviews suggest that it's effective for larger pets when tucked into a bigger bed and great for use on its own in hutches, coops, carriers and crates.
If you have worries about heating bills, trailing wires, bite damage, or water leaks, this pet pad will allay them all. It's an easy-to-use product at an affordable price point.
Best high-tech heated pet bed
Specifications
Temperature control?:
Yes
Reasons to buy
+
Can be used all year
+
Modern, stylish design
+
Can be controlled with an app
+
Collects useful data
Reasons to avoid
-
Expensive
-
Only suitable for small and medium pets
The PetKit Cozy Smart Bed is like no other. The clean white spherical design will look stylish in your home, which stands as a clue to just how high-tech this designer bed is. Equipped with two-way ventilation to ensure fresh air and no condensation, this bed allows you to choose from seven temperature settings, from warm to cool, so you can use this bed all year round, on the coolest days and the hottest, to keep your pet comfortable.
The bed comes complete with a soft memory foam pillow that sits on a non-slip base to ensure it doesn't shift around, and the L-shaped entry allows your fluffy pal to come and go as they please. Due to its enclosed nature and relatively small dimensions, it's only suitable for cats and small dog breeds, so take care to check the measurements.
You can rely on the smart temperature controls to react to the ambient temperature of your home, or you can choose the setting yourself via the dedicated app. No need to get up from the sofa to adjust the heat. If that wasn't enough tech, this clever bed also uses infrared monitoring to assess how much time your pet spends in the bed, which is then used to generate a sleep calendar so you can track what temperature and conditions are the best for their sleep and comfort.
This is undoubtedly an expensive option due to all of the integrated tech, something some owners may find they don't want to spend more for when a more basic model would suffice. But if you love to be the first to try new gadgets and are looking for something luxurious to spoil your favorite furry friend with, the PetKit Cosy Pet Bed is the ideal choice.
How to choose the best heated pet bed or pad
A heated pet bed or pad might seem like a simple product, but there are a few key points to consider before buying. Firstly, assess your pet's mobility. If they struggle to step up or down onto different levels then a flat pad is likely the best option to ensure access to the bed isn't an issue. Never leave an animal that can't move voluntarily on a heated bed or pad, as this can lead to burns.
Heated pads are also a great choice for animals that favor routine, as they can be easily placed beneath existing beds or blankets if the manufacturers advise that it's safe to do so. Safety is always important, especially if you're looking for an outdoor bed. Make sure to choose an outdoor specific model to avoid any chance of shock or electrical malfunction.
If your companion loves to snuggle, opt for thick plush cushions and raised sides so they have somewhere to rest their head, but look out for notes on durability if you happen to have a digger or chewer on your hands.
Self-heating and microwavable beds and pads are great for those on a budget, using less energy than something which needs to be plugged in all day, while splashing out can mean some clever tech, from thermoregulation to sleep monitoring. By checking these few details, you'll be sure to make the perfect choice.
Get the best advice, tips and top tech for your beloved Pets