Best cat bed: comfy, cosy beds and baskets for snoozy felines
The best cat beds are stylish and affordable with options to suit every pet personality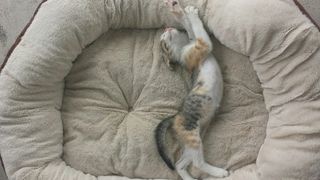 (Image credit: Getty)
When it comes to choosing the best cat bed for your feline friend, there are so many options out there that the mere thought of it all can leave you feeling in need of a nap. Thankfully, when it comes to finding your much-loved serial snoozer a place to rest their head, there are a few cat beds that stand out from the rest. 
With your house likely already filled with the best scratching posts and the best cat toys, you may be reluctant to throw a cat bed into the mix. After all, at least some of the stuff in your home should belong to you, right?! We hear you, but if you choose the right cat bed, it can be a great way of keeping your furkid off your furniture and giving them a sleeping spot all of their very own. 
Just like human beds, the feline variety ranges from the super-affordable to the best luxury cat beds that money can buy. There are cave-like beds for cats who love feeling safe and secure and penthouse sills for the curious kitty who likes to watch the world go by. You can even get the best of both worlds, with cute teepees that offer the option of privacy or sociability.
No matter your budget or your cat's unique needs and personality, the best cat beds offer something for everyone. So, what are we waiting for? Let's dive in and find the perfect bed for your paw-tner. 
Meowfia Premium Felt Cat Cave
Available Online: Yes | Amazon Star Rating: 4.8 | Chewy Rating: 99% | Eco-Friendly: Yes
Handmade from 100% natural wool that repels odor
Cave-like design leaves cats feeling safe and warm
Can be folded down to make a flat bed
Some cats may not like the lanolin smell 
When it comes to sleep, getting some serious kitty-cat shut eye doesn't come much snugglier than this. Made in Nepal from a process called 'felting', these beds are mouled using only soap, water and extreme pressure until the desired texture is achieved. 
And what's even better is that these 100% natural wool beds are eco-friendly, non-toxic, and able to be hand-washed and vacuumed, not to mention that the design makes for one super cosy sanctuary, perfect when your fur baby wants to block out the world and switch off for a while. Seriously, can we get a human version of this please?
We love that this cat bed can be folded down to make it flat, great for those days when your kitty is seeking less safety and security and more sociability. It's like getting two beds for the price of one! 
It's also a great choice for cats with sensitivities or allergies, as the felted wool provides a hypoallergenic home that is also mold, mildew, and bacteria-resistant, so you and your fur baby can both rest easy knowing that their sweet dreams won't be coming at the cost of their health. 
Coming in four different colors, this plush cat bed is mega stylish, and will blend in with pretty much any decor, so this is a definite win-win for both you and your cat. The hand craftsmanship is beautiful, and add in one super adorable kitty and your home will have some serious cuteness overload going on.
With 99% of pet parents on Chewy falling head over heels in love with this bed, it's made our job of finding flaws pretty darn difficult. But if our lives depended on us coming up with something then the lanolin smell is worth pointing out as there's a small chance your cat may not be a fan. Also, if you have a cat who's a little more portly than petite then they may find this cave a bit too snug for their liking.
Those small drawbacks aside, you've got yourself one seriously desirable cat bed that is well worth the investment. 
Bedsure Pet Tent Cave
Available Online: Yes | Amazon Star Rating: 4.7 | Hypoallergenic: Yes
Washable plush inner cushion
Made from super comfortable 100% microfiber and high-density foam
Non-skid base
Not great for larger cats due to size of cushion
An affordable cat bed that's also durable enough to last for years? Yes please! Unlike other cheaper options that are more likely to last a season than a lifetime, Bedsure has created the perfect retreat made from microfiber material and quality high-density foam that will ensure this sturdy structure goes the distance. 
We love that it's simple to set up and also collapsable, which makes for easy storage and portability, and the super soft cushion can be easily removed, making this a breeze to clean. The igloo design provides plenty of privacy, so it's ideal when your cat wants to retreat from the world, or if you have a skittish kitten who needs to feel safe and secure while they slowly build up their confidence.
If you have a fur baby who moves around a lot then you'll be pleased to know that the anti-slip bottom will keep this bed firmly in place on even the most polished of wooden floors. If you have a lightweight kitty then the leather strap means you can easily pick this bed up, cat and all, and move it to another room – perfect if you're wanting to vacuum without disturbing your paw-tners siesta. 
Now, while this bargain buy may have a whole lot going for it, it's not completely flawless. The high-quality cushion, plush as it may be, does take up a fair bit of room so this bed is best for cats 5kg and under. If your cat falls into that category and you're looking for a cat bed that will stand the test of time with little financial outlay, then just like in the 80s version of Monopoly we're giving you a free pass to skip the pricey options and head straight to Go to collect this bed. The best part? It won't cost you $200!
Arkmiido Pet Teepee
Available Online: Yes | Amazon Star Rating: 4.7 | Machine Washable: Yes | Easy to Assemble: Yes
Compact and lightweight
Tent can be closed
Sturdy design
Chalk not included
We're not sure cat beds come any cuter than this one. We mean really, a canvas cotton teepee with poles made from New Zealand pine, a thick comfy cushion, and doors that can be closed and fastened with a stylish toggle? What's not to love? 
Available in a variety of adorable patterns and with a chalkboard that you can customize with your cat's name, this trendy teepee will rock any room it's placed in, from the home to the office. If that's not incentive enough, imagine camping under the stars around a crackling fire with your mini-me in their own little tent right beside you. We're not sure life gets any better than that. 
The lightweight and compact design makes this bed easy to move around, and don't worry if you missed out on the DIY gene. Putting the teepee together is a breeze, and it doesn't require any tools, which, if you're anything like us, has you breathing a sigh of relief.
Made from canvas that is durable and breathable, it also holds up well if you have a fur baby who has a penchant for biting and scratching anything it can sink its teeth or claws into. You can also add extra style to the teepee by popping in a cosy rug, and even decorating it with fairy lights if you like the idea of making a feature out of one corner of your living room. 
We can see why this teepee is such a hit with pet parents, and there isn't much we don't love about this adorable offering from Arkmiido. Throwing in a stick of chalk for the board would be a nice touch, but it's definitely not a dealbreaker, and while the canvas may fade over time if exposed to lots of sunlight or frequent washing, that's not a biggie in the grand scheme of things. 
So, if you're after a cat bed that's more than a little unique then we can't recommend this one enough. We reckon it's likely to get both the thumbs up from you and the paws up from your kitty. 
Best Friends By Sheri Ortho Comfort
Best self-warming cat bed
Available Online: Yes | Amazon Star Rating: 4.3 | Chewy Rating: 100% | Machine Washable: Yes
Made with comfortable Sherpa fabric
Offers support and comfort
Available in a wide range of colors
The entry lip is 9 inches high, which may be too tall for cats with arthritis or mobility issues
Cat napping just got a whole lot cosier thanks to this comfortable bed from Best Friends by Sheri that will send your kitty straight to nap nirvana. From the supportive design to the premium quality materials, and a selection of colors that range from eye popping to subdued, it's easy to see why it has a 100% satisfaction score on Chewy.
Made with ultra-soft and cosy Sherpa fabric, designed to mimic the comfort of a mother's fur and aid better sleep, this is a great bed for cats who like a warm and supportive space to rest their head. The high 12-inch rear wall helps ease joint pain, while the 9-inch front delivers head and neck support. We love that it adapts to the way your kitty likes to sleep, so whether they're curled up in a ball or sprawled out on their sides, the Ortho Comfort bed will adjust to the shape of your cat's body. 
The fully waterproof bottom makes this a fantastic option for cats who, due to age or injury, suffer from incontinence, and it means that you don't have to worry about it seeping through onto your carpet. It's also tough enough to be machine washable and able to be thrown in the dryer, which makes it easy to get rid of odor, dirt, and fur. 
While this is a great option if you have an older cat with joint pain or an indoor cat who simply likes to snuggle up while they snooze, the 9-inch entry lip means you may need to think about purchasing a cat ramp to help your cat get in and out if they suffer from mobility issues or arthritis. 
If that doesn't pose an issue for you, though, then this is a fantastic bed that will leave your fur baby feeling as snug as a bug in a rug. 
K&H EZ Mount Penthouse Kitty Sill
Available Online: Yes | Amazon Star Rating: 4.7 | Chewy Rating: 96% | Maximum Weight: 60 lb
Suction cups make installation to any glass surface a breeze
Plush microfleece sleeping surface
Double-sided mesh windows for indoor and outdoor views
One of the more expensive models on the market
Premium penthouse living? Why, don't mind if I do! Okay, so your cat may not actually be able to say that to you but believe us, that's what they'll be thinking as they leap their way to the top floor of this hanging bed.
This double-deck window bed is held by six suction cups, four attached to the penthouse itself, and two supported by sturdy wires, and the twist and lock design means you can rest assured your cat will be safe and sound as they scale new heights. The secure built-in ledge means your kitty can get on and off easily, and the open mesh windows offer indoor and outdoor views. 
The penthouse comes with a top and a lower bunk, making it a great addition to multi-cat households, and the fleece offers maximum comfort. While the top fleece is a liner that's stitched to the bed, the lower one comes in the form of a plush pad which can be removed for washing. We love that this hanging bed collapses when taken down for easy storage, great if you're going on holiday and want to take your pampered pet and their penthouse with you.
Now, all this luxury living does come with a few drawbacks, namely the price. It is definitely one of the more expensive window sill beds out there, and with any hanging bed safety is always something to be mindful of, but the latter is easily addressed by ensuring you reposition and reattach the suction cups on a monthly basis. You can also start off by hanging this only a short distance off the ground until you feel more comfortable of its staying power, which many a satisfied pet parent will assure you is excellent.
If neither of those two things are massive sticking points for you then the purchase of this penthouse is sure to earn you massive brownie points with your kitty.
PetFusion Ultimate Cat Scratcher Lounge
Available Online: Yes | Amazon Star Rating: 4.8 | Chewy Rating: 100% | Eco-Friendly: Yes
Made from eco-friendly recycled and recyclable corrugated cardboard
Heavy duty
Reversible for twice the scratching area
Not recommended for small spaces
If you have a couple of inseparable besties on your hands then you're going to love this design from PetFusion, which offers the ultimate in co-sleeping comfort and interactive play for your kitty kings and queens.
Made of 120 layers of 2-millimeter-thick recycled corrugated cardboard, this eco-friendly and non-toxic scratcher and lounge will happily accommodate up to four cats. The attractive sleek design and neutral color scheme make it a perfect addition to the modern home and the addition of catnip leaf is genius, irresistibly drawing your cats and their claws away from the sides of your sofa and towards this scratcher like bees to honey. 
While it may seem a little pricey, you're getting two products in one here: a scratcher and a bed. The cardboard is dense and will withstand around a year of scratching, and it's also reversible, meaning you can flip it over and use the underside when the topside starts to get worn, prolonging its lifespan. It's also super sturdy, so no matter whether your cats are petite or slightly more portly, it can hold them all.
We love the unique curved design of this product, which makes it easier for cats to scratch and stretch out on, and the overwhelmingly positive reviews across multiple channels have us convinced that you and your cats will love this as much as other pet parents and their paw-tners do. 
But yes, there are of course a few drawbacks. It's not the best choice if you have a small space, unless you're feeling adventurous and fancy fixing it to your wall, and being made of cardboard, you may also find that you have to vacuum around it a bit more frequently to suck up the remnants of your cats' scratching sprees. But if you're looking to do away with separate beds, scratchers, and toys, and replace it with one product that does it all, then this lounge is well worth the price tag.
How to choose the best cat bed
Given how many hours of beauty sleep most kitties like to clock up, choosing the right place for them to lay their heads is critical. Just like when it comes to picking your own bed, there's a few features you'll be wanting to look out for when selecting the best bed for your feline fur baby.
First and foremost, consider the size of your cat. If they're on the larger size then you likely won't want a small cave type bed that's going to be hard for them to maneuver in. Similarly, if your cat is on the more petite side, or likes to feel snug and cosy, then a sprawling lounger may not be the best pick.
A cat bed that is self-warming through your kitty's body heat or powered by electricity are excellent choices if you have an older cat, or one who suffers from arthritis, as the warmth will help ease joint pain.
The age and temperament of your cat are also worth taking into consideration. Kittens and cats with more shy dispositions may benefit from hooded beds or those with high sides that will help them feel safe and secure, whereas more sociable and outgoing cats may prefer hanging beds where they can keep an eye on what's going on around them and be part of the action. 
Finally, durability and washability are worth thinking about. You'll likely want something that will go the distance and withstand lots of wear and tear. If you have a cat who is prone to shedding a lot of fur, or one who may suffer with incontinence, then consider selecting a bed that can be easily washed and dried.
At the end of the day, no matter what cat bed you decide to purchase, the most important factor is that it gets the big paws up from your four-legged companion. After all, a happy cat equals a happy you. 
Get the best advice, tips and top tech for your beloved Pets
Thank you for signing up to Petsradar. You will receive a verification email shortly.
There was a problem. Please refresh the page and try again.