How to choose the right cat bed
Find out how to choose the right cat bed with our handy feline-friendly guide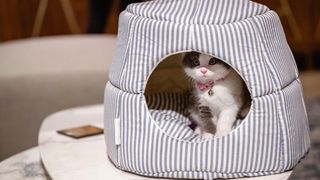 (Image credit: Getty Images)
Working out how to choose the right cat bed can be a puzzling experience. After all, what's to say they won't simply choose to sleep somewhere else? Your bed, for instance. While this is behavior that many cat owners are happy to indulge, it's not always the best idea.
One survey conducted by the Mayo Clinic found that around 20% of pet owners who share a bed with cats had their sleep disrupted. Moreover, they could be carrying in detritus from their litter trays, or fleas – sorry if we've put you off.
To make up for this, here are some factors to consider when you choose the right cat bed…
Pick the right size and type
It may seem obvious, but it's a mistake that a lot of people make, nonetheless: picking a bed that's too small. A lot of cats alternate in the way they sleep; they might curl up, or stretch out and make themselves long. In which case, it's important to find a bed that's physically large enough to accommodate them.
Measure them if you have to – that way you're equipped with the information you need and things won't be too cramped for them. Essentially, they need to be able to stand up and turn around in one, while at the same time being suitably snug.
It's also important to consider the shape of the bed, as there are a lot of different types to choose from. Wicker baskets and flat beds are more conventional offerings, but recent years have seen an increased prevalence of ones with enclosed sides.
Whether it's 'condo'-style walk-in beds, or donut/hooded/igloo beds that your cars can climb into. Cats are likely to feel more safe and secure in these types of beds. Notice how they immediately make for that cardboard box or hurl themselves straight into the clothes basket? It's the same basic principle. It'll feel more like a den than a bed – or probably a bit of both.
But there are all manner of types to choose from. Radiator beds have become popular and your cat will more than likely appreciate the warmth. Or there are window seats – cats love a view and will definitely be your best friend if you provide them with the opportunity of one.
Choose one with the right material
Cats can be particularly susceptible to allergies. Bearing in mind how much time they'll be spending in their bed, it's vital you pick one that doesn't have the effect of aggravating them.
One of the ways to achieve this is to carefully check the kind of material their new bed is made from. Stick to natural fabrics, such as wool or cotton. As well as being comfortable, breathable and resistant to the accumulation of excess moisture, they're less likely to cause your cat discomfort. In turn, odors and mold are less likely to build up over time.
But that's not the only thing to consider. Make sure the bed doesn't come apart easily – cats may well end up chewing or swallowing any loose pieces of fabric attached to the bed, which could cause them problems. If the bed you choose does come with any of these, make sure they aren't attached when your cat first goes to use it. You will potentially be saving them – and you – a lot of hassle in the long run.
If you choose to go down the heated bed route, make sure it's safe to use. A rule of thumb is to see if the heating unit is approved by The Underwriter's Laboratory, which tests electronic products, or is MET listed. If it is, then you're probably good to go. The K&H Thermo-Kitty Heated Pet Bed is one good option.
For more information on cat beds that have been made with durability and quality in mind, check out our guide to the best cat beds.
Make sure it's easy to wash
Since your cat will be spending a lot of time in it, you'll ideally need to make sure that it's easy to maintain. Check to see if it's machine washable. This will save you a lot of time and hassle, and ensure that your cat can snooze in a clean environment.
As tempting as it can be to choose something that might be more eye-catching for whatever reason, you'll soon come to regret your decision if you eventually find yourself spending a disproportionate amount of time on maintaining it.
Get the best advice, tips and top tech for your beloved Pets
Steve writes and proofreads buying guides, news stories and advice for Pets Radar, drawing on his lifelong experience as a pet owner. Currently sharing his house with two cats and a dog, he draws on the many highs and occasional lows of pet ownership he has borne witness to in his writing. He has worked in publishing for 15 years as an editor, sub editor and writer on a range of titles, such as SciFiNow, How It Works, All About History, Real Crime and Horrorville. You can follow him on Twitter @stevewright22