Best cat hammocks: Perfect perches, chairs and swings for your feline
From wall-mounted wonders to sunken hideaways, the best cat hammocks are cozy, comfortable, and provide the perfect space for your kitty to stretch out in style
Included in this guide:
1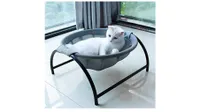 JUNSPOW
Cat Hammock
2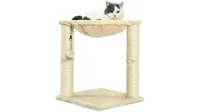 Amazon
Basics Cat Condo Tree Tower With Hammock Bed And Scratching Post
3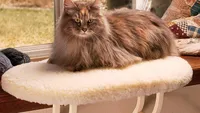 K&H
PET PRODUCTS Kitty Sill
4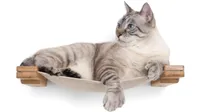 CatastrophiCreations
Cat Lounge Hammock
5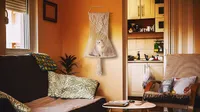 LIFIS
Macrame Cat Hammock
6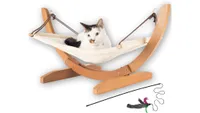 Vea
Pets Luxury Hammock
7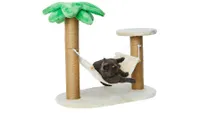 LUCKITTY
Small Cat Scratching Post
8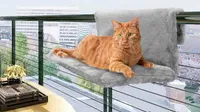 Downtown
Strong Hanging Cat Hammock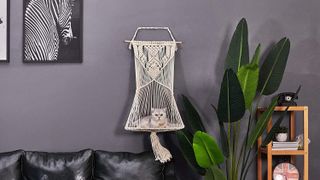 (Image credit: LIFIS)
The best cat hammocks are the perfect accessory for your home if you have a kitty that loves to lounge about and watch the world go by. These comfortable chill-out spaces give your feline friend the chance to get the restorative rest they need to thrive while still enabling them to be a part of all the action.
If you've already invested in one of the best cat beds, then you may well be wondering why you should shell out for a hammock too, after all, isn't it just going to be yet another item cluttering up your living space? Although investing in a hammock certainly brings another pet accessory into your home, the benefits can be well worth it no matter what personality your cat has.
For the more outgoing feline, windowsill hammocks or those that have suction cups that attach the hammock to the glass are a great option. These tap into the natural love many kitties have of being up high and because they're either completely open or have lots of windows, your cat will be able to snooze while watching what's going on both indoors and outdoors.
Shyer and more reserved felines may prefer a sunken hammock with higher walls that allows them to feel protected, safe and secure. They'll get the same enjoyment that any hammock brings, but at the same time they'll have the privacy that a bed that's donut-shaped provides.
And if you really are worried about the space issue, some hammocks feature brilliant all-in-one designs, doubling up to act like one of the best cat scratching posts, so your kitty can sleep and sharpen their claws all in the one spot.
Regardless of the style you choose, you'll want to spend some time making sure the material is tough and durable and the structure is sound. Strong cotton and wooden or steel frames are ideal when it comes to supporting your kitty's weight, and if you want one that also acts as a scratching post, look for sisal or jute which will feel great under your kitty's claws.
To help you choose the best cat hammock for your feline friend, we've rounded up a selection of our favorites, from a hanging macramé-style hammock with a cool vintage vibe to a budget tree tower that won't break the bank.
PetsRadar's pick of the best cat hammocks
Best overall cat hammock: JUNSPOW Cat Hammock
Best budget cat hammock: Amazon Basics Cat Condo Tree Tower With Hammock Bed And Scratching Post
Best windowsill cat hammock: K&H PET PRODUCTS Kitty Sill
Best wall-mounted cat hammock: CatastrophiCreations Cat Lounge Hammock
Best hanging cat hammock: LIFIS Macrame Cat Hammock
Best traditional-style cat hammock: Vea Pets Luxury Hammock
Best cat hammock with scratching post: HAPPYPIE Pet Fun House Hammock
Best cat hammock for radiators: Downtown Strong Hanging Cat Hammock
JUNSPOW Cat Hammock
Type: Free-standing | Materials: Cotton with metal frame | Assembly: Moderate
Comfortable design
Structure allows air to circulate freely
Gives a feeling of security
Takes up floor space
The JUNSPOW Cat Hammock is made from breathable cotton to keep your kitty cool and comfortable with a rugged design that allows it to be easily used both indoors and outdoors.
Measuring 42 x 45 x 23 cm, it's large enough for most breeds and with the hammock being suspended, it's great for hot days as air can circulate freely. Being off the ground, it's also ideal for cold nights when you're wanting to keep your kitty off the floor.
The sunken hammock offers a sense of safety and security, perfect for timid kitties, and the cotton fabric is super soft, so sweet dreams are almost guaranteed. The stable frame will let your cat move around freely and prevent the hammock from toppling over and the maintenance is simple - the lid can be easily removed from the base for easy cleaning.
You'll need to do some basic assembly with this one as the fame will need to be screwed together and while it will take up some space in your living area, the hammock insert itself can be folded up when not in use.
Type: Free-standing | Materials: Jute, plush, chipboard | Assembly: Easy
Affordable
Provides scratching surface
Cozy
Sturdy
Detachable toys
Not washable
May not be big enough for large cats
There are several cat tree/hammock combinations on the market that look similar to this one, but there are a few reasons why Amazon Basics has one of the best budget cat hammocks. For one, it has a great price for the number of positive reviews. The jute posts should stand up to lots of scratching, and cats like to stand up to scratch, so it's in the perfect position.
This hammock's small footprint and lightweight design makes it easy to move it around and place where your cat will enjoy it most. While many cat hammocks come with toys, the Amazon Basics one is removable, so you can replace the toy when it wears out or your cat loses interest in it. The plush hammock should support a heavy cat, but a very large breed such as a Maine Coon might not fit very well. You can only spot-clean this cat hammock, and one reviewer stated that it skidded on her wooden floors, so it's best used on carpet.
K&H PET PRODUCTS Kitty Sill
Best Windowsill Cat Hammock
Type: Window mount | Materials: Orthopedic foam, faux lambskin, plastic, Velcro | Assembly: Easy
Attaches easily to windowsill
Good for renters
Multiple styles available
Fits most cats
Easy to clean
Requires a minimum sill depth of two inches
May need permanent installation
This windowsill hammock seems to have it all. It's available in a heated version if you live in a cold climate, and you can also choose a style with a bolster that faces either the window or the inside. Many windowsill cat hammocks attach to the window itself using suction cups and string or wire, but the Kitty Sill relies on the strength of your windowsill itself. If you have a big cat, you may not want to trust their weight to suction cups alone. The Kitty Sill supports cats up to 40 pounds.
You can install the Kitty Sill using the provided Velcro strips, or screw it into the sill itself. The former option may be more appealing if you rent your home, but some reviewers have complained that the Velcro glue gives out over time. The holes you'd need to make are very small, so screwing it into the wood might be the best choice – it's all fun and games until kitty topples to the ground.
Unlike many other windowsill hammocks, this one uses orthopedic foam. A removable cover makes washing easy, and multiple colors are available.
CatastrophiCreations Cat Lounge Hammock
Best wall-mounted hammock
Type: Wall mount | Materials: Canvas, bamboo | Assembly: Moderate to difficult
Easy to clean
Vertical space
Expandable
Variety of finishes
Attractive
Requires permanent installation into wall studs
May require two people to install
May be too small for big cats
The CatastrophiCreations Cat Lounge Hammock is a starter piece for an entire modular system. If you're not sure about putting cat furniture on your wall, you can start with this hammock and then expand it to include planters, bridges, food bowls, climbing posts, scratchers, and more – an entire cat habitat awaits!
This hammock is made very simply and sturdily of bamboo and canvas fabric. You do have to locate wall studs (or have a masonry drill and bit) for permanent installation using brackets. It might take two people to locate the studs and ensure that the hammock is level.
Once you have the wood pieces attached, the canvas fabric can be removed for cleaning, or you can change the fabric entirely. You can also get this hammock with wood finishes such as natural or walnut. The hammock is 16 inches wide and 11 inches deep, so if your big kitty is especially wide, they might not be able to lay comfortably on it.
LIFIS Macrame Cat Hammock
Type: Hanging | Materials: Cotton rope | Assembly: Moderate
Elegant design
High-quality rope
Can also be hung from the ceiling
Can be fiddly to assemble
Add a touch of elegance to your living space and give your kitty a front-row seat at your next social gathering with this classy macramé cat hammock. Beautifully crafted from 100% non-toxic and high-quality odorless cotton rope, this hammock measures 19.7 x 15 x 39 inches and weighs just two pounds.
This unique addition to your home has an adjustable bottom bed/platform that allows it to be hung from the wall or ceiling and angled to suit. While it doesn't come with a cushion, one could easily be placed inside for maximum comfort.
Sturdy and durable, the cat hammock can be gently hand-washed and is proving a hit with pet parents with one reviewer noting "If you're thinking of buying this bed, do it! It's so cute, looks way more expensive than it was, is sturdy, and our cat is obsessed with it. We've had it over a month and really love it."
It's probably best to give this hammock a miss if your cat is a heavy chewer, but aside from that, the stunning macramé design is sure to make this hammock a huge talking point in your home.
Vea Pets Luxury Hammock
Best traditional-style hammock
Type: Floor | Materials: Fleece, wood, rope | Assembly: Easy
Anti-sway
Takes up little space
Washable fabric
Low to ground
May not be stable enough
Many reviewers of this cat hammock remark on how nice it looks in their home, but what's most important is whether their cats enjoy it. The Vea Pets hammock is simply built, with a solid wood frame, rope, hooks, and fabric. The hooks are designed to keep the hammock from swaying and make your cat feel more supported, but some cats still may not like it. The seller claims that this hammock will support cats up to 30 pounds. It's a low hammock, so your cat won't get any sweet outside views from hanging around in it, but it gets them off the ground and gives them a sleeping spot of their own.
The fabric is removable and washable, but you will have to put the hammock back together afterwards. Surprisingly, there aren't all that many other hammocks to choose from with this type of construction, but if you like the look and ease of this traditional style, try it out with your cat.
LUCKITTY Small Cat Scratching Post
Best cat hammock with scratching post
Type: Scratching post | Materials: Jute, plush | Assembly: Easy
Unique design
Ideal for rest and play
Easy to set up
Lightweight
We're loving the design of this coconut tree-themed hammock and scratcher which is the perfect all-in-one piece of kit for both rest and play. With the hammock suspended between two scratching posts and including a ball toy, there's plenty here to keep your kitty amused.
Requiring minimal setup, (the scratching posts easily screw into the base), this is a great pick if you're like us and have minimal DIY skills! The base measures 26" L x 15" W, the hammock is 13.8" L, and the two posts are 15" H and 22" H respectively - so there's plenty of room there for your cat to get a good stretch in.
The scratching posts are made from durable jute and will hold up well, offering plenty of longevity, and the hammock is made from plush for a super snuggly feel your kitty will love. It's a little bit more expensive than some of the cat hammocks on the market, but when you consider you're getting a toy, hammock, and scratcher combined, it works out to be good value.
Downtown Strong Hanging Cat Hammock
Best cat hammock for radiators
Type: Suspended | Materials: Metal rods and plush material | Assembly: Easy
Can be placed almost anywhere
Foldable design
Easy to set up
Cover can slide down
Limited color choices
If your kitty loves to keep warm while they lounge, consider the Downtown Strong Hanging Cat Hammock. It's perfectly designed to hook on to a radiator, offering a instant cozy retreat for your feline friends to return to time and time again.
The cat hammock features a simple foldable design which makes it easy and quick to install, but also gives you the opportunity to take it anywhere you want if your cat can't be without it. Whilst strong support is offered up by metal rods, the hammock itself is made from a comfortable plush material.
One of the key strengths of the Downtown Strong Hanging Cat Hammock is its ability to be used almost anywhere in the home. It's particularly ideal for apartment cats; the design can latch on to a balcony, on a door if your cat likes to be up high or even on the back of your work chair.
The hammock can typically hold a weight of around 15lbs but if your furry companion is on the chunkier side, it can hold up to 25lbs. However, the product can suffer from a little slouch in the middle, while the cover can slide down, leaving some pet owners to devise their own adjustments.
The hammock is available in a few muted colors that are sure to blend in at home, but a wider color palette would be preferred to suit you and your moggy's personality and style.
Shanna Tyndall has been writing and editing for the web and print for most of the 2000s. She is also a happy life-long cat owner and acquired a cat-like dog seven years ago. She believes that pets are generally better than people.
Get the best advice, tips and top tech for your beloved Pets
Thank you for signing up to Petsradar. You will receive a verification email shortly.
There was a problem. Please refresh the page and try again.