Best cat trees: Perfect playgrounds for your fur friend
Discover the best cat trees for your pet puss to play, relax and nap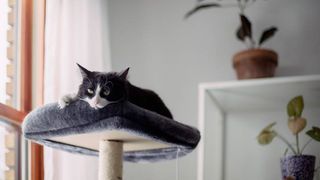 (Image credit: Getty Images)
Cats love to climb, they love to scratch and they love to nap and the best cat trees will make sure that they get to do all of these while staying safe.
While your pet puss may like a quick curl up on your lap they are also independent animals who often like to be left alone to do what they want, when they want. So when they have had enough of your company, they'll often look to head to their own space.
A cat tree brings together all the elements that will keep your fur baby happy, relaxed and healthy. It's effectively a quality scratching post and a stylish cat bed combined all in one, with added play features that will keep your kitty entertained for hours.
If they fancy some action they can jump onto the different platforms or unleash their natural instinct and bat around a pom pom. Or if they want a little more privacy they can head to their very own cat cave to take a quiet undisturbed nap.
The beauty of cat trees is that they come in all shapes and sizes, so you're sure to find one that is the perfect fit for your fur friend. If space is a particular issue in your home, however, be sure to consider a cat hammock that can be attached to various places around the home.
Here, we have put together a selection of the best cat trees on the market to help you make sure that you get the right one for you and your fur baby.
PetsRadar's pick of the best cat trees
Why you can trust PetsRadar Our expert reviewers spend hours testing and comparing products and services so you can choose the best for you. Find out more about how we test.
FEANDREA Multilevel Cat Tree with Cat Cave
Size: 19.7 x 15.7 x 43.3 inches | Color: Gray | Weight: 22.9 pounds | Material: Plush Fabric, MDF, Sisal Rope
Multiple platforms
Five scratching posts
Sturdy base
Three nap areas
Privacy cat cave
Not very sturdy hanging fur ball
Cat cave could have been better positioned
Do you want an all-round cat tree that has everything your pet puss needs and a little bit more? Then this multi-level cat tree is a great choice whether you have an adult cat or a kitten.
Starting at the bottom, the tree kicks off with a sturdy reinforced engineered wood base plate that measures 20 x 16 inches. This helps steady the tree as your cat jumps from platform to platform or takes time out and lies down for a nap at the top of the tree. Wherever you pet puss is on the tree you won't need to worry that it's going to topple over.
The entire tree is covered with a soft plus fabric that provides comfort and brings out an irresistible urge for your cat to stop and have a snuggle. The bottom level is perfect for a quick lay down if your cat doesn't fancy a climb. But it's also the perfect place to stretch and exercise those claws with the top of the bottom four posts covered in strong durable sisal rope.
If your pet puss is in need of a more secluded nap it can jump inside the private quarters to hopefully be left undisturbed. The entrance could have been facing the platform for an easier entry which would have been ideal for cats with mobility issues.
A short hop up goes to the third level with a scratching post and a hanging fluff ball to up the entertainment stakes. But the ball might not last long once your pet puss grabs hold. Once they have worn themselves out, they can take a relaxing nap in the hanging basket lounger or bask in the sunshine on the very top platform.
Frisco 20-in Faux Fur Cat Tree
Size: 22 x 22 x 20 inches | Color: Light Gray | Weight: 9.1 pounds | Material: Engineered Wood, Faux Fur, Sisal | Assembly Required: Yes
Budget-friendly
Compact space-saving size
Safety play pom poms
Four colors
Only two scratching posts
One sleeping area
Do you want to give your fur friend their very own safe napping space and a place to call their own? Of course you do, but if you don't have the space for a large multi-level cat tree, this compact and budget-friendly cat tree is a great choice for you and your pet puss.
Its simple and space-saving design gives you a base, two strategically-placed scratching posts, which are all topped off by a sleeping hammock where your kitty can curl up and snooze the day away. Or stay safe and secure in the hammock from where they can survey their surroundings and make sure that they are in charge and no-one is sneaking up to disturb them.
The base and hammock are covered in a contemporary light gray plush fabric - or ivory but that gets dirty much quicker - that's soft to the touch and acts as a cozy resting place. The base measures an ample 15 x 15 inches with the scratching posts taking up two corners to give a maximum width of 22 inches. But the actual sleeping space doesn't match that measurement but is still big enough and strong enough for most cats.
The two scratching posts are 20 inches high and covered in a strong sisal rope to make sure they don't get damaged and your pet puss gets their daily stretch and scratch. Oddly the rope doesn't go top to bottom and is interrupted halfway with a touch of plush fabric, which will get pulled out pretty quick.
A couple of dangling pom-poms give them the opportunity to show off their batting skills and keep them entertained. But if your fur baby gets a little over-excited the poms poms have a release mechanism to make sure they don't get them tangled round their neck.
Vesper Cat Furniture Cat Tree
Size: From 21.9 x 22.1 x32.1 inches | Color: Black, Oak, Walnut | Weight: 33 pounds | Material: MDF | Assembly Required: Yes
Sturdy and stylish
Available in three colors
Includes memory foam cat mats
Four different models to choose from
Not lightweight
Lack of soft surfaces
Elegant, practical, stylish and sturdy perfectly describe this multi-level cat tree. Combined with quality materials and quality construction you are getting a cat tree that doesn't come cheap, but adds a touch of the homely to your home.
Made from high quality MDF with a fake wood veneer - available in three colors - you will need to build it. But it is much like a piece of self assembly furniture, it is pretty simple and you get a strong sturdy cat tree when finished. It does come in four different styles and sizes so some are a little more difficult to put together.
The base model is the simplest and smallest in the range, but still measures a respectable 21.9 x 22.1 and 32 inches in height. You get a trio of different length scratching posts all covered with the standard seagrass rope. These prop up a single double door cat pod and a neat resting/snooze platform. A single string attached to the top platform with three wicker poms-poms will keep their natural batting instincts intact.
The High Base version is - as you might expect - is a taller version of the base. Longer scratching posts, a higher catpod and an extra low platform give your pet puss more to play with. The High Base XL goes one step further at 62 inches - just over five feet in height. You get an extra platform but still a single pod. If you have two cats or want two pods to add some variety for your pet puss the Double is the model you want.
While the furniture is sturdy and long-lasting it isn't the coziest for your cat. But to compensate for its veneer surfaces each model is provided with memory-foam cat bed cushions, to give your pet puss a soft and warm place to sleep or rest.
Amazon Basics Cat Activity Tree
Size: Medium, Large | Color: Beige | Weight: 15.43 pounds | Material: Engineered Wood | Assembly Required: Yes
No nonsense and practical
Two sizes
Option to buy additional cat tree
Competitively priced
Fits into corners
No cat pod
If you want a no-nonsense, no frills practical cat tree then this offering from the Amazon Basics range could be just the ticket for you and your fur friend. You won't be getting high luxury with this cat tree, but on the plus side you won't be paying a premium price either.
It's a simple design that is easy to put together and fits neatly into corners without taking away the practicality of the tree. Made from compressed wood, all the platforms are covered with soft carpet to add a little comfort.
The medium model has a square base accompanied by three scratching posts - all covered in jute rope for durability - which are topped off with a triangular platform. A single sensibly sized scratching post sits at the front of the platform and supports a round snoozing platform. If you have a cat with mobility issues it might struggle to get to the top, but that will be the case with most cat trees.
The top platform isn't huge but is big enough for your average puss to curl up in and get cozy. The large model slips in another square platform and three more scratching posts making it easy to get the next platform or ideal for a quick snooze or scratch.
There is the option to double up and purchase the cat tree tower with a simple cat tree that is very similar to the Frisco 20-in Faux Fur Cat Tree in this guide. It has a couple of scratching posts topped with a hammock for your pet puss to enjoy an afternoon nap.
On2 Pets Cat Tree with Leaves
Size: 24 x 24 x 60 inches | Color: Green | Weight: 30 pounds | Material: Engineered Wood, Silk, Carpet, Artificial turf, Polyvinyl Chloride | Assembly Required: Yes
Looks like a tree
Offers privacy for your cat
Multiple levels
Large
No dedicated scratching post
Do you want a cat tree that isn't quite the same as your average cat tree? Do you want something that is different but still does the job? Then this cat tree from On2 Pet is well worth a look.
It takes the term cat tree a little more literally looking like a small tree. Rather than sticking out like a sore thumb it blends with your home's surroundings and gives some privacy to your fur friend.
There are four color options - a natural Green, Summer, Fall and Plum, which mimic the colors of the different seasons. But be warned this isn't a small cat tree, it is five feet high, so while it blends better than a standard cat tree, it will be hard to miss, though visitors won't know that it is a cat tree. But it does mean that it's suitable for all cat sizes.
Made from a combination of high quality materials, you will need to assemble the cat tree yourself. But don't worry it's simple to put together and no tools are needed. The base kicks off the cat tree - covered in fake green grass - and is big enough to balance the tree and make sure that it has a sturdy base.
The center of the cat tree is a fake plastic trunk that has three carpeted platforms. The leaves are integrated into the outside of each platform which descend in size making it easier for your fur friend to get from platform to platform for a comfortable and private nap.
One downside to the cat tree is that it doesn't have dedicated cat scratching posts. The trunks fake bark pattern works on a basic level but it isn't as practical as a rope based post.

EveryYay Lookout Loft 8-Level Cat Tree
Size: 28 x 31 x 74 inch | Color: Light gray | Weight: n/a | Material: Engineered wood, plush fabric | Assembly Required: Yes
Eight levels of luxury
Soft plush fabric
Large cozy cat caves
Good for all cat sizes
Takes a while to assemble
Not for small spaces
Have you got more than one cat or simply want your fur friend to live like royalty? Then this eight level luxury cat tree is definitely one to spoil your pet puss and make them feel special. So what do you and your fur friend get with this mammoth multi-level cat tree? First you need to assemble yourself, so make sure that you set aside at least an hour to get it done.
A thick wide base makes sure that this 74-inch high tower has a sturdy base for the eight levels and its design ensures that each level is strong enough to support large cats. Covered in soft touch plush fabric the bottom of the tree incorporates a double entrance cat cave that's large enough for your pet puss to lie down, stretch out and have a quiet and cozy nap.
The next level up introduces a flat platform with a scratching post and a couple of support posts covered in plush fabric. The problem here is that your cat might decide to use one of these instead of the jute covered posts. The fabric won't last long if they decide it's their preferred choice.
But there is a dangling pom pom and a half platform - with a half scratching post - to distract your fur baby. The half platform provides an easy step up to the next level for all cats, even those with mobility issues. Another cat cave big enough for two takes over the next level with the final couple of levels giving soft snoozing areas for cats who want to get away from it all.
How to choose the best cat trees
Size up your space
Cat trees come in all sizes from small compact low level trees to large multi-level towers. So the first thing you need to consider is where you are going to place your cat tree. How much space do you have? Do you need a cat tree that fits neatly into a corner. Does it need to be a certain height? Make sure that you measure the space you have available before you buy a cat tree.
What size?
Personal preference and the size of the space you have available will help determine what size cat tree you need or want. But you also need to think about your fur friend. How big is your cat? Will they comfortably fit on the platforms? Are the napping areas big enough to accommodate your cat?
Do the cat pods fit small cats, big cats or multiple cats? Do you have more than one cat? If you do, you will need to think about a bigger cat tree. How old is your cat? If your cat has mobility issues you might want to think about a tree or with just one or two levels that are easy to access.
Strong and sturdy
The taller a cat tree is, the more likely it is to topple over if not designed the right way. A large base and a well balanced layout are your best choice. Do the platforms have scratching posts or pods to help support them? Are the sleeping platforms on a long single post. If they are, will they take the weight of a big cat?
Most are made to deal with this issue, but many are only suitable for kittens and smaller cats. Make a judgement call by simply taking a good look at all angles of the design of the cat tree.
Get the best advice, tips and top tech for your beloved Pets
Steve Jenkins is a freelance content creator and long-time journalist with more than 20 years in the industry. He has written for numerous titles covering tech to pets, with his latest faithful hound always by his side. When not walking his dog, or discussing who's best - cats or dogs? Loud guitars, AFC Bournemouth, Photoshop, and trying to save the world take up the rest of this time.