Man in court after holistic dog treatment on Dogo Argentino goes wrong
Calgary court hears of how holistic dog treatment left a dog "skin and bone"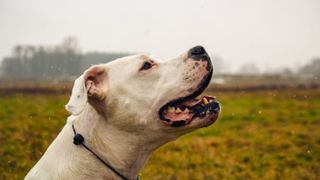 (Image credit: Getty Images)
A case of a man undertaking holistic dog treatment back in 2020 was recently heard in a court in Calgary, Alberta.
When his dog Seiko, a four-year-old Dogo Argentino, experienced a severe skin condition, Andrico Reid instead decided to use a holistic approach rather than taking the dog to a vet.
Reid told a vet that he had used a combination of tea tree oil and oil of oregano, inspired by his degree in herbal medicine.
Having been seized by Calgary Humane Society on July 5 2020, Seiko unfortunately had to be euthanized, such was the severity of her condition.
When she noticed the dog, passerby Kimberley Grouette described Seiko as "skin and bones", and stopped to photograph him before the owner grabbed the dog and took him inside.
Initial attempts to contact Reid were unsuccessful – peace officer Jillian Gibson and her partner were initially met by silence despite repeatedly knocking.
After enlisting a locksmith to help them gain entry upon obtaining a search warrant, Reid initially denied owning a dog, before admitting that he had hidden Seiko in a basement.
Eventually, Seiko was seized, with Reid explaining in an email that he had taken this approach to treatment – which also involved giving Seiko raw kangaroo meat – due to some bad experiences with vets previously, saying he "took it upon myself to take some holistic approaches to heal my dog."
Nevertheless, Reid now faces two Criminal Code charges pertaining to animal cruelty, in addition to another one under the provincial Animal Protection Act.
Regarding his previous experiences with conventional veterinary care, a vet who had previously seen Seiko, Dr Iain Chynoweth, said that Reid had turned down all recommended treatment ideas, and accused him of trying to run up the dog's medical bills.
The case is ongoing, with another veterinarian due to testify on Wednesday.
Get the best advice, tips and top tech for your beloved Pets
Steve writes and proofreads buying guides, news stories and advice for Pets Radar, drawing on his lifelong experience as a pet owner. Currently sharing his house with two cats and a dog, he draws on the many highs and occasional lows of pet ownership he has borne witness to in his writing. He has worked in publishing for 15 years as an editor, sub editor and writer on a range of titles, such as SciFiNow, How It Works, All About History, Real Crime and Horrorville. You can follow him on Twitter @stevewright22