Watch: Pet owner sets up secret camera to record what her home alone dog does once she's out
A dog owner couldn't wait to find out what her pup got up to when they were home alone. Find out what their secret cameras captured!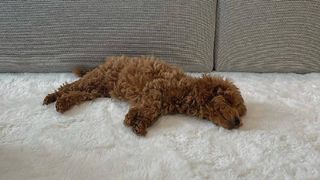 (Image credit: Instagram / @kkeiko)
Leaving a dog home alone normally goes without a hitch. However, one dog owner was surprised to see what their pup got up to when they were left on their lonesome.
Everyone knows the famous saying "absence makes the heart grow fonder". However, that's not always the case when it comes to being separated from your favourite canine.
Entrepreneur, Donny Kkeiko, decided to hide a number of cameras around her apartment in a bid to discover what Biscuit, her toy Poodle, gets up to behind closed doors.
She shared the results in a series of clips on TikTok under the handle 'biscuitkkeiko', which ended up receiving more than 10 million views.
Part of the capture footage shows that, as soon as Donny shuts the door behind her, Biscuit begins to tear around the now-empty apartment.
At one point, Biscuit can be seen sneakily chewing on a shoe, confident in the knowledge that no-one is going to tell her to "drop it!"
And no part of Donny's apartment seems to be out of bounds!
Biscuit can be seen gleefully running rings around office chairs and trotting across kitchen worktops without a care in the world.
The curious little pup even decided to squeeze her way under shome shelving at one point!
But that's not all. Later on in the clip, Biscuit was captured dragging a seemingly expensive camera into the centre of a room for further investigation following a wrestling match with her dog bed cushion.
Biscuit's investigations didn't end there though.
This curious pooch checked out a few suitcases that had been placed in an open wardrobe along with a bag of rubbish that had been left in the kitchen.
According to a study from 2013, which was published in Psychology Today, the dogs that were involved greeted their owners with more enthusiasm when they'd been absent for more than two hours.
However, the study also discovered that when the owner returned more than four hours later, the pup's delight seemed to plateau and there was no noticeable difference within their reaction to seeing their owners again.
Get the best advice, tips and top tech for your beloved Pets
Chloe is a freelance writer, editor, and proofreader, who has more than ten years' experience in creating animal-focussed content. From National Geographic to Animal Planet, Chloe's passion for creating fact-filled features all about wildlife and the environment is evident. But it's not just wild animals that Chloe's fascinated by. Having written more than 75 articles for PetsRadar - and having her very own four-legged friend by her side - it's no wonder that her love of dogs (and, of course, cats) has grown exponentially.
Her website, www.chloemaywrites.com, and social media pages - @ChloeMayWrites on Instagram, Facebook, and Twitter - showcase her knowledge through daily facts and trivia tidbits. For example, did you know that snails have teeth?!