Is your dog on the most desirable dogknapping hit-list?
Find out which breeds are the most common victims of dogknapping– with only 25% of pups recovered.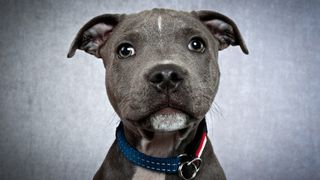 (Image credit: Getty)
A huge rise in dogknapping has followed the surge in people buying and adopting puppies during lockdown in the UK.
New research from GoCompare Pet found there was an increase of 189 percent in the number of dogs being stolen in Britain, compared with last year – a figure calculated by analysing social data from Doglost.co.uk.
The study revealed that Staffordshire bull terriers top the list; Chihuahuas come in second while Jack Russells are the third most stolen dog in Britain.
Staffies cost on average £1,028, not to mention the emotional toll on families who have had their pets stolen.
French Bulldogs were also deemed valuable by thieves, and were fourth on the list of most stolen breeds. Fifth were Cocker Spaniels and sixth was Pugs. Labradors were the seventh most dognapped in the UK, followed by Bulldogs, Lurchers and German Shepherds.
GoCompare also analysed Freedom of Information requests sent to police forces across the UK to find out the worst hotspots for dog crime.
West Yorkshire in the north of Britain is the dognapping capital of the country, while Kent, Devon and Cornwall are also prime locations for pet theft. Worryingly, GoCompare's research revealed that only 25 percent of stolen dogs are recovered in the UK.
GoCompare's pet expert Sally Jacques says: "Many people who always dreamed of owning a dog took the plunge while they were spending so much time at home during lockdown, which is why the price of dogs has risen so sharply. Owning a dog is now a big investment.
"But, worryingly, that rise seems to have coincided with an increased number of dogs going missing, presumed stolen, so it's absolutely crucial that pet owners make sure they know what they are covered for on their pet insurance policy, should the worst happen.
"We know that owning a pet isn't all about the money, but pet insurance policies can help you offer a reward to find your lost or stolen pet as well as advertise for its safe return."
Get the best advice, tips and top tech for your beloved Pets