Kernel the Great Dane tries to fit into a tiny dog bed with hilarious results
When Kernel spots a small dog bed, he tries to squeeze in, with hilarious results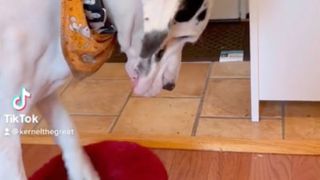 (Image credit: Instagram/kernelthegreat)
Sometimes a dog will display some wishful thinking – and that's certainly the case for this Great Dane.
Although he reckons he's spied the best dog bed, there's one little problem: it's simply far too small for him to fit.
Not that he's going to give up. Instead, as video footage shows, Kernel decides to place a couple of paws inside, stretching the bed in the vain hope of making it larger.
After a little circular shuffle, he then flops down on top of it – effectively making it disappear beneath his bulk. As the narration says, "it's so bad, I want to give you a zero but that's not possible so I give you a one!".
Of course, it seems a little harsh but it is, after all, an epic fail. Great Danes stand as tall as 32 inches at the shoulders and tower of most other dogs including German Shepherds so the gentle giant was never going to succeed at this one.
The fact he doesn't become overly frustrated points towards his laid-back, patient nature. And, as you'll discover in our 9 Great Dane facts that will surprise you, it could so easily have been worse. The tallest dog on record was a Great Dane called Zeus who measured 44 inches!
Quite what the dog bed's small owner thought about Kernel's feat is unknown but it's become a viral hit on TikTok where posts go under the handle @kernelthegreat.
Attracting 443,800 views, 48,900 likes and 220 comments, it's captioned "Mama always said if u dream big u can achieve anything."
As jessesgirl005 says, however, "I read somewhere that while cats know precisely where they begin and ends, dogs have ZERO perception of size." It sounds like a reasonable explanation to us!
Get the best advice, tips and top tech for your beloved Pets
David Crookes has been a journalist for more than 20 years and he has written for a host of magazines, newspapers, websites and books including World of Animals, BBC Earth, Dogs and Canines, Gadget and The Independent. Born in England, he lives in a household with two cats but he's also keenly interested in the differences between the huge number of dog breeds — in fact, you can read many of his breed guides here on PetsRadar. With a lifelong passion for technology, too, he's always on the lookout for useful devices that will allow people to spend more time with their pets.