Watch the 5 best dog videos on Twitter this week
From the scariest halloween dog costume ever to a burrito-eating bulldog, here's the best dogs from Twitter this week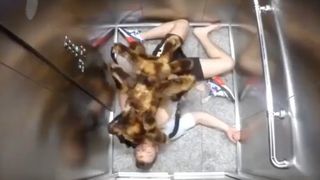 (Image credit: Twitter)
A funny, heart-warming or adorable dog video is (somewhat ironically) a one-way ticket to a Cheshire cat grin, as far as we're concerned. And, luckily for us, most social media platforms are chock-full of them nowadays.
However, not all dog content is created equal. As your self-appointed pet video sommelier, we've taken it upon ourselves to save you from trawling the internet by finding the five best dog videos on Twitter this week. All you have to do is scroll down, sit back, relax, and enjoy!
1. And that's a wrap
This proud pooch has better table manners than some of our relatives during Thanksgiving dinner. He clutches what looks like a burrito between his paws and takes neat little bites, while his owner tucks into a matching snack - bon appetit to them both!
2. Sharing is caring
Dog's adorable reaction on owner laying on her bed pic.twitter.com/o07iphP1WPOctober 31, 2022
Honestly, there are few better feelings than dog cuddles, particularly when they're this sincere. The way this pup budges up to make room on their bed for their owner before nuzzling affectionately into them is sure to melt any heart (even staunch cat-fans).
3. Man's best (eight-legged) friend
Insects the size of dogs are usually reserved for horror movies and fantasy films… until now. This Halloween, one dog owner dressed their pet in a surprisingly scary spider costume before letting them say hello to members of the public. The results are, unsurprisingly, hilarious.
4. Moving day
Keeping the Halloween costume theme going, this fluffy customer donned a deceptive outfit that made it look like they were carrying a pumpkin with a partner. Whether it's for the dog's cheesy grin or the non-stop tail-wagging, we think this one's definitely worth a watch.
5. A warm welcome
Your glass is always full when you get a greeting like this. #happydogs #rescuedogs #lovebordercollies pic.twitter.com/owu8dlJcfYNovember 1, 2022
What's better than getting home after a long day? Getting home after a long day to be greeted by a Border Collie that can barely contain its excitement to see you, that's what! We were especially fond of this pup's wiggly dancing as it waits behind a gate for its owner.
Get the best advice, tips and top tech for your beloved Pets
Having grown up on farms in rural south west England, there has rarely been a moment in Harry's life when his home hasn't been filled with a cacophony of animal noises. From dogs, cats, hamsters and rabbits to chickens, goats, tortoises and a particularly mischievous lamb, he has always enjoyed being surrounded by a wide variety of pets. Currently, he enjoys living in the (comparatively quiet) company of his one-year-old cavachon, Archie. As a writer, he started his journalistic career in 2018 as a reporter earning bylines in more than 70 regional and national UK newspapers over the next three years. After this, he began writing for magazines, producing features and reviews for titles including Men's Health, Good Housekeeping, Elle and Esquire.