Watch: Puppy rejected by his mother is adopted by a CAT!
Video shows momma cat welcoming an abandoned puppy into her feline family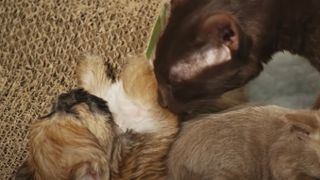 (Image credit: BBC)
Rejected by his mother at birth, an orphaned puppy quickly found an alternative mom – a loving, caring cat that had no qualms about treating him as one of her family.
Although dogs and cats living together don't always get on swimmingly well, in this case there appears to be genuine love between the two pets.
In footage taken from a two-part BBC television documentary called Pets – Wild at Heart, the puppy is shown being adoringly licked by the cat since her mothering instincts are very strong.
But while the puppy reacts with great joy at the attention, later in the video it becomes clear that the young dog still has much to learn during feeding time.
Indeed, when the puppy – who was born on the exact same day as the cat's kittens – is shown trying to suckle from his adoptive mother, mayhem clearly ensues.
As the documentary explains, the kittens each have their own motherly teat marked by their scent but the dog does not. Instead, the puppy is shown trying to nudge the kittens out of the way in a bid for nourishment – in one case, putting a paw around a kitten's neck and pulling it away.
It's fascinating footage, for sure, but we reckon harmony resumed once the dog started eating the best puppy food and the kittens began munching away on the best kitten food.
You can also create harmony in your house by learning how to introduce a new dog to your home and other pets.
Get the best advice, tips and top tech for your beloved Pets
David Crookes has been a journalist for more than 20 years and he has written for a host of magazines, newspapers, websites and books including World of Animals, BBC Earth, Dogs and Canines, Gadget and The Independent. Born in England, he lives in a household with two cats but he's also keenly interested in the differences between the huge number of dog breeds — in fact, you can read many of his breed guides here on PetsRadar. With a lifelong passion for technology, too, he's always on the lookout for useful devices that will allow people to spend more time with their pets.