Long-lost dog escapes new home to be reunited with owner after two-year gap
Check out the gorgeous reunion between owner Tiana and her Yorkshire Terrier Louie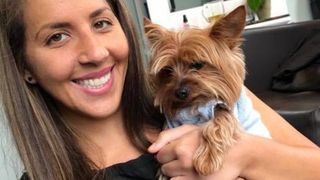 (Image credit: Help Find Louie / Facebook)
A gorgeous video of a teacup Yorkshire Terrier being reunited with its owner after a 24-month gap has been warming hearts on Facebook and TikTok. It's an incredible story: dog is lost by dog sitter, dog is searched for high and low, almost two years later the long lost dog escapes new home and is found sitting in the rain, taken to an animal rescue sanctuary and reunited with owner!
Tiana Vignola of Oakdale, New York had almost given up hope of ever seeing her Teacup Yorkie called Louie ever again. Back in August 2019 Louie had been staying at a friend's house when he somehow managed to get out of the garden. A frantic search for the little dog followed as Louie suffered from diabetes and could die without special care. A search of the neighborhood proved fruitless, and despite Louie being chipped no pet rescue centers reported him found, so Tiana created a Help Find Louie Facebook page and put ads in local newspapers.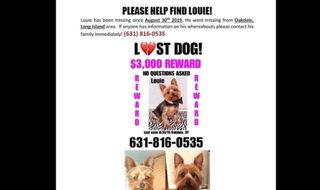 Amazingly, after a gap of almost two years, Tiana received some incredible news from Pet Chip Registry telling her Louie had been found: "Today around 5pm I got a text that an amazing person found my Louie! They found him today in the rain. He must have escaped wherever he had been staying. Thankfully he is chipped! In exactly three weeks it would have been two years since he went missing. Thank you everyone so very much for helping me look for him."
Two volunteers from Save a Pet, Eddie and Donna, agreed to bring Louie over to her, and the camera captured the sweet reunion – a video which has been viewed over a million times on TikTok. As you can see, after a little hesitation the joy at being reunited was obvious as Louie frantically licks her face as Tiana beams with joy:
It seems Louie had been found sitting on his own in the rain at the side of a road and a boy had taken him to the shelter. One quick scan later and Louie was identified and at long last could be returned home. People on the Help Find Louie page were overjoyed, writing messages like "Omg I'm crying watching this. I'm so so happy Louie is home" and "I'm so happy for both of you! When he realizes who you are he can't seem to contain his excitement!"
Let's hope all lost dog stories have such a happy ending, but preferably over a shorter time scale!
Get the best advice, tips and top tech for your beloved Pets
Jamie Middleton is a freelance editor and writer who has been editing and creating content for magazines and websites for over 20 years. As well as writing about the pets he loves, he has helped create websites about tech and innovation like TechRadar.com, Innovate UK and TechSPARK, written programmes for music festivals, books on inventions and architecture, TV listings magazines, and edited publications about cars such as Lexus, Toyota and Jaguar. In his spare time he writes fiction books and poetry - or at least he does when he is permitted to by his cat Pirate, who enjoys the warmth of laptops too much to allow being creative to get in the way.