What to do if you find a lost dog
Here's what to do if you find a lost dog, from how to capture it to reuniting it with its owners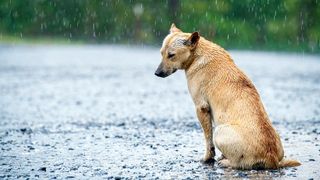 (Image credit: Getty Images)
If you've ever wondered what to do if you find a lost dog, you've probably wanted to help, but were unsure how. There's several things you can do if you find a lost dog that can help get the animal out of harm's way and also keep you safe.
The best way to prevent your dog getting lost is getting one of the best pet trackers. but sometimes a pet has gotten loose or may have been stolen, or perhaps they were always a stray dog. Either way, it's not safe for them to be running around outside, especially if it's a dense urban area or a busy street. If you have the means to help, you absolutely should, and this article will help you know exactly what to do if you find a lost dog. It covers how to capture or contain it, who to contact, how to check for identification, and more.
Capture and contain the lost dog
You should be very careful when handling a lost or stray dog, as it could be scared or injured. You don't want to further hurt it or yourself, so approach it slowly and carefully, and speak in a calm voice.
The American Humane group suggests that the dog "be secured using a leash or contained in a fenced yard. A belt or piece of rope can be used as a slip lead in an emergency, but keep in mind these items are not appropriate as a routine means of controlling a dog."
Check out this YouTube video from Tina Tianien for how to make an emergency DIY slip lead from rope.
If you can't safely capture or contain the dog, call your local Animal Control Center or 311, which will advise you on what to do next. Make note of the area you are in, and take pictures and video so you have a clear description of the dog.
Check for identification
If the dog is wearing a collar, check to see if they're wearing an ID tag. If so, that should have all of the owner's information, including a cellphone number and an email address. If you can't contact them right away, you can hold onto the dog for a few hours. Make sure to call your local animal shelter and let them know you've found a dog, or take them to a local shelter or Animal Control Center if you can't keep them.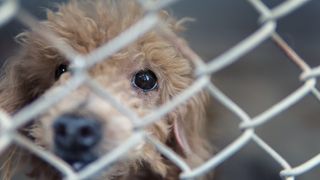 Scan for microchip
If the dog isn't wearing a collar or doesn't have an ID tag, you can bring it to a local animal shelter to have them scan it for a microchip. If the dog is chipped, the shelter staff will immediately find the owner's contact information through the microchip database. You should always have a dog scanned for a microchip, even if you intend to keep it, as it may belong to someone.
Spread the word
If you've found a dog, there's plenty of ways to spread the word to better the chances of reuniting it with its owner. Pawboost has a Lost and Found Database, and your local Animal Control Center or shelter may have one as well. Call local vets in the area and send over pictures of the dog, and print out fliers.
If you can't find its owner, bring it to a shelter
Even if you'd like to keep the dog, it's best to bring the dog to a shelter, as it's the most obvious place an owner would look for a lost pet. In many cases, you can ask the shelter to keep you in the loop regarding the dog's situation, and offer to foster/adopt the dog once the required waiting period lapses.
In conclusion
Finding a lost dog can be a very stressful situation for you and the poor pup. Just remember to stay calm, and consult this guide on what to do when you find a lost dog. You may very well help save someone's lost dog, or help a stray find a loving home. And who knows, you may just end up adopting the lost dog yourself...
Get the best advice, tips and top tech for your beloved Pets