Lost dogs are being reunited with their owners thanks to spy-in-the-sky technology
Drones could quickly become the new way to find people's lost dogs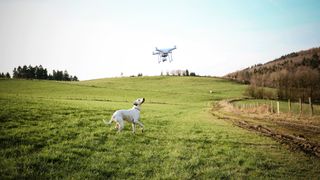 (Image credit: Getty Images)
Finding and reuniting lost dogs with their owners can be a tricky task, especially in the worrying times we currently find ourselves in where dog-napping is extremely high.
It's every dog owner's worst nightmare - whether they have escaped from the back garden, have run away or have been dog-napped, being without your furry best friend can be heartbreaking.
The most traditional ways of trying to make sure that you are reunited with your canine as soon as possible include microchipping your dog, fitting them with one of the best pet trackers, ensuring they have an up-to-date ID tag on their collar, and registering them on missing pet websites as soon as they've disappeared.
But, even if all of the above are in place, that still doesn't guarantee that all lost dogs will be found. That's where drones come in.
A team of around 1,700 volunteers across the UK and Ireland, who were brought together by 66-year-old Graham Burton when he set up Drone SAR for Lost Dogs in 2017, have regularly been called upon when a pooch is reported as missing.
To date, the volunteers have helped to reunite more than 2,000 canines over the last four years all thanks to their spy-in-the-sky technology.
Burton, a retired photographer from Pontypridd near Cardiff, in Wales, explained: "From the height that the drones can fly, we can see far more than what anybody can see on the ground… sometimes you will find them within minutes. Sometimes it can take days."
One of the owners who benefitted from drone searching was Esther Seymour-Shaw, who describes the volunteer group as "unsung heroes" after they were able to reunite her sister with her beloved canine, Crumble.
Drone SAR has been overwhelmed with requests during the pandemic with dog thefts surging by 250%, but thankfully they're also being inundated by people keen to volunteer their time to this great cause.
"We have more pilots joining by the day, it's incredible and non-stop with people wanting to help volunteer," says Burton
Fancy lending a hand? Head on over to the Drone SAR for Lost Dogs UK website to find out how you can help reunite pet parents with their beloved canine companions.
Get the best advice, tips and top tech for your beloved Pets
Chloe is a freelance writer, editor, and proofreader, who has more than ten years' experience in creating animal-focussed content. From National Geographic to Animal Planet, Chloe's passion for creating fact-filled features all about wildlife and the environment is evident. But it's not just wild animals that Chloe's fascinated by. Having written more than 75 articles for PetsRadar - and having her very own four-legged friend by her side - it's no wonder that her love of dogs (and, of course, cats) has grown exponentially.
Her website, www.chloemaywrites.com, and social media pages - @ChloeMayWrites on Instagram, Facebook, and Twitter - showcase her knowledge through daily facts and trivia tidbits. For example, did you know that snails have teeth?!