WATCH: Man filmed kicking cat into sea faces up to 10 years in prison
A man alleged to have kicked a cat off a Greek tavern's decking has been arrested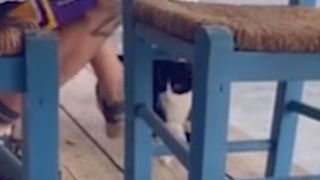 (Image credit: YouTube)
Shocking footage has emerged of a man allegedly kicking a cat into the sea while dining outdoors at a Greek restaurant.
The video, which was filmed on the Greek island of Evia, shows two kittens approaching for food while diners eat on decking raised above the water.
Rather than usher the kittens away, one of the men appears to welcome them by luring one with a fish, watching as the cat tries to paw at it before teasingly moving it away.
As the cat gets close to the edge of the decking, however, it is suddenly kicked into the sea. Laughter can then be heard in the background, with the footage also having captured an attempt to kick a second cat into the water.
The footage was recorded at a tavern called Aidipos and, as the video went viral, a man claiming to be the person in the clip went online to defend the action, saying it was a joke.
He said the drop was only 20 centimeters and that the cat fell on to pebbles. He also posted that he was an animal lover who regularly took care of stray cats and dogs.
Since then, a man has been arrested on a charge of animal abuse and, if convicted, he faces a maximum fine of €50,000 (£42,000) and up to 10 years in prison.
Discussing the incident on Facebook, Citizens Protection Minister Takis Theodorikakos said: "Violence against animals is unacceptable". The law on animal abuse was toughened in 2021, meaning punishments are now treated as a felony instead of a misdemeanor.
Thankfully in this case, the cat was taken to a vet and examined before making a full recovery. It belonged to the tavern's owner who expressed outrage at the incident.
Get the best advice, tips and top tech for your beloved Pets
David Crookes has been a journalist for more than 20 years and he has written for a host of magazines, newspapers, websites and books including World of Animals, BBC Earth, Dogs and Canines, Gadget and The Independent. Born in England, he lives in a household with two cats but he's also keenly interested in the differences between the huge number of dog breeds — in fact, you can read many of his breed guides here on PetsRadar. With a lifelong passion for technology, too, he's always on the lookout for useful devices that will allow people to spend more time with their pets.