Man saves cat from Hurricane Ian in dramatic viral video and decides to keep him
Viral video shows a hero scooping up a terrified cat and saving it from powerful flood waters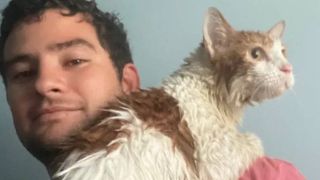 (Image credit: GoFundMe / Megan Scavo)
As Hurricane Ian battered Bonita Beach in Florida, a frightened-looking orange and white cat sat stranded on top of an air conditioner unit.
Jumping down to safety wasn't an option for the kitty since a dangerous strong current of knee-deep water flowed along the ground.
Thankfully Mike Ross, whose parents own a nearby beach house, happened to see the predicament and he decided to take action.
Watched by his girlfriend Megan Cruz Scavo, the 29-year-old waded over to the cat before taking a few moments to gently take it into his arms and ensure it was safe and secure.
As the cat held tight, Ross was able to make his way to drier land, his every move being captured on a phone camera by his mother, Marybeth Ross. "Look at Michael saving the kitty. Awww!," she says.
Since then, Ross has become something of a hero. His girlfriend posted the video on Twitter with the caption, "My boyfriend saving a cat from flood water near Bonita Beach", and it has been viewed more than 3.6 million times.
My boyfriend saving a cat from flood waters near Bonita Beach. #HurricaneIan #Naples #Bonita #FortMyers pic.twitter.com/BlBC9P1rdySeptember 28, 2022
The cat – now named Ian after the hurricane – is currently being looked after by Ross and his family to the delight of viewers – 195,000 of whom liked the video with 20,500 retweeting.
Since then the family has started a GoFundMe campaign to help restore their home which was battered by the category four hurricane which has caused two million people to lose power as it moves inland.
It has been one of the most powerful storms in US history. "We are donating half of the proceeds to the Humane Society Naples in honor of our miracle cat, Ian," Cruz Scavo wrote in a tweet.
We are starting a gofundme to help restore our home and others' homes that were damaged by #HurricaneIan. We are donating half of the proceeds to the Humane Society Naples in honor of our miracle cat, Ian. Thank you for all of the love and support: https://t.co/GUgY5qhKvDSeptember 29, 2022
Get the best advice, tips and top tech for your beloved Pets
David Crookes has been a journalist for more than 20 years and he has written for a host of magazines, newspapers, websites and books including World of Animals, BBC Earth, Dogs and Canines, Gadget and The Independent. Born in England, he lives in a household with two cats but he's also keenly interested in the differences between the huge number of dog breeds — in fact, you can read many of his breed guides here on PetsRadar. With a lifelong passion for technology, too, he's always on the lookout for useful devices that will allow people to spend more time with their pets.