Meet Sota, the sniffer dog trained to find hidden electronic evidence at crime scenes
Minnesota's crime investigation team's newest K-9 sniffer dog addition can find hidden USB drives, smartphones and SD cards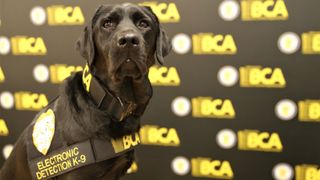 (Image credit: BCA)
As computer components get smaller, it is becoming much easier for criminals to hide electronic devices during crime searches – but not if an 'electronic detection K-9' such as Sota is on the case.
Sota, a two-year-old female black British Labrador, has been trained to sniff out hidden electronic media, including mobile phones, USB drives and even SD cards, to help secure potentially crucial data evidence at crime scenes.
As Special Agent Lucas Munkelwitz, of the Minnesota Bureau of Criminal Apprehension (BCA), explains, "BCA agents first sweep a scene for any obvious evidence, then we send in K-9 Sota. Her job is to find tiny pieces of meticulously hidden evidence."
With memory cards such as microSD cards measuring just 15mm by 11mm, it's not surprising human officers have difficulty locating them, especially if they have been thrown into long grass or hidden in clothing. But there's no hiding from Sota's nose.
How does Sota find hidden electronic evidence?
Memory storage devices such as SD cards have a chemical coating on them called triphenylphosphine oxide, more commonly known as TPPO. Sota has been trained to detect this chemical, and as dog's noses can detect substances at concentrations of one part per trillion – that's the equivalent of a single drop of liquid in 20 Olympic-size swimming pools – there really is no hiding the evidence from her.
Sota has already successfully located 21 pieces of hidden electronic evidence, including cell phones, USB drives and SD cards, at crime scenes varying from homicides and financial crimes to sex trafficking cases.
It cost around $15,000 to purchase and train Sota for the Bureau of Criminal Apprehension, which was paid for by Operation Underground Railroad, a non-profit organization with a mission to permanently eradicate child sex trafficking. Now the only costs to the Minnesota crime detection services are her food, equipment and kennel.
Sota was first trained to be a service dog in Michigan, but she was classed as too energetic and was transferred to a training center in Indiana where she learned electronic device detection. Their loss is the BCA's predatory crimes section's gain.
Get the best advice, tips and top tech for your beloved Pets
Jamie Middleton is a freelance editor and writer who has been editing and creating content for magazines and websites for over 20 years. As well as writing about the pets he loves, he has helped create websites about tech and innovation like TechRadar.com, Innovate UK and TechSPARK, written programmes for music festivals, books on inventions and architecture, TV listings magazines, and edited publications about cars such as Lexus, Toyota and Jaguar. In his spare time he writes fiction books and poetry - or at least he does when he is permitted to by his cat Pirate, who enjoys the warmth of laptops too much to allow being creative to get in the way.