Meet the adorable dog who smiles every time he is given food
Japanese Instagram sensation 'Uni' attracts 113K followers with his food-based antics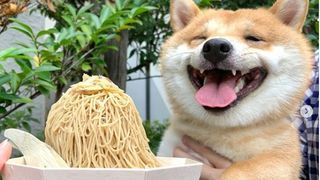 (Image credit: shiba_uni_20190107)
It's important to take pleasure in the simple things in life, so we should all learn from Uni, a cute puppy from Japan who smiles, dances and backpedals every time he is presented with food. If only we could all be this delighted at every mealtime.
Uni is a Mame Shiba Inu, a miniature hunting dog breed native to Japan, and he's clearly happiest when he's successfully hunted down food. As you'll see from his Instagram account, this little guy has the widest and cutest grin when shown anything from noodles, bubble tea to smoothies, but apparently the food that puts the biggest smile on his face is potato sticks.
With research recently released proving that watching videos of cute animals is a great way to remove stress, you can justify joining Uni's 113,000 followers on Instagram to any nay-sayers by explaining you are watching his adorable antics as a way of combatting high blood pressure!
It's not just back-pedalling that Uni excels at, his owners have taught him a spinning move to celebrate when he's finally allowed to get his food, suggesting there is likely to be more pre-food tricks to come:
And it's not just his mealtime adventures that'll be providing stress-busting browsing, as Uni's owner delights in dressing up this patient pooch in various costumes, and treats him to some of the cutest toys money can buy.
No wonder Uni has taken Instagram by storm, and it's likely his pre-meal and dance routine is going to get ever more complicated as his celebrity increases. Which should bring a smile to your face too.
Before you try and cheer your dog up with some of your dinner however, be sure to read our vet's guide to human foods that dogs can eat to ensure you treat them safely.
Get the best advice, tips and top tech for your beloved Pets
Jamie Middleton is a freelance editor and writer who has been editing and creating content for magazines and websites for over 20 years. As well as writing about the pets he loves, he has helped create websites about tech and innovation like TechRadar.com, Innovate UK and TechSPARK, written programmes for music festivals, books on inventions and architecture, TV listings magazines, and edited publications about cars such as Lexus, Toyota and Jaguar. In his spare time he writes fiction books and poetry - or at least he does when he is permitted to by his cat Pirate, who enjoys the warmth of laptops too much to allow being creative to get in the way.