Meet the Giant Bully family!
Rasit Kaplan and his wife Jenny run Giant Bully Pit Bulls, where they devote their lives to a small army of XL American Pit Bulls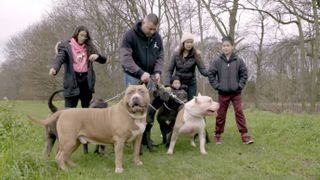 (Image credit: YouTube)
His mother told him that one day he'd wind up having a zoo with animals, but instead Rasit Kaplan's heart was set on dogs - specifically XL American Bullys - and his family of muscle-bound beasts are quite the handful.
The American Bully has been recognised as a breed by the United Kennel Club since 2013, and was created by crossing an American Pit Bull Terrier with an American Staffordshire Terrier to create the perfect family companion. After a fine tuned breeding process (involving perhaps another five breeds) the American Bully was born.
The XL, as the name suggests, are the largest variety of American Bully determined by their height – 21-23 inches for males and 19-22 inches for females.
These giant Pit Bulls might look scary, but in fact they are just as family-friendly as a spaniel or a collie - you just might need a bigger sized bed! The extensive breeding process has diminished the likelihood of aggression and resulted in a loving dog that is highly trainable, playful and is unlikely to get snappy when play fights turn rough.
For a decade, Pit Bulls were outlawed in the Netherlands, but in 2008 the ban was lifted and Rasit and Jenny acquired their first XL dog, Tyson, shortly after.
Tyson was the head of the household and father or grandfather to the rest of Rasit and Jenny's mob. Unfortunately, the gentle giant passed away this year due to a throat tumour, much to the couples dismay. However, his legacy lives on through Giant Bully Pit Bulls and his son, Magnum, who the couple stud out only once or twice a year for the hefty fee of 2050 to 3000 euros.
Rasit walks his beloved Pit Bulls an enormous twelve times a day due to their hefty size and boundless energy meaning these colossal canines need an equally sizeable amount of exercise to keep them physically and mentally fit and healthy. But, if they spot a squirrel there's no chance in holding these powerful pooches back, luckily for Rasit he's almost as well built as his beloved pets!
Get the best advice, tips and top tech for your beloved Pets