Meet the monster mastiffs guaranteed to take your breath away
Ranging in weight from 250 to 170 pounds, these are some impressive looking gentle giants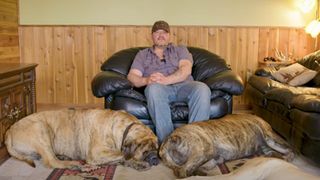 (Image credit: Barcroft)
From the day he bought his first massive-sized English Mastiff called Ringo, Joe Thompson from Duluth, Minnesota fell in love with the imposing breed. So much so that he and his family now live with three of these gentle giants and plan to get more! Ringo, Paul and Harrison are named after the Beatles and when a fourth joins them from a breeding program in France, he will be called, yes, you've guessed it, Paul.
That doesn't mean it isn't a challenge living with a breed renowned for being the world's heaviest dog. Ranging from 250 to 170lbs, each one weighs the same as a Giant Panda! They are huge even as puppies - weighing 30 pounds at birth. Joe describes the puppies as being like little bricks.
Don't be fooled by appearances though, the mastiffs' gargantuan frames hide a very placid nature. Joe thinks they are some of the calmest dogs he's ever met: "Their temperament is beyond gentlemanly and I think that's breed wide. For the most part, they maintain a very dignified, stoic appearance and demeanor."
Unsurprisingly Joe and his family have their work cut out ensuring they are fed and exercised enough to keep them fit and healthy. But they come with their own rewards. Apart from companionship, his 'Fur-Beatles are pulling in attention from breeders across the globe and his big beasts pull in big prices: " My stud fee for Harrison is $3000," says Joe, "for Ringo it's $2500 and Paul is around $3000."
Although the dogs now fetch huge prices for being stud dogs, Joe had no plans to use them as pedigree breeders when he first bought Ringo. He explains, "My dad fell ill with cancer and my wife told me, "Joe you need a dog, you need a pal." And that's how I ended up with Ringo. I didn't start out to breed or stud or anything like that, he was just to help me get through issues with my dad."
The dogs are now truly part of the family, with each one having its own distinct personality. They are also loyal, protective and fearless. We suppose that when you are this huge you are willing to take on anything – but you might think even a dog this size would think twice about taking on a bear! However, Ringo did just that, sending it scurrying up a tree to protect his master. As Joe says, " It's pretty amazing to see an animal with no fear and putting its life on the line for you at any time."
The whole family love the titanic trio, and they have even helped Joe's kids make friends. Joe explains "They give them bragging rights... It's a great icebreaker for them." Not to mention also being a great way to ensure Joe's kids get a load of exercise. Joe says, "My boys get off the school bus and they're saying, "Hey, let's take the dogs swimming!" And in the summer the fun part is, is they get to swim with them and that is really, really fun to watch because my boys can hold onto their necks and they'll swim in the water like, riding a dolphin, so to speak. Only they're riding a mastiff in the water and it's kind of cool."
Get the best advice, tips and top tech for your beloved Pets
Jamie Middleton is a freelance editor and writer who has been editing and creating content for magazines and websites for over 20 years. As well as writing about the pets he loves, he has helped create websites about tech and innovation like TechRadar.com, Innovate UK and TechSPARK, written programmes for music festivals, books on inventions and architecture, TV listings magazines, and edited publications about cars such as Lexus, Toyota and Jaguar. In his spare time he writes fiction books and poetry - or at least he does when he is permitted to by his cat Pirate, who enjoys the warmth of laptops too much to allow being creative to get in the way.