Viral #meetmydog challenge could put your dog in danger
Many are taking part in the #meetmydog social media fad, but it could put dogs at greater risk of theft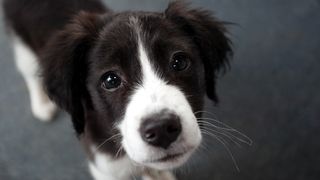 (Image credit: Getty)
Have you heard about the #meetmydog challenge? If you're a dog lover and active on social media, then there's a good chance you've heard about this, or maybe even participated in it.
However, in the current climate, doing so may not be such a good idea. The challenge, which encourages you to post facts and details about your pet, may be putting dogs at greater risk of being stolen.
Since the start of lockdown in March 2020, there has been a marked increase in dog thefts. According to the BBC, reported occurrences have increased massively, with local UK police forces recording a number of rises.
In Northumberland, for instance, reported thefts went up from 27 in 2019 to 67 in 2020 – an increase of 148%.
Other areas to report startling increases were Devon and Cornwall (25 to 47), Leicestershire (22 to 41), Humberside (11 to 25), and Suffolk (6 to 21).
These figures have been underlined by a Facebook post from someone claiming to be a former police officer, who posted the following message, as shown in the Liverpool Echo:
"As a former Police Officer of 20 years, it's concerning to see a new hashtag on social media #MeetMyDog challenge whereby you post a photo of your dog and provide lots of information about them.
"Although this may seem like a bit of fun, it would not take a would-be dog thief long to work out where you live.
"Given the alarming increase in dog thefts, please be careful what you are posting on social media about your wonderful dogs. #KeepYourDogsSafe".
Part of this increase has been attributed to the rise in pet ownership during lockdown, with this increased demand leading to a spike in prices that sees dog theft becoming an evermore lucrative crime.
In light of this, the RSPCA has recommended getting your pet microchipped as a way of safeguarding them from being lost or stolen. For more information, visit the RSPCA website.
Get the best advice, tips and top tech for your beloved Pets
Steve writes and proofreads buying guides, news stories and advice for Pets Radar, drawing on his lifelong experience as a pet owner. Currently sharing his house with two cats and a dog, he draws on the many highs and occasional lows of pet ownership he has borne witness to in his writing. He has worked in publishing for 15 years as an editor, sub editor and writer on a range of titles, such as SciFiNow, How It Works, All About History, Real Crime and Horrorville. You can follow him on Twitter @stevewright22