Rare breed of dog crowned National Dog Show 2021 winner twice in a row
Scottish Deerhound makes history, becoming National Dog Show 2021 winner two years in a row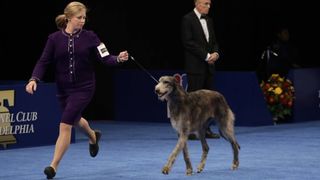 (Image credit: Getty Images)
Being crowned any one of the National Dog Show 2021 winners is an amazing achievement in itself. So being given the title of their prestigious Best in Show for a second consecutive year is unheard of… until now!
Claire, a four-year-old Scottish Deerhound, outshined more than 180 breeds to win this year's title at the event in Philadelphia, US.
Hosted by The Kennel Club of Philadelphia, which founded the show in 1879 and has been running it annually since 1933, it's the first time in the show's history that a defending champion has managed to win Best in Show two years running.
The event took place on November 20 and 21, but fans were left waiting eagerly to find out which pooch was crowned the winner of Best in Show.
This sought after award was announced as part of an NBC broadcast, which was aired on Thanksgiving Day.
Angela Lloyd, Claire's handler, said that the canine appeared to be "more sure of herself" at this year's competition.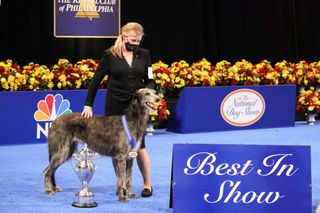 One of the tallest breeds around, and a fairly uncommon breed amongst dog lovers, Scottish Deerhounds are capable of weighing more than 100 pounds and standing as tall as 32 inches at the shoulder.
Claire has had more victories than any other Scottish Deerhound in history, while her grandmother is also well-known for winning Best in Show during the 2011 Westminster Dog Show.
Other worthy competitors who reached the Best in Show final, included Sasha the Pyrenean Shepherd, Winter the English Bulldog, Jade the German Shorthaired Pointer, MM the Lakeland Terrier, Chester the Affenpinscher, and Mo'Ne the Kuvasz.
A total of 196 brilliant breeds and varieties of canine were recognised at this year's event, including a newly recognised breed, which made its debut at the show, in the form of 19-month-old Rumor.
NBC described the breed as "an elegant and athletic toy terrier whose only purpose in life is to love and be loved."
Get the best advice, tips and top tech for your beloved Pets
Chloe is a freelance writer, editor, and proofreader, who has more than ten years' experience in creating animal-focussed content. From National Geographic to Animal Planet, Chloe's passion for creating fact-filled features all about wildlife and the environment is evident. But it's not just wild animals that Chloe's fascinated by. Having written more than 75 articles for PetsRadar - and having her very own four-legged friend by her side - it's no wonder that her love of dogs (and, of course, cats) has grown exponentially.
Her website, www.chloemaywrites.com, and social media pages - @ChloeMayWrites on Instagram, Facebook, and Twitter - showcase her knowledge through daily facts and trivia tidbits. For example, did you know that snails have teeth?!