Owner shares adorable clip of how he wakes up his deaf and blind dog
A deaf and blind dog becomes a TikTok sensation after her owner shares how he wakes her up every morning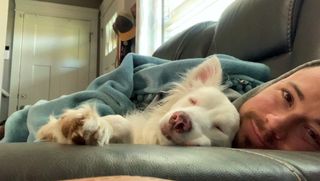 (Image credit: @lola_plum365/Instagram)
When a deaf and blind dog was advertised on Craigslist, little did she know she would soon become an internet star.
Plum, the Miniature American Shepherd, was originally advertised on the listings site with the caption: "Someone come get this deaf and blind dog before I euthanise her." Luckily, she was fostered before finding a loving home with caring owner, Aiden Mann and best friend Lola.
Since then, Aiden has had to learn how to adapt to Plum's specific needs ranging from developing their own way of communicating, daily feeding and playtimes. "We have had to learn our own way of communicating," Aiden told TeamDogs, "I had to think outside the box when it came to training her, but also had to learn to not shelter her and just let her be a dog."
In fact, it was his response to the question: 'How do you wake up your deaf and blind dog Plum?' from his three million followers, that quickly made Plum a TikTok sensation. The video starts with the caption, 'People ask me how I wake up my deaf and blind pup without scaring her…'. It then shows Aiden softly blowing on Plum to gently wake her up, and although she's a little startled, she soon snuggles into her affectionate owner.
The TikTok video was liked nearly 17 million times and shared over 630,000 times, touching the hearts of many. One netizen commented: "Really don't want to cry today", while another user said, "This is so wholesome; I cried a little. What a good heart."
Plum has great company with playmate Lola, a Great Dane Pitbull Cross. The pair enjoy a game of tug of war, and are super affectionate towards each other. Such a happy and heart-melting story!
Get the best advice, tips and top tech for your beloved Pets
Cynthia Lawrence is freelance lifestyle journalist. Starting off her career in national magazines, she moved to digital and e-commerce publications. When she's not reviewing exciting products, she is obsessed with home interiors and her neighbour's cat!