Petco's holiday collection features sleigh dog beds and cozy cabin houses for cats
Embrace the holiday spirit with over 500 fun items for Thanksgiving, Hanukkah, Christmas and New Year's Eve!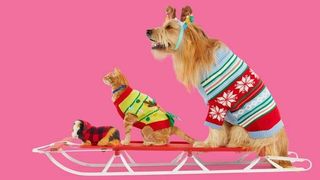 (Image credit: Petco)
You might have only just invested in a brand new Halloween costume to dress your pet in, but Petco are already thinking ahead to the holiday season with a brand new collection for Thanksgiving, Christmas, Hanukkah and New Year's Eye!
The "More & Merrier" collection features more than 500 items for your cat or dog (and even some choice items for fish, reptiles, birds and small mammals) including festive toys, cute costumes and clothing, decor pieces that are full of holiday spirit and yummy treats so your pet doesn't feel too left out when you are gorging on family dinners and delicious desserts.
For Thanksgiving, there are canned turkey dinners (without fear of any upset tums the next day!), a kitty drink set, turkey headpieces (both cooked and alive) so your dog can take center stage and treats galore stacked with all your favorite Thanksgiving ingredients, like pumpkin, sweet potato and cranberry.
If you observe Hanukkah, you can dress your pup for the holiday in blue coats and bandanas, as well as gift them a plush menorah. For cat lovers, you can choose between a dreidel teaser toy, gelt mice or kosher Hanukkah Cat pickle and dress your furry feline in a "meowzel tov" bandana!
For those celebrating Christmas there are an excessive amount of fun items. Dogs can take a nap in a cute sleigh bed, sport a festive bandana, play with a tough plush reindeer, chew apart a rope santa, rock some holiday antlers or even match their humans with a variety of clothing accessories available for cats, dogs AND people!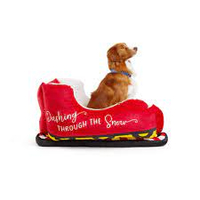 More and Merrier Dashing Slay Dog Bed, $49.99
What to your wondering eyes should appear? This darling Dashing Slay Bed from More and Merrier! Your pup won't need eight tiny reindeer to pull them into a cozy slumber thanks to this cozy, festive style.
Cats have multiple options too, from their very own holiday cabin hideaway house to catnip advent calendars, festive teacup teaser toys and costumes that range from elves and santa to a Christmas tree!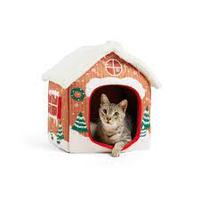 More and Merrier Cat Cabin Bed, $34.99
Your cat will enjoy candy cane dreams in this Cat Cabin Bed from More and Merrier. The pillow sleep surface is extra cozy and the sweet gingerbread house design will keep your kitty cozy all holiday season long.
You can also customize your own holiday ornaments with an impression kit to capture your precious pet's paw print and hang it on your tree along with a cat or dog angel tree topper!
There's a ferret toy pack that includes a festive pickle and snowflake, cute festive decor items for your guinea pig or rabbit (including their very own loofah or wooden christmas tree)!
By New Years, if you are still keen to celebrate with your pet, there are an array of boozey items such as a champagne cat kicker and a set of pawsecco and a disco ball as well as a dapper party hat for your hound.
Most importantly, most of the More & Merrier items are budget friendly, with a large selection of items with pocket happy price points under $19.99, you can stock up on your pets' wish list without going bankrupt.
As well as their range of fun items to get you in the spirit of the season, Petco is also launching its "Season Of Giving" campaign, which encourages customers to help animals in need by donating money through Petco Love, the company's nonprofit. So while you are gifting your own spoiled pet, you can also help another animal who isn't going to be quite so cosy this winter.
Get the best advice, tips and top tech for your beloved Pets