Rapping dog Hazel the Belgian Malinois wins the Internet with her hilarious chatters
Hazel the Belgian Malinois starts rapping when she wants her toy in this hilarious video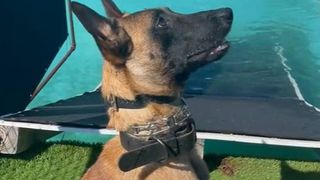 (Image credit: TikTok / @astrokennels)
We've seen dogs react in a number of ways when they want something. While howling is one of many forms of communication that dogs use, less common is the sound of a rapping dog.
Still, where pets are involved, so too is the unexpected. And what happens here definitely falls into this category, with this hilarious pooch reacting in a very unique way.
Hazel is a Belgian Malinois, serving as a working dog. As is common practice for working dogs, a lot of effort has been put into training her. She knows when to sit, and she knows when to show restraint.
However, even with all the training in the world, you can't stop a dog feeling excited. In cases like this, you have what you see in the following video, where Hazel is literally chattering with excitement at the prospect of getting hold of a toy.
To make things that bit funnier, TikTok user @astrokennels has added a rap soundtrack to accompany Hazel's chattering. As it turns out, it's a perfect fit with 'Look At Me Now' by Chris Brown, feat. Lil' Wayne and Busta Rhymes.
TikTok users were quick to applaud Hazel's efforts: "Lip-sync champ, right here," said one, with another saying, "Eminem is shaking and crying right now."
He's definitely got some work to do if he wants to keep pace with Hazel!
As funny as it is, you can rest assured that it's nothing to worry about. For Belgian Malinois breeds, chattering is quite a common occurrence when they display excitement.
It turns out that, in addition to being a very good service dog, Hazel also has some decent vocal talents. Sometimes it's annoying when certain individuals are good at absolutely everything they touch, but we'll let Hazel be the exception.
Have you seen any cats or dogs indulging in similarly surprising activities? Why not let us know on our Facebook or Twitter pages?
Get the best advice, tips and top tech for your beloved Pets
Steve writes and proofreads buying guides, news stories and advice for Pets Radar, drawing on his lifelong experience as a pet owner. Currently sharing his house with two cats and a dog, he draws on the many highs and occasional lows of pet ownership he has borne witness to in his writing. He has worked in publishing for 15 years as an editor, sub editor and writer on a range of titles, such as SciFiNow, How It Works, All About History, Real Crime and Horrorville. You can follow him on Twitter @stevewright22