Rescue center makes its name taming abandoned kittens and teaching them to be aww-some loving pets
LA's Kitty Bungalow Charm School for Wayward Pets specializes in turning cats from 'hiss to home'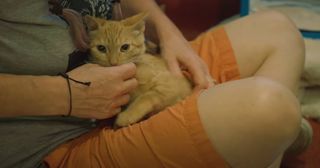 (Image credit: Barcroft Media)
How do you do turn a feral cat into a delightful pet? By enrolling them at the wonderful Kitty Bungalow Charm School for Wayward Pets, of course! It's a rescue center doing all it can to help strays learn to feel comfortable with human contact, so they are ready for adoption.
Based in Los Angeles, this school for rescuing and socializing feral cats was set up by Shawn Simons back in 2012. Previously a high-flier in the television industry, after becoming temporarily paralyzed by a double disc rupture in her spine, she turned her attention to the big problem of the huge numbers of stray cats in her home city.
As Shawn explains: "Part of being humane is being human: I could see there was a problem – that there was an over population of cats in the neighborhood that I lived in.
"The city of Los Angeles was killing about 75 percent of the cats that went into the shelter, which is a crazy amount of cats, and I didn't look at it like: 'Oh, I love cats, I wanna rescue cats.' I looked at it like: 'There is a problem in my city and I think I can help solve it', and that's how this really started, when this really began."
She calls her volunteers 'teachers', and the school has five shifts a day with 13 people acclimatizing the wayward moggies to feeling comfortable with human contact. In their hiss-tory and litter-ature school rooms, the teachers have to follow lesson plans where they spend their time touching the cats to break down defensive behavior so their kitty charges quickly become tame and aww-somely adoptable.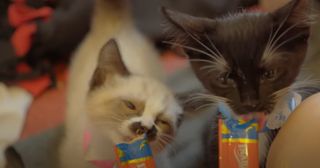 Shawn says: "We probably have about a 98 per cent success rate of cats being able to move into a home and live lovely happy lives. The other two per cent are placed into Working Cat programmes where they are taken care of."
She adds: "I'm not Dr Dolittle. I don't speak to them, but I try and understand where they are coming from.
"We provide services in all aspects of that, from trap-neuter-return, to making sure that we're ending the over-population problem, to the socialization of these feral kittens, so that they turn into loving lap cats.
"What we really do at the bungalow is take cats from hiss to home."
Want to get involved? It's easy to apply to become a part of Kitty Bungalow's team of volunteers to help us improve the lives of over 1,500 cats and kittens per year.
Get the best advice, tips and top tech for your beloved Pets
Jamie Middleton is a freelance editor and writer who has been editing and creating content for magazines and websites for over 20 years. As well as writing about the pets he loves, he has helped create websites about tech and innovation like TechRadar.com, Innovate UK and TechSPARK, written programmes for music festivals, books on inventions and architecture, TV listings magazines, and edited publications about cars such as Lexus, Toyota and Jaguar. In his spare time he writes fiction books and poetry - or at least he does when he is permitted to by his cat Pirate, who enjoys the warmth of laptops too much to allow being creative to get in the way.