Watch: Dramatic Rottweiler 'grieving' over his tennis ball is hilarious
'Drama Queen' Rottweiler's reaction to tennis ball is the funniest thing on the Internet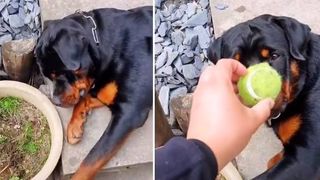 (Image credit: TikTok / @silkinday)
A Rottweiler has become an Internet sensation, thanks to his hilarious reaction to not getting his tennis ball.
The original clip was shared by TikToker @silkinday and titled, "Don't scare me like that #dogsoftiktok #rottweiler #saddog #poordog" on May 19.
It shows the two-year-old Rottweiler named Silkin Day lying down on outdoor steps near some flower pots. As he doesn't appear to be moving, his worried owner states in the text, 'he hadn't moved for a while. Heard him crying'.
We then see the dog's face looking sad, which makes his owner believe that he's 'hurt himself again'.
Then the camera shows a yellow tennis ball that had fallen down a crevice between the pot, stairs, and the wooden railing. When his owner reaches to get the ball, he gives it to the pooch who happily chews on it. Clearly the reason for his 'mourning' slump!
It's no surprise that his dramatic reaction quickly went viral on Reddit and TikTok, garnering 1.7 million views and 248,800 likes. In addition, a clip repost was shared on Reddit to the subreddit "Unexpected," and has since received 102,000 upvotes and 600 comments.
One Redditor commented, "I love his face when he realized what you might be doing. He didn't wanna get his hopes up, but he definitely perked up."
While another joked, "This is like the human equivalent of not being able to reach their phone". Another Netizen said the dog was "grieving" for the ball, and one called him a "drama queen".
In any case, Silkin Day is definitely worthy of an Oscar-winning performance!
Get the best advice, tips and top tech for your beloved Pets
Cynthia Lawrence is freelance lifestyle journalist. Starting off her career in national magazines, she moved to digital and e-commerce publications. When she's not reviewing exciting products, she is obsessed with home interiors and her neighbour's cat!