A Christmas miracle? Did this Russian cat travel 2,000 miles to the UK?
A supposedly Russian cat has been found in the UK. But how it got here is a mystery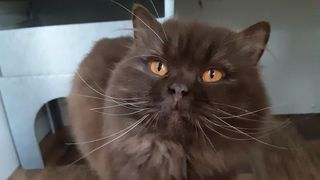 (Image credit: Cats Protection)
The cat - who has been named 'Ivan' - was found back in October wandering around the Netley area of Southampton.
A local couple fed him in their garden – where he had been sleeping rough – and later allowed him into their house. However, their two existing cats didn't react well to having this new house guest in their midst, forcing them to get in touch with Cats Protection, who moved him to their centre on the Isle of Wight, where he was quarantined and given a rabies vaccine.
On closer inspection, it turned out that he had a microchip registered in Russia, but no actual address details were provided, leaving Ivan's exact origins a mystery.
There are a number of possible scenarios to draw upon here. One is that he somehow stowed away on a transport heading to the UK, and simply wandered off when he got here - in the process displaying the kind of espionage skills that would leave many a spy nodding in approval.
Alternatively, he could have belonged to a family who have recently moved here, and gotten lost and disorientated. The possibilities are myriad.
Regardless, Cats Protection are now making a public appeal to find Ivan's owners. If they can't do this then he'll be rehomed.
Center manager Mel Read, speaking to the Express & Star, says this is a textbook example of why owners need to keep their pets' microchip details updated: "An up-to-date microchip would have made such a difference in this situation.
"It just takes a quick call to your cat's microchip company, or many can be updated online."
Steve writes and proofreads buying guides, news stories and advice for Pets Radar, drawing on his lifelong experience as a pet owner. Currently sharing his house with two cats and a dog, he draws on the many highs and occasional lows of pet ownership he has borne witness to in his writing. He has worked in publishing for 15 years as an editor, sub editor and writer on a range of titles, such as SciFiNow, How It Works, All About History, Real Crime and Horrorville. You can follow him on Twitter @stevewright22
Thank you for signing up to Petsradar. You will receive a verification email shortly.
There was a problem. Please refresh the page and try again.