Sad rescue cat looking for her lost family goes viral
Tear jerking TikTok video features Bell – the only cat in an adoption shelter yet to find a new home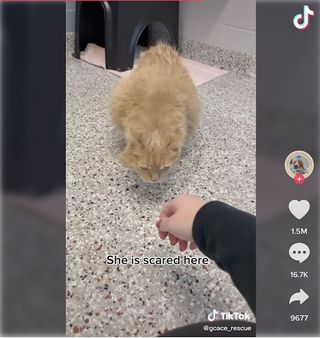 (Image credit: TikTok)
If you don't want your heart to be torn in two, then look away now. Video of a surrendered cat desperately seeking love and a new home has emerged online and it's proven to be a real tear-jerker.
Posted on TikTik by Gaston County Animal Care & Enforcement, the footage shows a beautiful ginger cat, called Bell in an animal shelter, staring out of the window in the hope that her owners will one day return.
It emerges that Bell had lived with a family for eight years before being put up for adoption, for reasons that are not mentioned. But although every other cat in the shelter has been rehoused, this poor kitty was shown waiting, the change in her circumstance having hit hard.
At first, as poignant music plays, the camera pans across an empty shelter before showing Bell slowly and cautiously walking over to a shelter worker. "She is scared here," a caption reads, explaining the situation before showing Bell looking out at a parking lot.
But it's a situation that has faced so many cats over the years. Indeed, according to the American Society for the Prevention of Cruelty to Animals (ASPCA), 3.2 million cats enter animal shelters in the US each year. Thankfully, of those, about 2.1 million are adopted and 100,000 who enter as strays are returned to their owners.
Some, like Bell, struggle to be housed, however and it was all too much for some. "Please someone adopt this sweetheart. Only wants a loving home!!!," one TikTok user wrote. "She needs a forever home to live out her time bless her heart," another said. Some could not understand how anyone could give Bell up for adoption and others said they would call the shelter and offer to take Bell home.
As views passed 7.5 million, there was some good news. Gaston County Animal Care & Enforcement gave Bell's new fans an update, saying she has now been given a new home with a loving new owner.
Get the best advice, tips and top tech for your beloved Pets
David Crookes has been a journalist for more than 20 years and he has written for a host of magazines, newspapers, websites and books including World of Animals, BBC Earth, Dogs and Canines, Gadget and The Independent. Born in England, he lives in a household with two cats but he's also keenly interested in the differences between the huge number of dog breeds — in fact, you can read many of his breed guides here on PetsRadar. With a lifelong passion for technology, too, he's always on the lookout for useful devices that will allow people to spend more time with their pets.