Adorable feline enjoying his own custom cat aquarium goes viral
Now that's what we call the best seat in the house!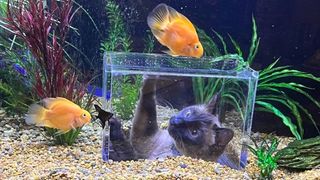 (Image credit: Melissa Krieger)
Does your feline friend frequently love to stalk your fish? Yes? Then feast your eyes upon this genius custom cat aquarium, complete with cat hole built inside.
In footage posted to the social media platforms TikTok and Reddit, a very fortunate feline is truly given the best seat in the house: right in the middle of his very own aquarium!
The cat can be seen sitting on his very own plush cat bed that's either part of the clever design or moved especially for him, staring upwards at a hole that's been created inside the tank.
At first, he intently looks up and around but it's not long before the eager feline begins to paw at the glass in anticipation, as the unwitting fish swim around him in ignorant bliss. Fortunately, for the scaly occupants inside, they are safe in their tropical home.
honestly_whose_bright_idea_was_it_to_give_a_cat_a from r/aww
The caption reads: "Honestly, whose bright idea was it to give a cat a 360 degree view of an aquarium?" and it seems the Internet is in full agreeance.
If you've ever visited an aquarium and sat inside the glass to receive your very own 360 degree view, then you'll appreciate just how clever this idea this. While we often sadly can't take our pets with us to public attractions, there's something so sweet about recreating what we love for our cherished best friends back home.
The aquarium was designed by Aquatic and Exotics in Cincinnati, Ohio, who took owner Melissa Krieger's brilliant idea and made it reality.
"I know people who would like sticking their heads in an aquarium-box-viewer-thingie like this," commented user @remberzz.
Redditor @SmartSelect agreed: "One of these big enough to fit a human head would be awesome... could have two holes, one for you and one for your cat so you can make eye contact and smile with meaning like 'yeah, I did this for you.'"
Many marvelled at the sheer amount of work the cat's owner had carried out in order to satisfy his pet's love of fish.
"This must have been a pain to make with a 50% chance the cat never even uses it. Risky, glad they like it," wrote @GrapeRello.
Let's hope this is one fish-loving feline that continues to appreciate the view!
Get the best advice, tips and top tech for your beloved Pets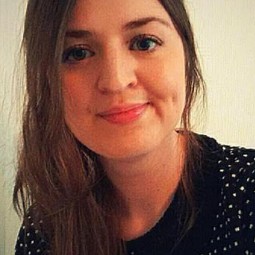 Ashleigh is Digital Editor on PetsRadar. With over 8 years of experience in print and digital media, she has acted as an editorial lead on a variety of projects, with animal themes a keen interest. As an avid animal lover, you can often find Ashleigh checking out the newest trends in animal care or looking at cute cat videos on TikTok.