Best fish tank: Stylish abodes for your aquatic amigos
The best fish tanks look stunningly serene while ensuring your finned friends thrive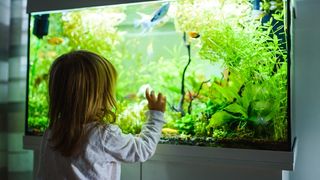 (Image credit: Getty)
With one of the best fish tanks you can give your collection of aquatic buddies the best possible life without having to spend a fortune. Not only will a good fish tank keep your gill-breathing chums happy and healthy, it'll also afford you the best possible view of them as well as providing a fantastic visual talking point for your home, especially if you combine it with the best fish tank stand.
Before you buy, however, you'll need to ask yourself a few questions in order to decide which tank will be best the best for for your piscine pals as well as for your home. For starters, you you should consider what sort of fish you intend to keep, and how many of them, not to mention anything else you might want to put into the tank with them.
If you're set on creating a vibrant sub-aquatic colony of tropical fish, you'll probably be better off with one of the best tropical fish tanks. With water capacities of at least 20 gallons they'll give your fish plenty of room to maneuver.
On the other hand, if you're just starting out with a couple of fish and don't intend to get any more just yet, one of the best small fish tanks might be a better choice. They're compact and bijou and ideal for smaller living spaces such as dorm rooms or apartments, and even with a five-gallon tank there's plenty of room for one or two fish to live happy, healthy lives.
If you'd only like one or two fish, and aren't planning on adding any more, the best small fish tanks are well worth checking out. These are much more compact than tropical fish tanks and work perfectly for smaller living spaces, such as apartments or dorm rooms. A five gallon tank is substantial enough for one or two fish and gives them a decent amount of room to stay happy and healthy.
Whatever kind of fish tank you go for, you should definitely make it more of an appealing and enriching space for your finned friends by adding some of the best fish tank accessories. The more the merrier, depending on how big a tank you intend to get, but even if you're starting with a tiddler you should invest in a couple of them.
Finally, you'll need to give some consideration to how you want your fish tank to look, and what it should be made of. Obviously a glass tank is the dream; it's durable and offers a great view of your fish, however glass can be really heavy. Acrylic tanks, on the other hand, are lighter (at least until you fill them with water), but they're not scratch-resistant and can easily get scuffed up, making them a lot less pleasant to look at.
With all that in mind, then, let's find a new home for your underwater amigos, with our selection of the best fish tanks available in 2022...
PetsRadar's pick of the best fish tanks
Aqueon Aquarium Starter Kit
Best overall fish tank
Specifications
Size:
27.25 x 15.75 x 21 inches
Reasons to buy
+
20-gallon tank
+
Pre-set heater
+
Quiet filter
If you are new to the world of fish tanks and want to get started quickly and without too much fuss a starter kit is a great option. As you might expect the Aqueon Aquarium Starter Kit is more than just a tank; it also comes with a load of accessories, which means you will be up and running in no time.
The tank itself has a 20 gallon capacity which is ideal for keeping multiple fish. As a general guideline you need approximately one gallon for each adult fish. So this tank would be suitable for up to 20 fish. Or, it could be a luxury tank with plenty of room if you only have a few fish. It measures 27.25 x 15.75 x 21 inches, so make sure you have enough space to put the tank where you want it.
To keep the fish tank lit there is a low profile LED full hood. This is perfect for getting a great view of your tank and fish, especially at night. To keep the water clean – and your fish healthy – there is a QuietFlow 10 LED PRO power filter with a medium cartridge.
A medium cartridge will probably last around a month to three months. Other included essentials are premium fish food, water conditioner and a fish net to help remove your finned friends when giving their tank a clean.
If you are looking to specifically keep tropical fish there is a 100W preset heater and a stick-on thermometer to keep the water at the ideal temperature. Note there is no gravel/sand or tank decor included with the Aqueon. So, you will need to purchase these items yourself.
Tetra ColorFusion Starter Aquarium Kit
Best budget fish tank
Specifications
Size:
6.88 x 12.5 x 12.9 inches
Reasons to buy
+
Small footprint
+
Panoramic view
+
LED light for bubbles
If you are delving into the world of fish for the first time and don't want a big outlay to start with then this budget fish tank is for you. It's a starter kit that contains all the basics that you will need but without breaking the bank. It doesn't have a big tank, it only has a 3 gallon capacity. This makes it ideal if you only have a few fish you want to nurture and admire. The tank measures 6.88 x 12.5 x 12.9 inches, so you won't need a lot of room to keep it on display.
The tank is not your conventional rectangle design with straight sides. The front of the tank is a half moon shape which allows for 180 degree panoramic viewing. Great for seeing your fish from all angles without a straight edge interrupting your view.
To make the view even more inviting there is a 6 LED light that pumps out bubbles. This creates a multicoloured bubble curtain wherever you place the light in the tank.
To keep your few fish happy and healthy an air pump-driven Tetra Whisper Internal Power Filter will keep the tank clean. This uses a two-part filtration system that catches waste and removes debris and odors. This is great for the fish and great for your home.
The top of the fish tank boasts a clear canopy with a hole for dropping in any flaky fish food. Alternatively, if you want to feed your fish liquid food the Tetra ColorFusion Starter Aquarium Kit comes with a convenient feeding tube.
Marineland Portrait Glass LED Aquarium Kit
Best portrait fish tank
Specifications
Size:
11.81 x 11.62 x 17.05 inches
Reasons to buy
+
Hidden filter
+
Sleek and stylish
+
Space saving design
Reasons to avoid
-
No plants or decor
-
No water decor
Do you want a sleek and elegant upright tank to house your fish? But don't have enough space for a large tank. Say hello to this portrait tank from Marineland. It has a small footprint, measuring just under one foot in length and width. But it is the 17-inches in height that pumps up the capacity to five gallons, which is more than enough for a small community of tropical fish.
The tank sits on its own sturdy plastic base, held in place by its own weight. This raises the tank a few inches above any surface it is placed on and adds to the ambience of the overall design of the tank.
Add in the curved corners and black background and you have a tank that is attractive and great for viewing your smart looking fish from multiple angles. Sitting above the tank is a blue and white LED lighting system which brings your tank to life with natural daylight and moonlight settings.
The bright white LEDs create a shimmering sunlight effect while the blue LEDs produce a moonlit glow, an ideal night time setting. Directly under the hinged LED lighting - and across the top of the tank – is a sliding glass canopy for easy access to the tank.
The kit doesn't include any decoration to bring the tank to life and give your fish a more natural environment. See this as an opportunity to invest in some tall plants, some natural strata and a water heater to create a bespoke habitat to keep you and your fish happy.
Best fish tank for versatile lighting
Specifications
Size:
15.94 x 16.73 x 15.94 inches
Reasons to buy
+
Curved front panel
+
RGB lighting
+
Filter and media included
If the sight of happy little fish swimming around isn't quite enough for you, and you'd prefer something just a little more visually engaging, the Fluval Flex Aquarium Kit could be what you're looking for. This 15-gallon fish tank benefits not only from a curved front panel for a clearer (and ever so slightly magnified) view of your fish, but also some impressive lighting options.
Not only does it pack 7500K white LED lighting that's ideal for encouraging plant growth and showing off your fish's colors to best effect, it also comes with RGB LEDs (plus a remote for controlling them) that'll give you over 80 color options as well as special lighting effects including cloud cover, storm and full color cycle.
While you'll have to supply your own extras such as plants and accessories for the Fluval Flex Aquarium Kit, it's otherwise well-specced, with multi-stage filtration for keeping things healthy, with foam, carbon and biomax media included. The filter stays tucked away in a hidden compartment at the back, while a honeycomb wrap at the top of the tank conceals the water line and the sides of the rear compartment.
CYS EXCEL Glass Bubble Bowl
Best fish bowl
Specifications
Size:
12 x 12 x 10 inches
Reasons to avoid
-
Hard to clean
-
No accessories
Fish bowls are often seen as the traditional home for a small fish. They are very affordable and look great, but when purchasing one, make sure to get the right option for your fish. The bigger the better, because the more space your fish has the better it is for their health and happiness. It is worth noting that fish bowls are not really suitable as a permanent home for tropical fish. But they will work well as a temporary home when cleaning out an aquarium tank.
The CYS EXCEL Glass Bubble Bowl is available in four different sizes from a small 5.5 -inch option through to the largest 12-inch option. The smallest option is only ideal for a single fish while the largest can hold around three gallons of water. This makes it ideal for two or three fish.
The fish bowl is made from quality hand-blown crystal clear glass, not machine manufactured, which gives it a more unique bowl design. The glass is around a quarter of an inch thick adding to the weight of the bowl which weighs around 20 pounds when full of water.
A fish bowl makes a great stylish centerpiece in your home when well decorated and lit and this offering is no different. The curves of the bowl bend and reflect the light giving it its own sense of style. However, this bowl comes with no accessories whatsoever, you simply get the bowl. This is ideal for creating a bespoke environment for your fish, but don't forget to factor in the extra cost when buying a bowl.
One downside is, fish bowls are not as easy to clean as a rectangular fish tank. The opening on the top of the CYS EXCEL Glass Bubble Bowl measures 6.75 inches. This is big enough to get your hand in, but not so easy to manoeuvre your hand once inside.
Tetra 20 Gallon Complete Aquarium Kit
Best tropical fish tank
Specifications
Size:
27.88 x 16.13 x 20.38 inches
Reasons to buy
+
Large tank
+
All necessary kit
+
Scratch-resistant glass
If you are looking to start your own tropical fish aquarium, you will need all the right equipment to make it happen. This may seem like a herculean task, but you can throw yourself straight in at the deep end with a Tetra 20 Gallon Complete Aquarium Kit. The kit comes complete with everything you need, except for the fish. You get to choose those.
The key component of any aquarium is the fish tank. The tank in this kit has a 20 gallon capacity – ideal for around 20 fish – and has a footprint of 27.88 x 16.13 x 20.38 inches. There are larger options available from Tetra including a 55 gallon aquarium kit if you want to go large. The tank is made from quarter inch thick scratch-resistant glass ensuring that viewing of your finned friends will stay crystal clear.
Also included in the kit is a Tetra Whisper 20 filter to keep the tank clean and a Tetra Mini UL heater to keep the water temperature at the right level. Both of these models do the job, but you may want to think about upgrading in the future. The heater has an electronic thermostat that automatically adjusts to keep the water in the tank at a steady 78 degrees. Check this works for your fish.
Tank decorations create the habitat inside a tank and this Tetra kit comes with a few basics. There is one artificial Boxwood Plant Mat and four artificial plants. This is enough to get you started but you will need to invest in more accessories to create a great looking aquarium. And, there is no gravel or sand to recreate a seabed. To complete the aquarium an LED hood provides a natural daytime effect. This is conveniently on hinges to open for easy access and cleaning. But there is also a small flap to quickly drop in fish food.
Landen 36P 5.4 Gallon Rimless Low Iron Aquarium Tank
Best basic fish tank
Specifications
Size:
from 14.2 x 10.2 x 8.7 inches
Reasons to buy
+
Well-built
+
Multiple sizes
+
Large capacity
Reasons to avoid
-
Heavy
-
No accessories
-
No tank decorations
If you are literally looking for just a fish tank then this option from Landen could just be what you are after. No water filters, no tank decoration, no water heaters, just the tank (and a black nano foam levelling mat). This makes this tank the ideal solution for someone who's looking to take their fish keeping hobby a little more seriously. You get to choose everything that goes with the tank. The perfect opportunity to create your own custom aquarium.
The Landen is made from premium quality thick crystal clear low iron glass, which has a greater than 91 percent transparency. This means you get to gaze at your finned friends with plenty of clarity and really enjoy their beauty. They are hand-made by craftsmen and come with a high standard of workmanship, especially on the edges.
The Landen is available in six different sizes. The smallest in the range measures 14.2 × 8.7 × 10.2 inches and weighs in at ten pounds. This has a capacity of around five gallons, so ideal for around five fish or less. The next option in the range measures 23.6 x 14.2 x 11.8 inches and weighs in at 26 pounds. But, the largest tank measures an impressive 39.37 x 17.72 x 17.72 inches and weighs in at a hefty 92.8 pounds. And this is without water – the tank holds around 50 gallons – so you will need to make sure you have a strong and sturdy platform to place your tank on.
GloFish Aquarium Kit Fish Tank
Best fluorescent fish tank
Specifications
Size:
11.25 x 16.56 x 6.71 inches
Reasons to buy
+
Striking look
+
Lighting and filtration included
+
Easy to set up and maintain
Make any room pop with this sleek and stylish GloFish Aquarium that's sure to be the talking point of your home. An affordable starter kit that includes all the essentials, the crescent-shaped 5-gallon tank comes with a Tetra Whisper Bio-Bag Filter Cartridge, a convenient feeding hole and energy-efficient blue LED lighting.
The perfect home for Danios and Tetras, the hidden blue LED lights are set into the hood, illuminating your fish from above to give them a fluorescent look. The dense dual-sided mesh does a great job of catching the debris and waste that's pushed through the filter cartridge and the black hood reduces evaporation and the fish from jumping.
This tank has a great look to it and provides an excellent view of your fish and we love how easy it is to set up and maintain. It's also available in 10 and 20-gallon options as well, great if you've got a large fish family that you're needing to house. The only drawback is the material, with the hood not being quite as durable as we'd like. Other than that, this is a fun and exciting tank with a unique look.
Tetra 55 Gallon Aquarium Kit
Best large fish tank
Specifications
Size:
51.9 x 24.4 x 16.4 inches
Accessories:
2 x plant multipacks
Reasons to buy
+
Large environment
+
LED lighting
+
Stylish
Reasons to avoid
-
Hood lights not replaceable
If you have a school of tropical fish or are just looking for a larger space for your fishy friends to swim around in, this 55-gallon tank from Tetra is exactly what you need.
Measuring 51.90" L x 24.40" W x 16.40" H, there's plenty of room for your fish to spread out comfortably and it comes with a 200W heater which does a brilliant job of maintaining the perfect water temperature. There's also a stick on digital thermometer so you'll be able to spot immediately if there are any issues.
The included LED lighting gives a lovely natural daylight effect to the aquarium and allows you to watch your finned friends in all their glory, although it's worth noting that the lighting in the hood can't be replaced, so you'll need to send away for a new one which is a bit of a pest!
Weighing approximately 79lbs on it's own, the tank can reach a weight of 520lbs when full, so you'll want to ensure you have a good solid stand to rest this on. It comes with two plant multipacks and a boxwood plant, so you'll have some nice accessories to get you started.
At over $300, it's not the cheapest 55-gallon tank we've seen, but it's stylish and well made which makes it a worthy entry in this list.
Back to the Roots Water Garden
Best single-fish water garden fish tank
Specifications
Size:
13.4 x 13.4 x 9.5 inches
Accessories:
radish and wheatgrass seeds, water conditioner, a growing medium, water dechlorinator, fish food
Reasons to buy
+
Grow organic micro greens
+
Self-cleaning
+
Complete aquatic ecosystem kit
Reasons to avoid
-
Not suitable for multiple fish
Give it as a gift or keep it for yourself, either way this wonderful water garden fish tank is a dream for anyone who has always wanted to grow succulents, house plants and micro greens but doesn't have any backyard space.
This water garden is a joy for both adults and children and comes with everything you could possibly need to get started, including fast growing and nutritious radish and wheatgrass seeds, water conditioner, a growing medium for your seeds to take root, water de-chlorinator, and fish food.
This hydroponic and aquaponic ecosystem will bring a touch of zen to any living space and is a also a great educational project for children. The fish tank is self-cleaning with the fish waste fertilising the plants on top and the plants cleaning the water.
How to choose the best fish tank
When on the lookout for a new fish tank the first thing to consider is how many fish does it need to house. Do you have a single small fish? Do you have a happy little community of four or five fish? Or are you going all out with 20+ fish for your new aquarium. As a general guideline you need a capacity of one gallon for each adult fish you are housing. So, if you have a single fish then a one gallon tank should do. If you are looking to house 20 fish then a 20 gallon tank should be the order of the day.
The mantra when housing fish is 'the bigger the better'. At the very least you need to be getting nothing less than the minimum capacity. But if you have the space and can afford it, consider a bigger tank. The Landen 36P 5.4 Gallon Rimless Low Iron Aquarium Tank is a good choice if you want to start with a blank tank and build from there.
But if you want a no-fuss and easy to implement solution then a starter kit like the Aqueon Aquarium Starter Kit is a great starting point. This comes with a water filter, water heater, thermometer, food and lighting. The only thing that is missing is tank decoration.
Other kits like the Tetra ColorFusion Starter Aquarium Kit and the Marineland Portrait Glass LED Aquarium Kit are a bit more basic. They have the essentials – such as a water filter – to get you started, But, they also give you the opportunity to choose the accessories and tank decoration you want to create a happy and healthy habitat for your fish.
Steve Jenkins is a freelance content creator and long-time journalist with more than 20 years in the industry. He has written for numerous titles covering tech to pets, with his latest faithful hound always by his side. When not walking his dog, or discussing who's best - cats or dogs? Loud guitars, AFC Bournemouth, Photoshop, and trying to save the world take up the rest of this time.
Get the best advice, tips and top tech for your beloved Pets